Odd Cookie bakery lives up to its name with pancake cupcakes and deep-fried pizzas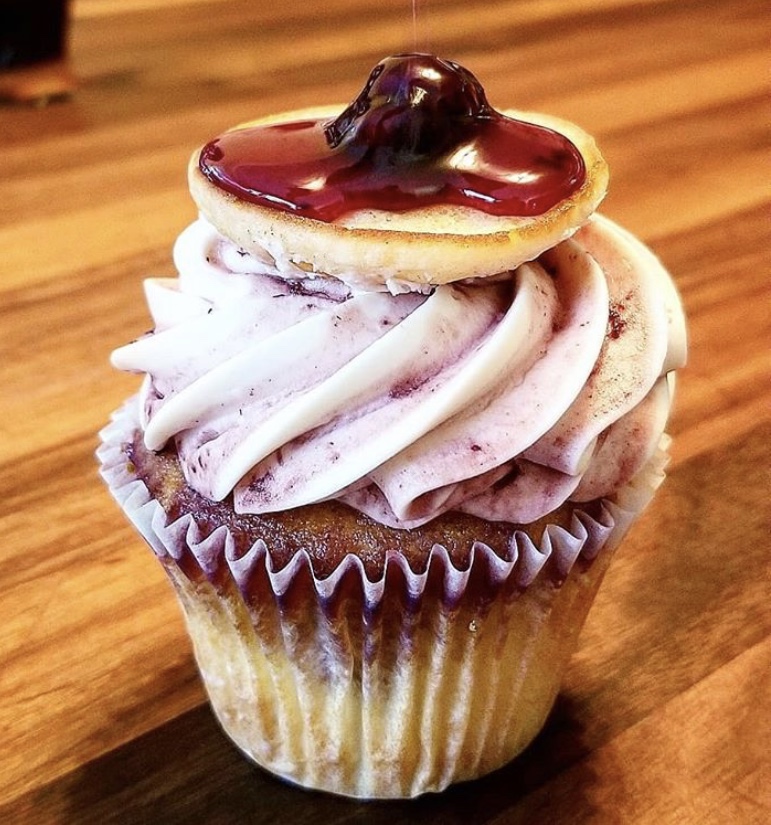 Weird is wonderful at downtown's new Odd Cookie Bakery Cafe & Bar, which doles out creative concoctions like cupcakes topped with mini pancakes or bourbon buttercream.
The restaurant, which soft-opened today, Jan. 23, in the location that previously housed Bar Rouse and Blackbird Kitchen & Bar, is helmed by pastry chef Anna Rodriguez, an alum of the renowned Tante Marie's Cooking School in San Francisco, and Frankie Fusco, who serves as head of operations.
Rodriguez manages the bakery side, which offers breakfast pastries—think candied bacon cinnamon rolls—on weekday mornings and transitions into dessert in the afternoon and evening. Her rotating lineup of inventive cupcakes includes a fried-chicken-and-waffle cupcake (a maple cake soaked in brown sugar and more maple, topped with maple buttercream, a waffle piece and fried chicken, and served with a pipette of Crystal hot sauce), a "breakfast" cupcake (a berry-compote-filled yellow cake topped with honey and maple cream cheese frosting and a mini pancake, and drizzled with berry syrup and more fruit compote) and a boozy Old Fashioned cupcake (an orange-flavored cake with bourbon-infused cherry jam filling, topped with bourbon buttercream and a three-week whiskey-soaked cherry).
"I really like taking different ideas and putting them in a blender and making them one," says Rodriguez of her confections, although folks can also expect more traditional fare like chocolate chip cookies and vanilla cupcakes.
The savory side of the restaurant's offerings, overseen by Fusco (he also manages the bar program), leans heavily on personal-sized deep-fried pizzas. Inspired by dishes a young Fusco would eat at his aunt's house in Italy, the pizzas—fillings enclosed by pizza dough and then fried (Fusco likens them to calzones)—feature ingredients like tomatoes, mozzarella, artichokes, chicken and bacon in the California, and mozzarella, ham, olives, mushrooms and artichokes in the Capricciosa. Soups, salads and sandwiches on house-made buns will round out the menu.
In the months to follow, diners can look forward to a lineup of specialty cocktails (Fusco and Rodriguez plan to partner with a local bartender to devise the menu), which they can imbibe on the ground floor or mezzanine level in the two-story, 4,100-square-foot restaurant, which sports a down-home farmhouse vibe (think distressed metal chairs, exposed wood beams and whisk pendant lights over the bar). The new spot will also host a happy hour on weekdays and stay open late until 3 a.m. on weekends. One happy hour special the duo is excited about is a milk-and-cookies pairing, but Fusco indicates that even such classic duos will still have his and Rodriguez's "odd" take.
"It's not your typical cupcake, it's not your typical sandwich [on our menu]," says Fusco. "Everything has a little twist to it."
Odd Cookie Bakery Cafe & Bar will soft open Thursday, Jan. 23. Its hours of operation will be Mon.-Thurs. 6 a.m-10 p.m., Fri. 6 a.m.-3 a.m., and Sat. 5 p.m.-3 a.m. 1015 9th St. oddcookiebakery.com
You Might Also Like
Former Saddle Rock space to reopen as Saigon Alley
KoJa Kitchen's futuristic underground bar to open downtown
Signature restaurant announced for new downtown boutique hotel