On National French Toast Day, Five Local Faves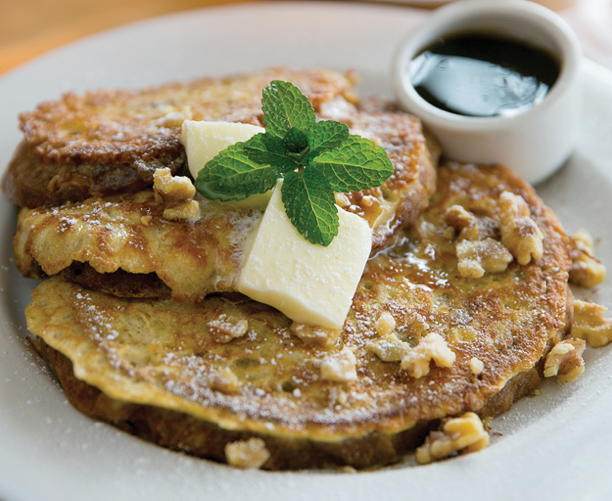 As if having Thanksgiving fall on Hannukah isn't enough of a cosmic coincidence for one day, today is also National French Toast Day. In honor of this esteemed holiday, we offer up a few of our favorite French toast options around the region.
Tower Cafe
This may be the most celebrated French toast in Sacramento. The chefs at this eclectic Broadway institution soak sweet French bread overnight in vanilla custard, and then cook it up in the morning so it's hot and crunchy on the outside, sweet and impossibly moist on the inside. Insider tip: Even if you're not hungry enough for the hefty full order, get it anyway and take the syrup-soaked leftovers home and put them in the fridge. It will make for an amazing dessert after dinner. 1518 Broadway. 441-0222. towercafe.com
Ettore's European Bakery and Restaurant
Swiss-born Ettore Ravazzolo has been luring a stream of loyal customers through his red doors since 1985. Known for his delectable pastries, cakes and other sweet treats, Ettore doesn't disappoint at breakfast either, where patrons line up at the counter to order the house-specialty French toast, made from his delicious freshly baked cinnamon rolls, served with whipped cream, maple syrup and fresh strawberries. 2376 Fair Oaks Blvd. 482-0708. ettores.com
Four Sisters Cafe
This Roseville hot spot has only been open for about a year, but is already making a big impression with its inventive menu, and its sweet mango-stuffed French toast is no exception. Made from a house-baked croissant and filled with mango cream cheese, it's topped with slices of mango, banana and toasted coconut shavings. 9050 Fairway Dr., Roseville. 797-0770.
DeVere's Irish Pub
The Irish may not be known for their French toast, but this local Irish pub with locations in Sacramento and Davis sure knows how to do it right, with their own creative spin on the classic dish. Here, they start by soaking a soft baguette in Tuaca custard, then they grill it up piping hot and top it with fresh fruit and a delicious dollop of irresistable Nutella chocolate butter. Yum. 1521 L St. in Sacramento. 231-9947. 217 E St. Davis. 530-204-5533. deverespub.com
Monticello
This farm-to-fork restaurant (pronounced Monti-sell-o and named after a nearby historic settlement of the same name) located next to the Davis Co-op specializes in locally sourced food and its French toast is no exception. The restaurant uses a delicious walnut loaf from Davis' Village Bakery, and the finished product is sprinkled with local walnuts and served with a house-made caramel syrup. 630 G St. Davis. 530-792-8066. monticellocuisine.com