Once Upon a Time in Mexico
Mushrooms. Walnuts. Pomegranate seeds. Mashed potatoes. Can this really be Mexican food? Welcome to Mesa Mercado, a new market-to-table restaurant in Carmichael that celebrates Mexico's historic cuisine.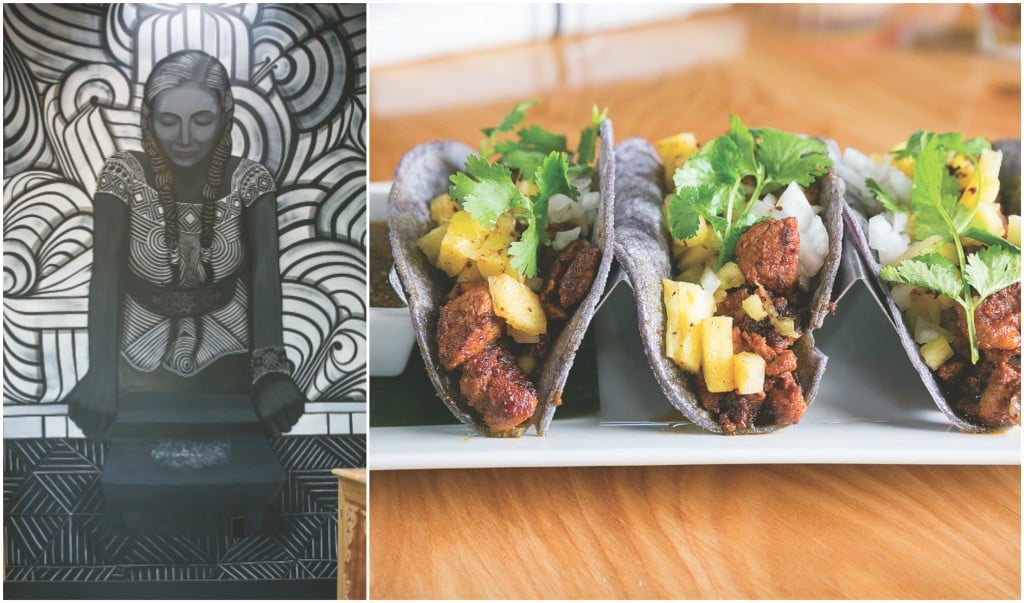 Mesa Mercado
6241 Fair Oaks Blvd.
Carmichael
283-4081
mesamercado.com
R
You know you're in a "real" Mexican restaurant when you see chile en nogada on the menu. YA roasted poblano chile stuffed with raisin-studded ground beef and pork, blanketed with walnut crema and sprinkled with bright red pomegranate seeds, it's a visually stunning homage to the colors of the Mexican flag, as pretty as any dessert, especially the way Mesa Mercado serves it, atop a bright red pool of pomegranate sauce.
The Mexican dish isn't on nearly as many American menus as it should be. "That's because it's traditionally served at room temperature," says Mesa Mercado's owner, Ernesto Delgado, and Americans, for no clear reason, seem to expect their food to be hot or cold but never in between. His work-around is to offer the dish as an appetizer, and it is hands-down his new restaurant's showpiece.
When Delgado decided to open a new location in Carmichael's Milagro Centre, he could have simply cloned his first restaurant, the high-concept, high-design Tequila Museo Mayahuel. A staple for the downtown lunch crowd by day, and for conventioneers, theatergoers and hotel guests by night, Mayahuel showcases the virtues of the fermented agave plant, with eclectic, adventurous Mexican cuisine designed to complement a serious tequila menu.
But Delgado wanted his new outpost to be different. The bar would play the supporting role this time, and the restaurant would have a bustling "market-to-table" theme. When Delgado was approached by the late Nancy Emerson Davis, who masterminded Milagro, he was wary of the neighborhood's ability to support such a high-end, farm-to-fork concept. So he recruited fellow restaurateur Chris Jarosz of Broderick Roadhouse and Saddle Rock to join him. The two plan to open a 3,300-square-foot food market at Milagro called Hunt and Gather, from which Delgado intends to source the restaurant's ingredients, by the end of the year, and Jarosz is launching a separate eatery called The Patriot in early 2017. (Delgado will open another restaurant in early 2017 as well—La Cosecha by Mayahuel at Cesar Chavez Plaza.)
The Milagro Centre houses other tenants like River City Brewing Company, Ghiotto Gelato, Insight Coffee Roasters and chef Billy Ngo's Fish Face Poke Bar, and features lounges and fire pits in a common area. The complex is modeled after both the Ferry Building in San Francisco and the Oxbow Public Market in Napa, the latter of which sparked Delgado's interest, and drove his market-to-table concept ("mesa" means "table" in Spanish and "mercado" means "market"). "My whole family is in Napa, so I go there every week or two, and I always stop in at the market when I'm there," says the restaurateur, who grew up between Napa and Mexico. "Now food halls are popping up everywhere, and historically Mexico has always had mercados—so the name Mesa Mercado just fit my concept."
At Mesa Mercado, the open plan of the dining room embraces Milagro's sense of community and interactivity: the blond wood tables of the restaurant are ringed by open shelving containing market items available for purchase, giving guests a sense of dining in the middle of a bustling marketplace. Black Eames-era molded chairs and geometric tiles give the place a dash of urbanity, Delgado's nod to the sophistication of Mexico City. A black-and-white mural depicts a woman on her knees grinding corn, or praying, or both—her pose is reverential—and elsewhere, a large graphic above the open kitchen reads: "A religious food experience."
The space is still a work in progress, with areas at the back taped off and under construction. When the build-out is complete in 2017, a taco bar and a Mexican market selling prepared foods, spices and specialty items will join the sit-down restaurant.
Delgado wanted the kind of historic foods on his menu that a Oaxacan grandmother would serve, dishes that would resonate with any Mexican and charm any Sacramentan encountering them for the first time with their subtle complexity. When it came time to hire kitchen staff, he found himself reluctant to go the traditional route by bringing in an executive chef to design a menu. Instead he found his mole whisperer by chance in July 2015 while attending an event at Mulvaney's B&L at which he wound up seated next to Bertha Graciela Medrano Ríos, who was in town visiting her son and daughter-in-law from Mexico City, where she had her own restaurant. Delgado began to pick La Señora Bertha's brain about traditional cookery, the elusive chile en nogado in particular. Did she know how to prepare it?
Did she ever. At Delgado's invitation, Medrano Ríos later whipped up three different versions at Mayahuel, where she spent a week as a guest chef. Both of them liked the experience so much that Delgado hired her as a "flavor consultant" to train the Mesa Mercado kitchen staff in how to execute the menu items.
"She's got all these secrets," Delgado says. Like the secret of how to produce the perfect mole. Balancing over 30 ingredients—including Oaxacan chocolate, dried chiles, caramelized plantains, toasted apples and Maria cookies—is a feat for any chef. Mole can so easily turn dusty, or sour, or sticky, or end up like a mouthful of kryptonite—so heavy and dense that you can feel it sapping the life force out of you even as you swallow. Even good moles sometimes feel onerous after three or four bites.
Mesa's version is none of the above, a balancing act with both depth and a springy lightheartedness—you just have to keep eating and eating as you plumb the layers of bright acidity, roasty nuttiness and mild heat. Before you know it, you're sopping up the last bit of sauce with a tortilla. "Mole is a sauce of the ancient gods," Delgado says. "That's why it tastes so good. And it's not just about eating; it's about blessing the soul, the body and the mind."
The sauce is served over just the right protein: Mesa Mercado's precisely cooked chicken breast. Diners might do a double take, checking the menu to make sure it really did say "chicken breast," because the meat has the falling-off-the-bone tenderness of a simmered bone-in chicken thigh. The gaminess of dark meat would have fought back against the dark complexity of the mole, so kudos to Delgado for finding a way to present clean-flavored white meat with just the right succulent texture.
The Mole Oaxaqueño is a dish usually served in Mexican households on holidays and special occasions, but it shares the menu with humbler homestyle offerings, such as the Tacos Dorados de Papa—a deep-fried taco stuffed with gently-spiced mashed potatoes and topped with lettuce, tomato and sour cream. Popular in Mexico as both a home food and street food, one can imagine anyone who grew up eating these would have the same attachment to them that Americans do to a classic grilled cheese. It's kindness on a plate, a dish where the harmony of comforting textures is at the fore.
"It's the original taco," Delgado notes. "Mexican food is very simple. The original taco, the original enchilada, both have just seasoned potato. It's peasant food. You find that taco in every home [in Mexico], and every street vendor in every mercado has that taco, but you never see it here."
But perhaps the best thing on the menu—the dish you'd drive across town for—is one that would be easy to overlook. The sopa de hongos, or mushroom soup, is a mellow, subtly symphonic bowl that is equal parts umami and sweet—the umami coming from chicken stock and white button mushrooms, the sweetness from long-cooked onions and fresh chopped garlic. The flavor is distinctly Mexican in a way that's hard to put your finger on. Delgado explains that it's simmered with whole guajillo chile, which imparts the soup's complexity and gravitas, like a barely heard bass line thrumming along below a lush melody.
Other menu items include tacos al pastor, vegetarian tacos, carnitas, ceviche, fish, steak, enchiladas and tamales. Usual suspects for a mid-range suburban Mexican restaurant to be sure, but if a sampling of the al pastor tacos is any indication—spicy pork tucked inside blue corn tortillas with roasted pineapple salsa and slivers of radish—expect to find a creative spin on a classic dish with every plate. The guacamole, for instance, is what Delgado terms "interactive," arriving at the table as an array of fresh ingredients ready to be mixed to taste by each diner.
While Mesa Mercado may not be a tequila museum, its cocktail menu is still well curated. The house margarita is fresh and quaffable, finished with chile on the rim and a slice of watermelon as garnish. The El Señor Ernesto is more exotic, an herbaceous, smoky mescal martini served with stuffed olives on a rosemary skewer, the rim of the glass dusted with black sea salt.
The only dessert on the menu is a mango cake served with pomegranate salsa. It's bright and fresh, but it's a fair bet that many diners will embrace Milagro's concept and wander two doors down to Ghiotto Gelato after dinner, and that's just fine with Delgado, who sees his restaurant as already having found its niche in the fabric of the market.
"It's amazing to see that it's already established its community," he says. "Customers go from one table to another saying hello to each other, and that's what a mercado is supposed to be. It's all coming together."