Once Upon a Time in Mezcalifornia
For centuries, mezcal—the ancient intoxicant steeped in Mexican tradition—has sprouted almost exclusively from the vast agave farms south of our border. But one Yolo County hobbyist farmer believes that climate change, of all things, has the potential to spur a California version of the storied spirit to take root right here. And despite extraordinary odds, he might just get his day in the sun.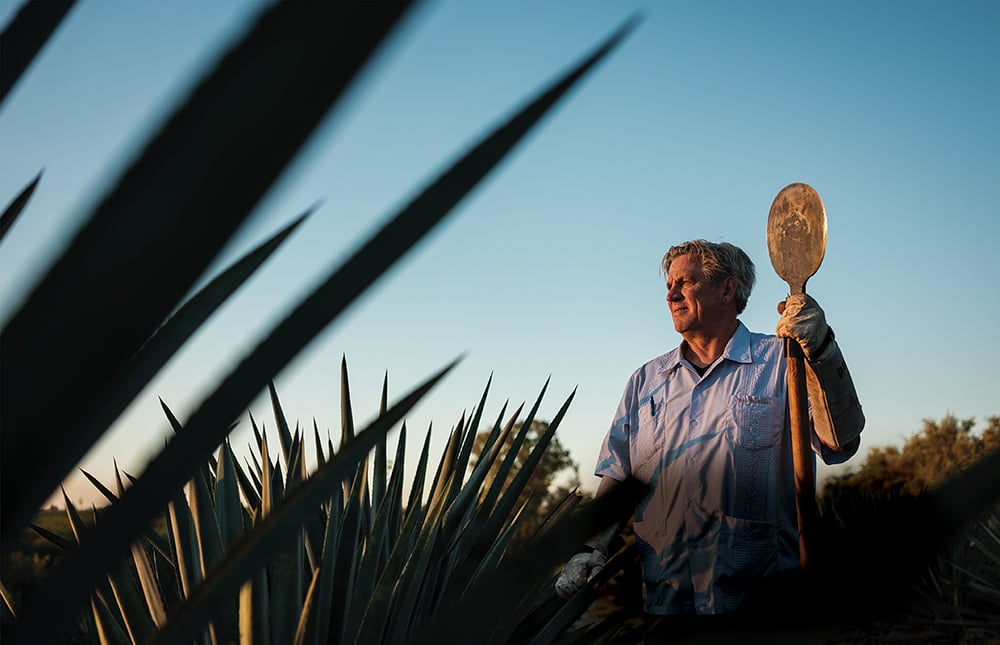 IIf you could distill California—reduce it to its essence and sip it on a warm evening as the Delta breeze cooled the back of your neck or the sun dissolved into the Pacific—what would end up in the bottle?
There would be a smoky quality, of course—especially these days—but the liquid would still be almost paradoxically clear, like runoff from the Sierra Nevada snowpack.
It would be unique—maybe defiantly so—while still acknowledging that it began life as part of Mexico. It might possess a note of earthiness, of long days of labor and love spent in punishing heat with scarce water.
It would change a little every time you came back to it. Or maybe it would change you. Either way, it would definitely loosen your joints and your tongue—even knock you down, if you weren't careful.
The liquor would have been shaped by every headline describing the Left Coast today—wildfires and farmworkers, climate change and cultural revolution, land prices and legal battles—and you would either be fiercely devoted to it or think that the people who couldn't get enough of it were crazy, snobbish, or a whole lot of both.
It would be comforting, controversial, complex, and probably more expensive than you would like.
If you could distill California, you could very well end up with something like the spirit of the agave. That's Craig Reynolds' hope, anyway. His vision—born of a love for the outdoors, Mexican culture and tequila's cousin mezcal—is for California to someday have its own agave spirits industry. He admits that this goal is a bit like Don Quixote's windmill, but as he's dug deeper into the endeavor, he's discovered that he's not the only one tilting toward it.
*****
Standing in the shade of a eucalyptus that marks one edge of his roughly 2-acre field in Woodland, Reynolds looks like he dressed to match Yolo County's fall color scheme—everything is blue over brown.
On this particular afternoon, the sky looks like it would have trouble remembering it ever held clouds. The clarity is rare for this time of year, with late summer and early autumn becoming increasingly associated with wildfires that fill the great bowl of the Sacramento Valley with a relentless haze.
To get here, you have to exit I-5 and take county roads that cut straight between expanses of dirt and corn stubble. Harvest has already come for many, and samples of the market-bound bounty that bounced from open trucks dot the interstate highway border.
Reynolds conforms to this natural palette, as well as to its order: brown boots at ground level and a light blue guayabera—often described as a Mexican wedding shirt—at the top.
But there is also a sea of green that comes from about 1,000 nearby Agave tequilana plants stabbing the still September air, their thick leaves tapering to deadly points that once featured predominantly in Mesoamerican sacrificial rituals. Each plant is about the size of a large air conditioning unit and shaped like a frozen-in-time explosion, ejecta flung upward and outward by mortars fired from Jalisco, Mexico.
In this case, however, the agave plants were shipped from Riverside, California, 407 miles to the south. They arrived as babies in the form of root-like stems scientifically known as rhizomes and colloquially as hijuelos or pups.
Reynolds' pups began life in a field planted by tequila maker Mark Carlston, who pled ignorance as to the provenance of his own plants. And in 2014, Reynolds planted his first crop of succulents—along with his hopes—into land leased from longtime Yolo County farmer Joe Muller.
Reynolds is committed to spreading the gospel of "Mezcalifornia"—not a movement, he muses, but rather a concept born of equal parts studying the holy documents of climate change reports and faith that plant-killing frosts will become a rarity in the Sacramento area. He enthusiastically touts agave's versatility, its minimal need for water—critical in a state chronically plagued by drought—and even its unique ability to serve as a firebreak that stops blazes from advancing into more flammable fields.
Indeed, on Sept. 15, nonprofit newsroom ProPublica published an analysis of data from New York-based research firm Rhodium Group, concluding that the coming decades will see historic drops in rainfall levels and rises in average temperatures, pushing agriculture northward. Reynolds believes this climatic shift will force local growers into planting new types of crops to sell.
"Agave's going to be one of them," he says. "I'm confident."
But this will not be a tequila industry. Much in the same way France regulates use of the term Champagne (if it's made outside of the Champagne region, it's typically called the more generic "sparkling wine"), Mexico's private Consejo Regulador del Tequila (the Tequila Regulatory Council) ensures that the appellation is reserved strictly for the distillate of agave grown in Jalisco and four other Mexican states. Nor will Yolo County spirits be called mezcal—a broader appellation governed by the Consejo Regulador del Mezcal and encompassing agave grown in nine states.
No, whatever emerges from this side of the border will be something new, both in name and yes, spirit.
"Part of it is to not just try and replicate something else, but to innovate," Reynolds says.
*****
Reynolds' idea first took root during his three decades of work in the California Legislature—specifically while he was serving a 14-year stint as State Senator Lois Wolk's chief of staff.
"She was the center of the debate about the Delta tunnels and the new version of the peripheral canal and was generally not a supporter of that," Reynolds explains. "I would jokingly—half-jokingly—tell folks, 'Well, the problem of this water shift from Northern California to the San Joaquin and Southern California is that these farmers down in Westlands [Water District in western Fresno and Kings counties] are growing high water-use crops like almonds to export to China, and they should be growing agaves and making tequila, which you can do with a lot less water and still get a lot of value.' "
Reynolds wasn't just waxing theoretical. Since 1984, he and his wife Cass have volunteered for Project Amigo, traveling several times annually to help the nonprofit that fosters literacy and educational opportunities for children in Colima, Mexico. The organization had been selling tequila in bottles engraved with its logo to raise money when one of its co-founders suggested in 2006 that they try their hand at making the stuff inside the bottle too. After all, they all liked the liquor, and their facilities manager, Diego Martinez, had a pasture near town that would be perfect for the half-lark, half-experiment of growing their own agave. So Martinez planted and tended the occasionally ash-dusted 4.5 acres of blue Weber agaves between Volcán de Colima and Nevado de Colima—an active volcano and a dormant volcano, respectively—with Reynolds using his vacation days from the capitol to travel south and serve as project manager over the next eight years. The agaves ultimately offered up their hearts—or piñas—to be transformed first into a lively spirit and then into scholarship dollars for disadvantaged youth. Reynolds brought in a brand-developing consultant from Guadalajara and local farmworkers to handle the actual harvest. He rented a distillery and obtained a license to import and distribute the end result, dubbed Dos Volcanes in honor of the nearby peaks that infused the soil with healthy doses of silica and potassium sometime in the Pleistocene.
Martinez's field was just 3 miles from the Jalisco border, so the resulting blanco (unaged distillate), reposado (aged briefly in oak barrels), and añejo (aged up to three years) are legally not tequila. The regulatory nomenclature doesn't bother Reynolds. The Dos Volcanes website cheekily suggests calling the pure expression of distilled agave " 'mezquila' if you want."
It also doesn't bother tastemaker Darrell Corti, known for his preternatural sense for international foods and drinks that will appeal to unsuspecting American palates and become darlings of the fine dining scene around the state. Corti stocks Dos Volcanes at his East Sacramento grocery ($57-$72 per bottle), alongside other items chosen with a legendary discernment that has made him a Moses-like figure, bringing culinary truth down from the mountaintop, for everyone from Chez Panisse's paradigm-shifting Alice Waters to national food critic and former Gourmet magazine editor-in-chief Ruth Reichl.
Corti says he first met Reynolds "when he came in and tried to sell us his Mexican product."
"The product was very good, so we bought it," Corti explains. "It tasted like what distillate from agave is supposed to taste like." And what is that, exactly? Corti elaborates: "It should have a slightly vegetative, greenish scent and flavor."
Corti is intrigued by Reynolds' current efforts to create a local distillate, though he notes that land is typically more expensive in California than in Mexico, where growers also leave their plants to develop for longer."It takes seven to nine years of growing to actually get a piña big enough to produce a lot of alcohol," Corti says.
Unlike strawberries or cabbages, which are planted and picked in annual cycles, a single agave plant ideally takes up its real estate for the better part of a decade or longer. This can be a daunting—even prohibitive—timeline for growers considering getting into the agave business, especially in an area where the demand for a locally grown product is as-yet-unknown. Why tie up land for two presidential terms when it could yield eight seasonal cycles' worth of a different crop—one with a known market?
"If you can produce the raw material cheaper in another country, that's what most people do," Corti continues. "I'm not so sure that growing agave in California is something that we should do. But on the other hand, if people want to do it, this is a free country. You can make or lose as much money as you want."
But there's no question that the core product is currently a booming business. IWSR Drinks Market Analysis, which compiles and analyzes alcohol sales data, reported earlier this year that mezcal sales grew by 40 percent in the U.S. in 2019, more than four times the jump in tequila.
*****
And, it turns out, some other people do want to do it. Reynolds' passion has already proven to be modestly contagious, driven in no small part by his desire to spread the agave gospel. Two more Yolo County growers have already joined the flock.
One is Raul Chavez, who tends an agave-studded hillside about half a mile away, on a ranch owned by Joe Muller's brother Tom. There, Chavez is farm manager for Tom, and with only a 3-acre site for the agave, the crop is more of an experiment at this stage; a small but calculated wager in case Reynolds' prediction turns out to be right.
When Chavez rolls up to Reynolds' agave patch, it's obvious that he got the blue-over-brown dress code memo. It's also obvious that he knows his way around agave. Chavez grew up in Tonaya, a town in the Mexican state of Jalisco (agave central) where his family tree has produced multiple jimadors—agave harvesters named for the round-headed cutting tools they wield called coa de jima.
Chavez has personally handled the coa for Reynolds' own harvest. It takes him only minutes to strip a mature agave down to its piña and send it rolling toward its future as a spirit. One acre can produce about 30 tons of this bulky piñas, with each ton ultimately producing about 100 liters of finished product.
The other Northern California agave pioneer is Andy Donald, a longtime spirits distribution executive, who launched Spirited Farms last year with his former colleague Patrick Ramos, as well as Sacramento restaurateur and bar owner Henry de Vere White.
Separate from the farm, Donald has ambitious plans to open his own distillery in West Sacramento, hopefully, he says, within 18 months. Having worked in the spirits industry for more than a decade, Donald has been quietly prepping to start his own distillation business, named for his great-great-great-grandfather Jackson Temple, a California supreme court justice who served in the late 1800s. He plans a bottling lineup that includes American single malt whiskey, gin, vodka and a spirit labeled Agave de Codorniz—referencing quail as both the state bird and a common target of his hunting hobby.
In anticipation of this undertaking, Donald sought out Reynolds—whom he calls "the don of California agave, at least in Northern California"—and connected through a mutual friend. After a dinner to talk shop, Donald moved quickly to plant about 1,000 agaves on property he leased from his in-laws, coincidentally only about 3 miles away from Reynolds' and Chavez's fields, along Cache Creek northwest of Woodland.
He started a year and a half ago, and wants his product to be among the first—if not the first—estate-grown agave spirits in California, meaning the same people oversee both the growing and the bottling, which occur in the same geographical area. And he's thinking long-term—given agave's lengthy maturation process, it can take five to seven years for even the fastest-growing plants to reach the size and sugar levels necessary for a good distillate. Simply put, this is no way to make a quick buck. He also wants to plant another 2,000 tequilana agaves next year, along with about 100 of the Espadin variety common to Oaxacan mezcal production.
The fact that there are currently three separate Woodland-area fields already filled with agave means Yolo County could very well be the historic epicenter of a brand-new California industry.
*****
But even if Andy Donald succeeds in his plans to distill his agave spirits, he will have some big shoes to fill—namely those of Lance Winters, the celebrated master distiller and five-time James Beard Award nominee at Alameda's St. George Spirits. A California agave distillation market may still be unproven at this point, but that hasn't stopped the man known to many as the "mad scientist" of craft distilling from challenging himself to pursue it for more than a decade now.
Winters once decided to recreate an absinthe recipe he discovered in an issue of Scientific American, not to distribute—the high-proof, wormwood-infused, anise-flavored liquor with a hallucinatory reputation was banned for sale in the U.S. at the time—but because he could. In 2007, when regulations changed and Winters had perfected his recipe over 10 years of tinkering, St. George was positioned to become the country's first legal absinthe seller in almost a century.
These days, he uses chopsticks to pull stems off thousands of individual ume plums as part of an elaborate process to fill whiskey-finishing barrels. If it's laborious and time-consuming and no one else is really doing it, there's a good chance you can count him in.
And there's no doubt about it—agave demands an element of masochism. To reach the juice, you have to first hack off all the leaves to reveal the piña. The word translates to "pineapple" in English, and the plant truly does resemble a monstrously oversized version of the fruit, especially when the sides are bare and a few green prongs still poke up from the top. Lop those off, and you're left with something that more resembles a prehistoric pine cone that could give a triceratops a concussion. Winters describes individual piñas as the size of "two sea turtles mating," which is theoretically helpful in determining a mental scale, assuming you've seen the animals in question engaged in the act in question.
Regardless of how you choose to describe it, the piña must be hacked apart, a task traditionally undertaken with a razor-sharp coa, and in some cases, a machete or axe.
The crowning year for Winters' absinthe, 2007, was the same year his crew first tried processing 38,000 pounds of piñas he acquired from Mexico. Eschewing time-intensive machetes, they first put the raw materials through equipment intended for pulping pears, which promptly broke the machine.
Then they tried chainsaws.
"The agave laughs at chainsaws," Winters says. "Within just a couple of cuts, the links in the chain were filled with little pieces of fiber, and the chainsaws ended up looking like giant kitten paws, like furry death machines. Just useless."
They tried and broke a hammer mill they owned, and then a wood chipper they rented, before ultimately finding some success with a commercial dog food mill designed to grind up frozen sides of beef.
However, an unforeseen problem during the fermentation process turned a significant portion of the liquid into vinegar. Winters says they threw away two-thirds of their potential yield, then glumly fed their stills by hand, digging stubborn fibers out of the works with pitchforks and suffering burns when they weren't careful. After two weeks of misery, nursing their wounds and hating their jobs, they swore off agave for good.
"Until Craig," Winters says.
In 2015, Reynolds led the effort to cook plants harvested from Mark Carlston's Riverside farm, filling a pit that was dug into Joe Muller's Woodland property and lined with volcanic rocks hauled down from Mt. Lassen. This method emulated the centuries-old practices employed in Oaxaca and its neighboring states, where generations of families have slow-cooked their crops using similar subterranean strategies to make mezcal, as opposed to firing up aboveground ovens typically used in making tequila.
Though their experiment with the agave from Mexico left Winters and his team both psychologically—and literally—scarred, they weren't so traumatized that they didn't want to give it another go when given the unlikely opportunity to put a California-grown spin on the distillate. This time, they acquired a knife mill from Mexico, sporting two sets of blades—one rotating, one fixed—that make short work of the stubborn piñas. Why such an investment for something that once had them cursing the day they first laid eyes on a plant heart as large as a pair of passionate marine reptiles?
"Because we're f–king idiots," Winters laments.
Idiots or not, Reynolds considers the concept of a uniquely California take on mezcal to be proven, a belief bolstered by the response to Winters' final product in 2015 from some key players in the Sacramento-area food and drink scene. Among them was Patrick Mulvaney, who knew Reynolds from his days working at the capitol.
"He came one day with a small flask and said, 'Hey, this is the first mezcal from blue agave grown in California, and it was cooked in Yolo," Mulvaney remembers. "People bring in hooch now and again, and it's usually horrible, so I expected to taste it and be very polite and say that's lovely, and he poured it, and I was like, 'Oh my God! This is amazing!' "
Mulvaney, the co-proprietor of Mulvaney's B&L and one of Sacramento's most celebrated chefs, wrote to Winters and secured enough of the spirit to include in 2017's Farm-to-Fork Festival's crowning Tower Bridge Dinner, mixing it into a prickly pear-based "Yolorita" and proudly informing fans it contained the first blue mezcal distillate grown in California.
Suffice it to say, Reynold's enthusiasm for locally grown agave has won Mulvaney over. Musing on the skepticism first dished at growers planting pinot noir and chardonnay in Napa, the chef concludes that there's an opportunity to create history with home-grown agave.
"What's best about California is that people come here to live their dream and make their second dream, and if we can do that with blue agave, that would be pretty cool," Mulvaney says. "I think Mezcalifornia has a great future."
*****
That future also requires a look at the past, and if you want to learn the legend and the history behind mezcal, you have to talk to Ernesto Delgado, whose Mayahuel restaurant in downtown Sacramento doubles as a "museum" devoted to the rich culture and people who first made the drink.
"It's a truly fascinating spirit that has been around forever," Delgado says. "And most people think that tequila is kind of like the parent, but mezcal was first."
Delgado can't help but sweep his arms in dramatic gestures when he describes the meaning behind his K Street establishment's multiple murals depicting Mayahuel, the Aztec goddess of the agave plant and mother of 400 rabbits, each representing a different stage or aspect of drunkenness.
"Yet we don't drink mezcal to get intoxicated," Delgado says. "You can have one small glass and it might take you 45 minutes just to sip on it. You can't shoot it. Your body won't accept it."
Take his advice. Delgado's depth of knowledge and love for the spirit run so deep that seven years ago, inside Mayahuel, he opened what he believes was the first mezcal-only bar in the United States, featuring mezcal-based cocktails, tacos that focus on flavors reflecting where mezcal comes from, mezcal educational events, and a staff happy to answer questions ranging from "What separates mezcal from tequila?" (remember the appellations) to "Why's it so smoky?" (the aboveground brick ovens used to cook tequila allow smoke to escape through a chimney, while the underground pits where mezcal is made trap the particulates, "almost like they're marinating the liquid with smoke," Delgado says).
The restaurant also features potted agaves grown not in Jalisco or Oaxaca, but Craig Reynolds' field in Woodland.
So how did mezcal first come to be? Dr. Roger Boulton—professor emeritus at UC Davis and former scientific advisor to Patrón tequila—says there was a long empirical knowledge base across the Mexican peninsula, where indigenous tribes grew and cooked pulque: a sweet, pungent and distinctive agave brew.
"Along came the Spanish, invading," he explains. " They take over, and [that part of Mexico] becomes a Spanish colony. Now that brings with it the church and the distillation knowledge of sacramental wines and fortified wines. And the [result] becomes a regional distilled spirit."
In other words, mezcal was born some 500 years ago, evolving from possibly thousands of years of tradition rooted in a very specific place. This raises a question: Can a California-centric effort capture what Delgado calls a magical spirit that connects to the essence of place? Whereas other spirits are produced in vast volumes, to be repetitively bottled for uniform nose and notes, mezcal is crafted in smaller batches using recipes and techniques passed from generation to generation.
Delgado speaks in poetic terms when he describes the labor-intensive process of making mezcal: "It's artisanal. It's more pure. It's more organic."
How do you adapt and merge that unique spirit with the practices, advantages and limitations of California, a region devoid of the history that shaped mezcal in the first place? A region where producers choose whirling machines over axes, where distillers like Jackson Temple's great-great-great-grandson plan to cook their agave in a sterile autoclave, where there are no nearby mango trees that might kiss the fermenting pulp with wild yeast that whispers faintly from the final product?
Delgado admits that he's struggled with his thoughts on the possibility of a California-based take on mezcal. But he's also been studying the global creation of cuisine via the migration of people, culture and food in his classes at the Culinary Institute of America in Napa—the region his family moved to from Mexico when he was a boy. He points out that his fellow countrymen who followed the same dream used to be grape pickers, and now are vineyard managers, winemakers and winery owners. If people can migrate and thrive and grow, he muses, why not agave too?
"If I say agave should only come from Mexico to produce tequila or mezcal, it goes against me being here, growing up here, you know?" he says.
*****
Reynolds' first harvest of his own plants was in April of 2019, drawing a who's-who crowd of mezcal fans, foodies—including Corti and Mulvaney—and others interested in the endeavor. Distiller Winters—ever a glutton for punishment—took that Yolo County yield, drawing on everything he learned from his previous two attempts and calling in Dr. Boulton for expert troubleshooting when fermentation stalled at one point. The result is between 36 and 40 gallons of liquor currently sitting at high proof in a stainless steel drum in a warehouse in Alameda.
"It's such a strange product—which I'm ecstatic about," Winters says. "It reads like a mezcal. It's got some light smoke to it, but it's also got some really interesting mineral and citrus notes. It's delightful. I really enjoy drinking it, and it was worth all the heartache it took to make it."
After some deliberation, he decided in October to donate the majority of it—he wants to keep some to drink himself, after all—to the Yolo Interfaith Immigration Network (YIIN), a nonprofit that helps struggling migrant workers and immigrant youth. That group can, in turn, sell the spirit as a fundraiser, assuming they secure appropriate licensing.
Reynolds' next harvest is planned for November, which will mark another milestone for the man who sheepishly admits that once he committed to growing agave in Woodland, he was simply doing it to prove a point. Now, however, he sees his greatest reward not in the soil or the liquor, but in the community that has coalesced and become united by the spirit of the plant.
And the idea that youth pursuing a dream of education and work with help from YIIN could soon directly benefit from his belief in Mezcalifornia—from his shepherding small, pale pups into hardy, productive plants that are literally pouring their hearts into the broader community—echoes how Reynolds' endeavor began almost 15 years ago as a fundraising idea for Project Amigo.
Says Reynolds, "I couldn't think of a better end for the first harvest."