Opposites Attract
The buzzy new Beast & Bounty draws diners on both ends of the food spectrum with a smoking-hot menu that is as veggie friendly as it is meat forward.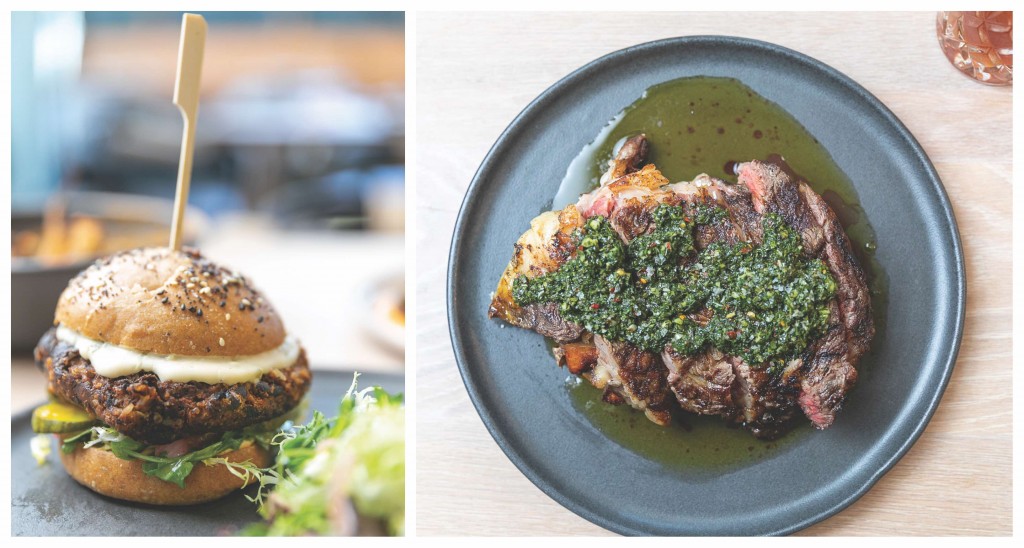 Beast & Bounty
1701 R St.
916-244-4016
eatbeastandbounty.com
I
In many ways, Beast & Bounty, the long-awaited Ice Blocks eatery from restaurateur Michael Hargis (LowBrau, Block Butcher Bar), is a study in paradoxes. For example, the restaurant's bummer of an extended delay—originally, it was scheduled to open last fall—actually cultivated a fever pitch of anticipation instead of dampening enthusiasm: The public had almost an extra year to be teased with Instagram sneak peeks of everything from the modern, shed-style architecture (an adaptive reuse of an old Orchard Supply Co. building) to mouthwateringly blistered margherita pies (testers to break in the new pizza oven). Such a savvy, if accidental, social-media strategy made the best of the chronic construction holds and permitting issues, ensuring that Beast & Bounty's July 31 opening night was packed to capacity. The interplay between forces in opposition is inherently compelling, especially when said forces can come together to create something harmonious and beautiful.
Even the name of the hot spot is a catchy, alliterative juxtaposition of the two major food factions—meat and veg. "Sacramento really needed a place where everyone could eat well, no matter what their [dietary] preferences," says Hargis, whose idea for a wood-fired restaurant that also catered to vegetarians and vegans—after all, carnivores have been reaping the flavor rewards of smoke and char since caveman times—was inspired by chef Mark Liberman's erstwhile TBD eatery in San Francisco and Ox, the Argentinian grill in Portland from married James Beard Award-winning chefs Greg Denton and Gabrielle Quiñónez Denton.
At both Ox and TBD, the primitive, unpredictable nature of fire has (had) been harnessed and celebrated through thoughtful, elegant dishes, iterations of which have found a place on Beast & Bounty's menu, created by executive chef and co-owner Brock Macdonald. For example, the Spanish-influenced charred octopus is a tender tentacle served with pickled potatoes, chorizo and Calabrian chili aioli. (At TBD, the octopus was served with kohlrabi, black truffle and green garlic—more California style with farm-stand produce and a rich, earthy note.) Meanwhile, the intricately marbled rib eye, practically a requirement for live-fire gastronomy, could be considered, as Macdonald humbly calls it, "a standard meat-and-potatoes dish," were it not for the lusty 60-day-aged meat, which is grilled over locally sourced almond and oak wood (the former imparts a nutty sweetness to all things basking in its smoke; the latter is revered for its slow and steady burn) before being nestled atop a thick swipe of intensely flavored black garlic aioli and finished with a bright, herbaceous chimichurri. (The Ox version is also served with chimichurri.) The restaurants display a reverence for wood-fired vegetables, and Ox's "From the Garden" menu is tantamount to B&B's "Bounty" section.
Smoke even grazes the cocktails—the Tobacco Road is an Old Fashioned-style drink with rye and tobacco bitters; additionally, the rim of the glass is first pressed against a smoldering oak plank, its plumes imbuing the vessel with flavor, before the alcohol is poured in. And dessert offerings include a smoked chocolate pudding tented by glacier-like shards of meringue, which was created by opening pastry chef Edward Martinez, who departed in August and was replaced by Rebecka Smith, formerly of Grange, Empress Tavern and Block Butcher Bar. The team is also reimagining classic confections at its adjacent Ice Blocks project, a small-batch doughnut and ice cream shop called Milk Money. "I've always joked that Ed and Brock look like they could steal my milk money," says Hargis of the heavily tattooed chefs.
For nearly five years, Macdonald has helmed the kitchens at midtown's LowBrau and Block Butcher Bar, known for house-made gourmet sausages and charcuterie, respectively. He readily admits to being pigeonholed as a wizard with animal proteins, able to coax and concentrate flavors with gastronomical tricks and techniques such as smoking and curing. Still, he was not deterred when tasked with applying such mastery to vegetables.
"Cooking is cooking," says the San Luis Obispo native, whose chefly tendencies began to manifest at the age of 9, as compensation for his mother's well-intentioned, but ill-received efforts to feed her family (hominy and hot dogs, anyone?). He learned how to make his first go-to dish, eggplant Parmesan, from his stepfather, a short-order cook who also taught a young Brock the importance of proper technique: Macdonald could not attempt a single fried egg without first going a few hundred rounds with a skillet and slab-cut onions—rings separating mid-flip indicated a potential for broken yolks.
At Beast & Bounty, Macdonald gives his command of nose-to-tail cooking (sausages and salumi are Old World provisions fortified with undesirable pig parts) a roots-to-leaves spin—with a fire catalyst. The result is a waste-not, want-not rabbit hole: Wood-roasted carrots, for example, are served with a pistou of commonly composted carrot tops, a delicate spray of greens that offers a mildly bitter counterpoint to the vegetable's caramelized sweetness. The harissa for the seared potatoes is made with charred red peppers—in ordinary kitchens, the blackened skin would be discarded, but here, Macdonald turns the would-be debris into an ash that coats a house-made almond cheese used for the vegan pizza.
While we're on the historically vegan-averse topic of cheese, the spicy "cheese sauce" made with cores from the cast-iron roasted cauliflower is the surprising guilty pleasure that gives the black-bean-and-grain Bounty burger a luscious complexity. "I eat real cheese. I love real cheese. But I still prefer cauliflower cheese," says the chef. Other potential menu items, such as the eggplant caponata, coal-roasted spot prawns, fried pickles in veg aioli, and a salad of apricot, foie gras and seared duck, were subjected to taste tests at Hargis' East Sacramento home and during a seven-course pop-up dinner at Block Butcher Bar last November. "I just want to cook food that tastes good to everyone, and I mean everyone," says Macdonald.
That's a good thing, because in the few short months since opening, it seems that everyone in Sacramento has shown up here, if not to tuck into an exciting array of flame-licked fare, then to soak up the lively scene. Hargis' former life as a designer of custom homes and producer of large-scale hip-hop and electronic music events—"Some would call them raves," he says—seems to have groomed him for this moment, having created one of the most stunning restaurants in the city located inside one of the highest-profile new real estate projects on the grid. (Ice Blocks developer Michael Heller has worked with Hargis since 2012, when LowBrau took up residence in Heller's MARRS building on 20th Street.)
Hargis' initial inspiration for the restaurant design was a Scandinavian hunting lodge, but Beast & Bounty is far too pretty and ebullient to be regarded as such. In fact, we're fairly certain that the term "lodge" and all of its woodsy, antler-strewn connotations, hardly bears any relevance at all, save for the blazing hearth—in this case, two heavy-duty 36-inch crank grills and a pizza oven clad in hand-glazed black ceramic tile.
"When you think of wood-fired restaurants, they are usually dark and brooding spaces, but I wanted Beast & Bounty to be the opposite of that," says the restaurateur, who was drawn to the building not just for its coveted R Street Corridor coordinates, but also for the gravitas and authenticity that its heritage brings to the fresh design—the old brick wall and faded Orchard Supply Co. sign from days of yore are part of its irrepressible charm. "I wanted the space to be pleasantly surprising."
With handcrafted communal wood tables and blush-toned leather-back benches by local furniture maker Steven Tiller (who learned to sew for this project), luxe spike-handled gold flatware, white oak herringbone floors, and hanging terra-cotta planters cascading with greenery, the restaurant is a visual flight of fancy for all ages, as evidenced by the well-populated, FOMO-inducing Beast & Bounty geotags on Instagram. Scrolling through, you can almost tune into the French house soundtrack, all groovy bass lines and catchy disco riffs, and vibe off the energy of a crowd in high spirits. A rave of a more elegant sort, if you will. "I just really enjoy bringing people together," Hargis says.