Orchestral Maneuvers in the Dark
For decades, movies and cartoons have borrowed heavily from classical music. But now, from L.A. to Decatur, Illinois, orchestras are turning the tables. Perhaps it's time to lower our lights, turn on the projector and try a little Bugs with our Brahms.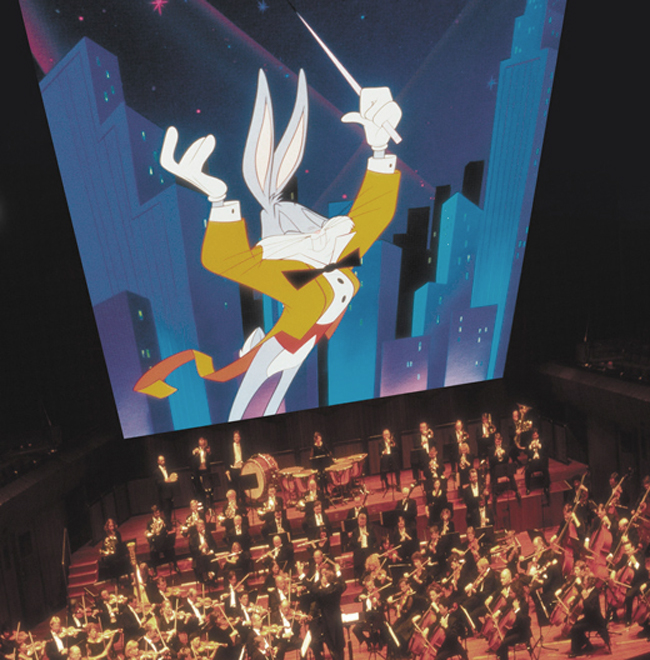 The Idea
With the economy dragging, arts organizations have been scrambling to broaden their audiences, and symphony orchestras are no exception. Happily, the nascent trend of mixing film with live music seems to be resonating with audiences, even those who aren't traditionally fans of classical music.
One big example from last year was the wildly popular "Star Wars: In Concert," which played Arco Arena (nearly 14,000 tickets were sold during its two day October run here) and toured over 100 cities before ending this past July. But there are also several productions that are partnering with local orchestras to great acclaim. One is "Bugs Bunny at the Symphony," which began touring the globe this past summer with its conductor George Daugherty leading regional orchestras from Washington, D.C. to Los Angeles and from Spokane to Indianapolis in a big-screen tribute to Bugs and the Warner Bros. gang that first exposed many of us to classical music on Saturday mornings growing up.
Another production, "Planet Earth Live!"—a stunning BBC nature documentary— also toured this year, again with local orchestras in cities like Dallas, Philadelphia and Atlanta.
But it doesn't have to be a major touring production. Many orchestras have film programs where they simply provide the soundtrack. For example, symphonies like San Francisco and Decatur, Illinois have recently run Charlie Chaplin's silent classic, The Gold Rush, on the silver screen, with an original score by Chaplin himself—a film tailor-made for Sacramento, given our own role in the Gold Rush and the fact that Chaplin imported many of his 600 extras from Sacramento when he shot part of the film in Truckee. Also, both the Minnesota Orchestra and the Chicago Symphony Orchestra will perform during screenings of Psycho this fall. And our own Sacramento Philharmonic Orchestra will partner with the Sacramento French Film Festival in January to perform during a classic French silent film at the Crest Theatre. Hopefully that's a small step towards a much bigger experiment with film.
The Players
The Sacramento Philharmonic is clearly best suited to take on these large events, but there's also the Camellia Symphony Orchestra. And the Community Center Theater will need to be a partner in the technical execution of showing large-scale films inside the hall.
The Bottom Line
The current season is already underway, but planning starts soon for 2011-2012, and some of these touring shows are already being booked by orchestras around the country for next season ("Planet Earth Live" and "Bugs Bunny" included). So shhh. Be vewy, vewy quiet. We're hunting wabbit!