Painting the Town
In cities around the world, artists are using large building façades as blank canvases, transforming urban blocks into massive outdoor museums. With an abundance of local buildings that fit the bill, it's time to curate our own civic gallery.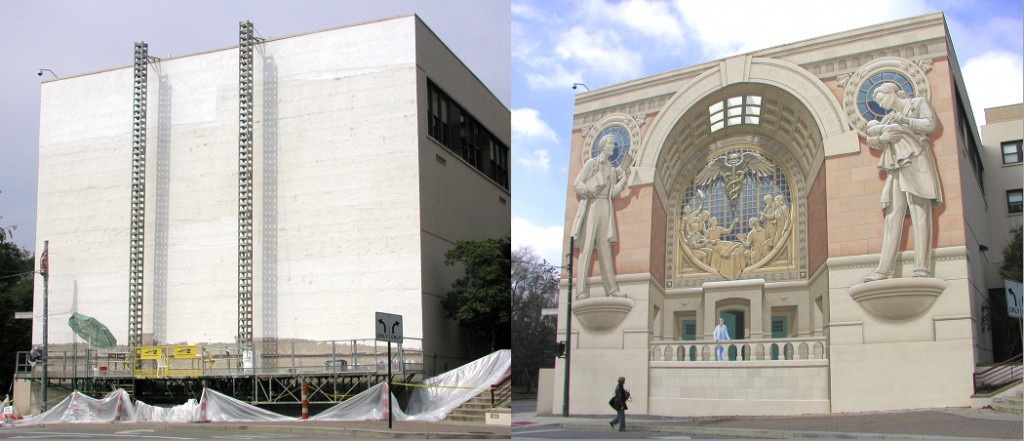 The Idea
Here in Sacramento, one of our favorite new trends is that the exteriors of buildings around town are being filled up with beautiful murals. Most are one-story works of art that bring beauty and color to their respective neighborhoods. Now it's time to take that approach to the next level, think bigger—literally—and fill massive, multistory blank walls with artwork that elevates the city and inspires its citizens and visitors.
You don't need to look far to find candidates. The Marriott Residence Inn at Capitol Park has a 15-story wall that faces 16th Street. One block west, the back of the historic six-story 1414 K building has two such bare walls. And one block north of that structure is the massive AT&T building with several windowless façades begging for an epic mural. Imagine walking into the beautiful Memorial Auditorium across the street and seeing a towering work of art amplifying what is already an arts district with the nearby Music Circus and Sacramento Theatre Company. There are many more examples of such buildings throughout the city.
There are several artists in the country who specialize in such supersized murals, often employing a trompe l'oeil (French for "fool the eye") technique that mimics three-dimensional images on flat surfaces. The results can be stunning.
The Players
Among the artists known for this kind of work is Eric Grohe, who lives near Seattle, but once lived in Chico, where he painted murals for the Sierra Nevada Brewing Co. One example of his work is below, in which he converted a 50-foot-high hospital wall in Ohio into a painting that appears to be a three-dimensional tribute to doctors and nurses. Another trompe l'oeil artist is John Pugh, a Truckee resident who also lived in Chico and has actually done several smaller-scale works in Sacramento and Grass Valley, and recently completed a new mural on a water tank in North Natomas. Among the most celebrated artists of this nature is Richard Haas, a New York-based artist whose work Vanity Fair architecture critic Paul Goldberger called, "at once entirely realistic and quite fantastic." His works cover huge buildings in New York, Philadelphia and other cities around the country.
The Bottom Line
The price for these kinds of projects varies widely based on the artist, the size of the building and the complexity of the project. They range from tens of thousands of dollars to $500,000. Some commissions are corporately funded, while others are funded by regional arts groups similar to our own Sacramento Metropolitan Arts Commission. But regardless of where the funds come from, these projects have the ability to bolster our cultural and architectural profile in a big—very big—way. S