Paradise Found
After a career that took her from being a style maven at Williams-Sonoma to launching a boutique bowling alley in San Francisco, Fair Oaks native Sommer Peterson has returned home, importing a slice of mid-century Palm Springs along the way. She calls her little piece of heaven Shangri-la. You can call it your new home away from home.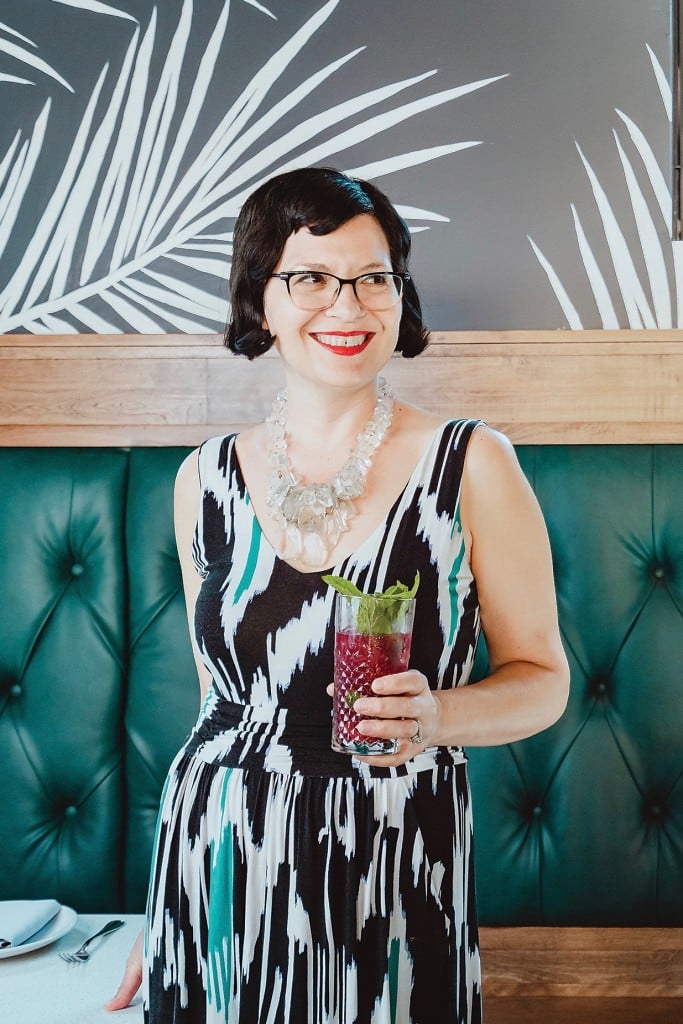 WWelcome to Shangri-la, that mythical, verdant oasis right out of a misty-lensed Frank Capra film, where skies are blue, happiness abounds and no one ages a day—oh, and by the way, did you know it's in Fair Oaks? You'd be hard pressed not to let out an enchanted sigh as you pass through a sleekly modern, wood-slatted fence and cross the new Shangri-la's threshold, passing into an otherworldly realm that feels more like the grounds of a luxury resort hotel than a restaurant patio. Bright lemon yellow, fringed umbrellas and towering queen palm trees shade scattered tables, firepits and lounge areas overflowing with ladies in tropical print sundresses and gentlemen in crisp linen shirts and straw fedoras (yes, now you have somewhere to wear your favorite label's resort wear line), while families play bocce ball on two manicured courts. Against the long, low, white brick façade, an open-air 360-degree bar lined with bright red stools offers peekaboo glimpses into a rich, clubby dining room lit by gilded lamps. Step into Shangri-la, and you're not going out for dinner or drinks so much as you are taking a micro-vacation. "We all know Shangri-la is a utopian paradise where you go to escape your troubles, right?" says Sommer Peterson, Shangri-la's proprietress and hostess with the mostest, referring to the name's origin as the mystical kingdom in James Hilton's 1933 novel Lost Horizon, later popularized by the Capra film, which was shot in quintessential California landscapes like Ojai and Palm Springs. "The world is just so serious. We need a beautiful place where everybody is kind and you can have the finer things in life and just feel good and be relaxed."
Peterson pauses to greet another newcomer by name. On this balmy Friday evening in late June, the place has only been open two weeks and there are already regulars who have been back multiple times—some in flip-flops, some in silver stilettos—and Peterson knows them all. In her Louise Brooks bob, red lipstick and flowy print maxi dress, the restaurateur's personal style begs comparison to another female entrepreneur and impresario, the designer Trina Turk, whose brand of glamorous leisure made the mid-century retirement mecca Palm Springs cool again in the 1990s. Peterson has the flair—and the pedigree—to spark just such a renaissance in Fair Oaks, a burb best known for the roosters that roam the streets of its sleepy downtown. Peterson, 44, cut her design teeth as a visual merchandiser for Williams-Sonoma, helping launch its West Elm brand in 2003. She designed all of the displays for the then-nascent chain's first 17 stores, choosing everything from the props to the music. "I'd be in a store setting up a room display and people would walk in and say, 'I want to live here.' " That's when the hospitality bug bit. "I just want to design spaces people are happy in," she says. "That's what motivates me."
Fringed umbrellas and palm trees shade scattered tables while families play bocce ball. Step into Shangri-la, and you're not going out for dinner or drinks so much as you are taking a micro-vacation.
In 2007, burned out by too much work-related travel, Peterson left West Elm to open Mini Bar SF, a 600-square-foot, art-themed cocktail lounge on Divisadero in San Francisco (she also founded the Divisadero Art Walk to support local artists) that was an instant hit, followed by, of all things, a bowling alley in the Mission District in 2012. "Bowling is so fun, but why do you have to be punished with gross food and bad lighting?" Peterson says. The six-lane Mission Bowling Club was a hugely ambitious project—and a scene-changer, with its upscale yet playful vibe. It garnered praise from publications like The New York Times and Sunset magazine, and its celebrated Mission burger, featuring a brisket and chuck patty, made the Food Network's list of the top five burgers in the country. "Leather couches, executive chef, fancy cocktails," she says with a smile and a shrug. "I have a thing."
2016 found the thriving but exhausted entrepreneur moving home to Fair Oaks to be closer to family while raising her 5-year-old daughter Olivia as a single parent and commuting part-time to the Bay Area. The reward for leaving behind San Francisco rents was that she could afford to buy the groovy mid-century modern home of her dreams, a slice of suburban heaven not far from where she grew up. But as she drove around her hometown scouting residential properties, another bit of real estate caught her eye: a sprawling, linear fellow mid-century building on Winding Way, just on the edge of Fair Oaks' downtown village with a sign that read "Restaurant/Bar for lease." The vacant property had previously been a mortuary, and its spacious parking lot and sweeping front driveway begged for transformation. "I thought, 'If I can fence this in and build my urban mythical paradise, I really want to do it,' " Peterson recalls. One of the first people she showed the property to even before signing the lease was an old friend, Nate French, who had also moved home not long before, after years building a municipal skate park in Berkeley and designing upscale properties in Santa Cruz (he has a degree in landscape design from the prestigious Rhode Island School of Design, which has produced such diversely creative alumni as cartoonist Roz Chast, glass artist Dale Chihuly and the Talking Heads). "He skateboarded in my backyard when I was 13," Peterson says, "so I've known him since junior high. I once tried to fix him up with a close friend." French took one look at the place and got the vision, so Peterson hired him to design the hardscape. Not only did they survive the two-year buildout—which included pouring a 6,000-square-foot patio in an El Niño year—they fell in love in the process, and are now engaged to be married. Life began to look a lot like paradise on every front, although it took Peterson a while to name the phenomenon.
"When this crazy dream of mine was coming to fruition, I kept trying to think of a name that fit what I wanted to achieve: a safe space, a happy, beautiful place," Peterson says. She brings her hands together and lets them explode in a gesture of inspiration. "Shangri-la! I know it's cheesy, but that's it." With French on board, Peterson also enlisted the help of MTA Hospitality interior designers Whitney Johnson and Leslie Hoffeditz, once she realized Johnson created the look of one of her favorite local spots, the Shady Lady Saloon. They bonded as friends while overseeing the Cinderella transformation of the rectangular building into something that is at once retro and evocative and totally original. "We like to think of it as Palm Springs day and Palm Springs night," says Johnson of the disparity between the indoor and outdoor spaces. "You know, you spend all day at the pool, you get a little sun-kissed, and then before you go to dinner, you go back to your room, you change your outfit, put a pair of high heels on and you go out for the evening." The moody, jewel-toned color scheme refers to Peterson's favorite bird, the peacock, flocks of which roamed the neighborhood during her childhood. "The peacock is our spirit animal," she muses. Accordingly, the team chose a sensuous peacock teal and cool dark gray called "Raccoon Fur" to coat the exposed ceiling and most of the walls of the 4,000-square-foot space; Peterson's mother Judi, who owned a sign-painting company in Sacramento for three decades, contributed a scatter print of huge white palm fronds above the room-length walnut banquette upholstered in peacock-teal faux leather. Local artist Jeremy Stanger added a honeycomb-patterned design to the polished concrete floor of the entryway, beneath a dramatic, one-of-a-kind gold light fixture that resembles an upside-down artichoke. Gold pendant lamps, gold mirrors and powder-coated gold barstools complete the precious-metal effect.
"The inside looks like it's wearing jewelry—the pop of gold, the way that the light fixtures just delicately hang from the ceiling," Johnson says. Along with the high-design elements, unique pieces adorn the space, many of them with personal meaning, like the swirling brass peacock given to Peterson by a friend, or a pair of white ceramic swag lamps from her grandmother's home. Add George Nelson bubble pendant lamps, vintage crystal candleholders, an old record player Peterson found at an estate sale, even the cocktail glasses she spent years collecting from thrift stores, and the space is both elegant and extremely personal and personable—just like its owner. The restaurateur's ever-expanding friend circle eventually helped her land the executive chef she had set her sights on: Jodie Chavious, most recently the chef de cuisine at Canon, and formerly of Grange, Mulvaney's and Paragary's. Peterson knew she and Chavious had acquaintances in common, and she wanted to let her know that if and when she left Canon, the gates of paradise would be waiting. "Sacramento is so serendipitous," Peterson says. "I called Whitney Johnson and said, 'How well do you know Jodie?' And she said, 'Well, we share a fence and some chickens.' " It seemed meant to be.
For her part, Chavious was drawn to the fact that Peterson offered her carte blanche over the food program. "[Sommer's] expectation is that we're putting badass food out. That's it," says the chef. "I was like, 'Wow, I get to be as creative as I want.' " The result is a clever, versatile menu of shared plates, created in collaboration with chef de cuisine Russell Middleton. "We're trying to do stuff that's approachable, but elevated and fun," says Chavious. "Like with the [spare] ribs—it's not scary, it's ribs. But then you add the gochujang sauce to it and candied cashews, which is fun and definitely the feel of the restaurant." The ribs, smoked for two hours, then baked with butter and orange slices and served lightly sticky with the sweet-and-spicy Korean gochujang-style barbecue sauce, are a standout and have already become a crowd favorite. Other highlights include Chavious' take on dinner rolls—light and fluffy hybrids of Japanese milk bread and brioche that are smothered in butter after baking, topped with black sesame seeds, and accompanied by a rich bone marrow butter and an herbaceous butter, such as green garlic, that will change with the seasons. A texturally diverse salad of crisp Little Gem lettuce in earthy fennel vinaigrette is adorned with avocado, a crunchy crumbled rye "shortbread" and both pickled and fresh strawberries, while a Mediterranean-inspired grilled branzino is stuffed with lemons and herbs and scattered with pickled golden raisins, olives and Marcona almonds. The fish is served whole—as is the harissa-rubbed chicken, which is smoked, then roasted—in an effort to connect diners to the food and its sourcing, says Chavious, who grew up duck hunting and fishing in Alaska.
Peterson and Chavious conspired to put an altogether different kind of Alaska on the dessert menu—one rarely seen or sampled in this century. "I love baked Alaska," says the chef. "It's one of those things you get on a cruise ship, or at some resort with your grandparents. It's a classic." Moist, gluten-free chocolate cake acts as the base of the dish, supporting a thick layer of creamy vanilla ice cream and a hard chocolate shell. The dessert is then coated in marshmallowy Italian meringue, torched and garnished with smoked almond-flour graham crumbles, for an adult-friendly evocation of childhood. The cocktail list, crafted by bar manager Brett Walker, who previously held positions at Woodlake Tavern and Shady Lady, pays homage to the classics too. A refreshing watermelon margarita is enhanced with tart lemon-jalapeño shrub, rimmed with Tajín and garnished with pickled watermelon rind, while the Newfangled (a play on an Old Fashioned) has an aromatic quality, thanks to the addition of artichoke-based cynar (an Italian liqueur) and demerara sugar infused with fig and pink peppercorn.
Back on the patio, Peterson floats through her realm, waving goodbye to a couple with two small dogs on the leash, then stopping briefly to help a little boy return a set of bocce balls to the host desk, greeting his family warmly—more newly minted regulars. "Sacramento has eight months of great weather," Peterson says. "We're outdoor people, we're social people. We needed a place where you can show up in your flip-flops and bring your dog, or get glammed up and have a fabulous night out." That's as good a definition of paradise as any: a place where you can strut your stuff in style and comfort, whether you're a city peacock, or a country rooster.