Park Toppers
In densely populated cities around the country, public parks are highly treasured, but new green space is hard to find. That's why more cities are starting to look up.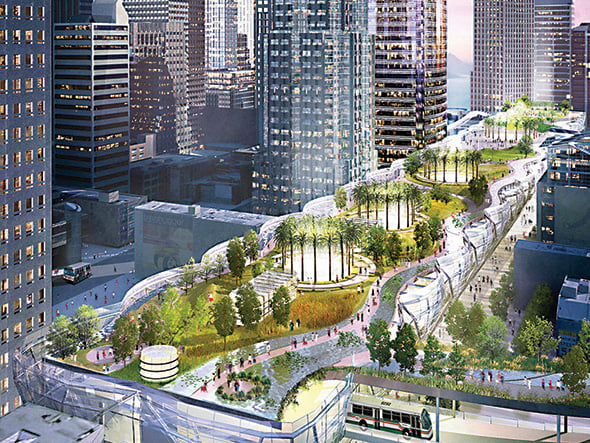 The Idea
In 2013, when The Trust for Public Land released its annual list of American cities with the highest ranking city park systems (based on park size, access and investment), Sacramento tied San Francisco for an impressive third place. This year, however, Sacramento was the only city on the list that lost its top-five status, falling to seventh. And while we still love the idea of reviving Joe Genshlea's brilliant idea from 2003 to create a massive new urban park near the American River downtown, another way of regaining our status as a top-tier green metropolis is to embrace a new form of green space that is taking hold in cities around the country—elevated parks.
The most notable of these to emerge is New York's High Line, a mile-long park built atop an old elevated train platform. The first section opened in 2009, and it's a truly inspired space that has quickly become one of the most visited attractions in a city overflowing with tourist destinations. But New York didn't stop there, opening a small public park in 2010 above a structure in the Lincoln Center complex.
The beauty of elevated parks is that they can sprout up in unusual or formerly unused spaces and give city dwellers and workers easy access to green acres while also providing urban views. The High Line also activates its park with live music, film screenings, sculptures and dining options.
Other cities have taken note.
San Francisco is planning an elevated, 1,400-foot-long park atop its new Transbay transportation center, set to open in 2017. And San Diego has a proposal on the boards to open a 5-acre park on top of its expanded convention center.
Here in Sacramento, we're planning our own convention center expansion, and a park atop it would be an extraordinary civic amenity, overlooking the Capitol and a revitalized K Street. Also, the early designs of the railyards' intermodal transportation center included a grass-covered roof that would be accessible to the public. And the top level of the historic I Street Bridge will eventually be closed to vehicular traffic. That could make for an amazing elevated park over the river.
The Players
The Sacramento Convention & Visitors Bureau should consider a rooftop park with their expansion. And the Sacramento Department of Parks and Recreation will be key in implementing and maintaining these new spaces. Developers should also take note of this phenomenon; it's not just for tree-huggers. In New York, residential towers are growing like weeds next to the High Line, touting their proximity.
The Bottom Line
The Trust for Public Land says that if an elevated park is owned by the city's parks and  recreation department and is open to the public, then it would count toward the overall score. So when it comes to being a greener city, let's not wait and let the grass grow under our feet—let's plant it up over our heads instead.