Park(ing) Day returns, with creative parklets sprouting downtown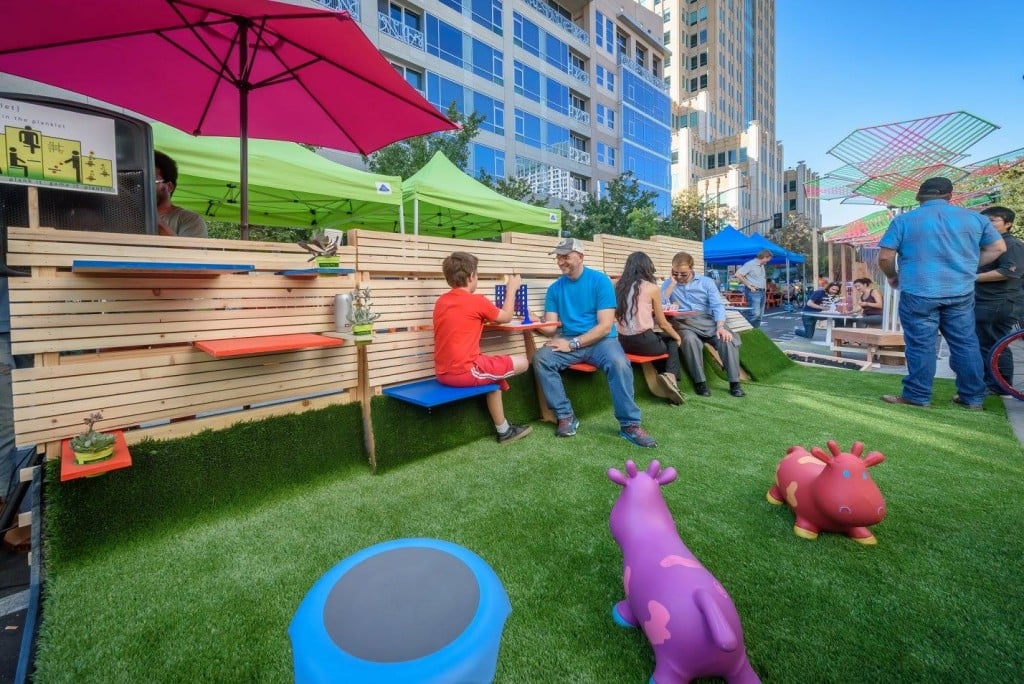 If you're walking near Capitol Mall on the morning of Sept. 16, you might notice a rose garden that seemingly grew up overnight alongside a miniature music festival stage, a mod art bar and a lounge area filled with chairs made of logs beside a wall resembling a beehive.
These whimsical installations are part of Sacramento United Park(ing) Day—a pop-up event that will transform parking spaces in front of the State Capitol between 9th and 10th streets into temporary parklets.
Fourteen local groups comprising architects, art students, design firms and non-profits will participate in this year's event—centered on the theme "Creative Capitol"—including American River College Art Club, Lionakis, Callander Associates and Stantec.
Each group will use an empty 9-by-22-foot stall in front of the Capitol as a blank canvas for staging interactive features, games and colorful art pieces. Between 9 a.m. and 7 p.m., passersby can view the construction, chat with designers, nosh on fare from local food trucks like Cecil's Taste and engage with the creations, like Stafford King Wiese Architects' oversized, angular jigsaw puzzles that fit together to depict a Sacramento cityscape, Boulder Associates' airy space with plants and wooden seats under a green- and yellow-striped awning, or Mark Thomas' large Plinko board—cheekily named "Caplinko"—with prizes for winners.
Andrew Wickham and Dalton LaVoie, members of the California Sierra Chapter of the American Society of Landscape Architects, one of the event's sponsors, say that this year's Park(ing) Day is an ode to the city's burgeoning artistic movement, and seeks to serve as an example of how anyone can activate local streets in simple, imaginative ways.
"The crossroads of arts, design and creative disciplines are coming together in one space," Wickham says. "I think Sacramento is finding its identity through these [type of] events."
Last year's "Play"-themed event drew large crowds to 9th Street between J and K as groups transformed the stretch of downtown into a street party that included a carnival parklet with a fabric circus tent and a gaming station with Pac-Man and street racing.
The first Park(ing) Day launched in San Francisco in 2005 when art and design studio Rebar turned a parking space into a pop-up public park with wooden benches and trees. Ever since, the event has taken off in countries around the world, from England to Germany, Singapore and beyond.
Free. Sept. 16. 9 a.m.-7 p.m. Capitol Mall traffic circle between 9th and 10th streets. asla-sierra.org
You Might Also Like
Local group launching campaign to relight the Tower Bridge with LEDs
We the People: how crowdfunding campaigns can help Sacramento
After 7 years, Capitol fountain slated to make a splash once again