The Passive House: Minimum Energy, Maximum Comfort
As our climate changes, leading to colder winters and hotter summers—along with more intense wildfire smoke infiltrating the valley—one Sacramento builder is bringing a new type of structure to town. It's called a "passive house," an airtight abode that even our region's dreaded pollen can't work its way into. And despite its seemingly laissez-faire moniker, the concept is a proactive step toward the future of sustainable home design.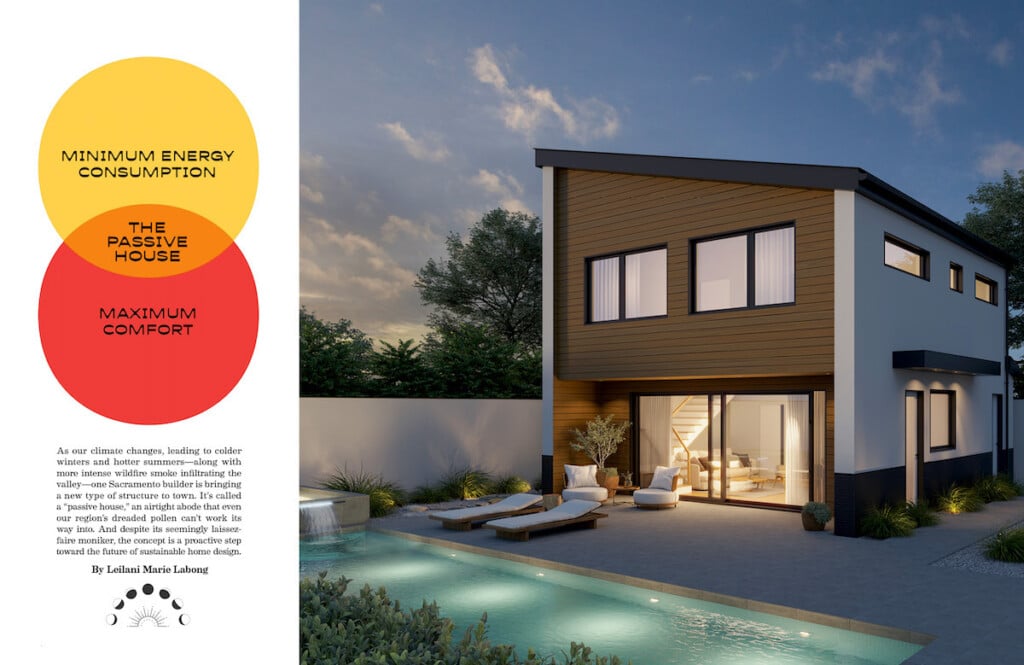 W
With the onset of the annual Sacramento swelter, the rattle and rumble of archaic air-conditioning units all over the city compose a kind of struggling symphony—the sound of survival, if you ask us. At the risk of appearing unappreciative toward what is universally regarded as a beautiful climate (there's a reason why California is melodically summoned as a midwinter's reverie, quoth The Mamas & The Papas, or why Notorious B.I.G. was adamant about "going back to Cali, strictly for the weather"), the glaring reality is that homes in the Sacramento Valley would heat up like ovens without hulking mechanical intervention—and lots of it. Cue the foreboding threats of rolling blackouts.
Now imagine the quiet idyll of a different kind of River City home, rethought from the ground up. The whispering mini-split air conditioner—an efficient, ductless contraption that uses a fraction of the energy required by the clunky and clamorous HVAC units we're most familiar with—combined with a special seven-layer insulated wall system, keeps the interior comfortable during triple-digit days. And the insects that seem to multiply in biblical swarm during the summer months never gain entry to this hermetically sealed dwelling. Same goes for the pollen that shakes down from Sacramento's storied tree canopy, and the smoke that darkens the city skies from wildfires—impurities of such atomic ilk are deflected by European-style airtight windows and screened through a built-in HEPA air filter. What's more, the SMUD bills are negligible, thanks to the clean energy generated from this tricked-out crib's state-of-the-art Tesla Solar Roof.
On the Venn diagram of Archetypes of Modern Sustainable Homes, maximum comfort and minimum energy consumption meet at one spot: the passive house—a building concept born of bitter North American winters, that has only recently been gaining traction in warmer climates. According to the certifying agency known as the Passive House Institute US (PHIUS), 16 projects have passed muster in California, from single-family residences to apartment buildings, and even a dormitory at a Zen retreat. Most are located in the Bay Area, with a few in SoCal, but if local builder Andrew Turner has his way, the statewide count will increase soon enough with the first two passive homes in Sacramento. This summer, the New Zealand native is breaking ground on one home for a client in East Sacramento, and one in his own River Park backyard: a 1,200-square foot, two-bedroom, two-bath ADU, or accessory dwelling unit—an outbuilding more commonly known as an "in-law unit"—with all of the aforementioned bells and whistles.
Part guesthouse for family and friends; part tranquil and allergen-free personal retreat; part showcase for his Sacramento construction company, GoodSpace High Performance Builders, this ambitious ADU project—which required five members of Turner's staff, himself included, to become certified in passive house technology, from high-level theory to specific trade skills—actually emerges from a simple, earnest intention. "I've always been interested in building better," says Turner. "In this case, that means a healthier home that's built to last."
The passive ADU, which will have a Northern California Modern look (wood siding meets stucco, with a mid-century-inspired shed roof, is actually the fusion of two hot trends in building—ADUs and sustainable, energy-efficient homes. As the literal expression of the pro-housing movement YIMBY (Yes In My Backyard), ADUs have been gaining traction in recent years for numerous reasons, but one thing's for sure—Covid was a catalyst. As The New York Times put it, "The pandemic hasn't just reshaped the housing market … it's remaking the household."
Speaking to the ADU's other affectionate sobriquet, the "granny flat," one merit of a multigenerational family compound is the all-hands care available for children and aging parents. The normalization of remote work has also pivoted ADUs into distraction-free home offices. And California, of course, is battling an increasingly urgent housing crisis, which is why the state legislature passed laws in 2021 to ease zoning ordinances for these potential rental units. An industry of turnkey ADUs has even emerged, with companies like Abodu and Den making prefabricated kits with Pinterest-worthy aesthetics as easy to shop for as Tuff Sheds.
• • • •
If necessity is the mother of invention, then you could say that the 1970s global energy crisis inspired arguably the first passive house (or just revived a far older idea, but more on that technicality later). In 1977, a team of Canadian engineers and architects designed the Saskatchewan Conservation House, which demonstrated energy-efficient building methods in the wake of an oil embargo imposed by Arab nations that quadrupled the price of fossil fuels to Western countries.
Awkward though its top-heavy shape may have been (think double-layer bread box), this proto-passive house on the Canadian prairie consumed 85 percent less energy than the average 1970s residence, owing mostly to its superb insulation and solar orientation—a lot of south-facing glass, along with dark-colored cedar siding, captured loads of free heat from the sun, even on a cold day. Naturally, the Saskatchewan Conservation House was a north star for Swedish structural engineer Bo Adamson and German physicist Wolfgang Feist, who formalized the principles of passive house—known globally by the German term passivhaus—in 1988.
While the five commandments of passive building—solar orientation, high insulation, high-performance windows, air-tight enclosure and balanced ventilation—originally manifested in frigid environs, Lisa White, the associate director of PHIUS, debunks the notion that a perilous proximity to the Arctic Circle is required for this technology to work.
"Truth is, passive building principles work in all climates and for all building types," she says. "Since the methodology focuses on improving the 'skin' of the building to keep the inside in and outside out, it can save quite a bit of energy in warm climates. It's just a better way of building." Ring a bell? The steep incline of passive houses in the last three to five years is attributed to the greater urgency around climate change. According to UC Davis, residential energy use accounts for 20 percent of total greenhouse gas emissions in America, and the Biden administration is attempting to ease that share by building 1.5 million new sustainable homes and electrifying—that is, replacing gas-guzzling appliances like furnaces and stoves with modern electric contraptions through rebates and other financial incentives—millions more.
• • • •
Before the seed of a passive ADU of his very own began to germinate, Turner was trying to escape a particularly smoky day in Sacramento during the 2018 wildfire season, which was the worst wildfire year in California's history at that point. "I remember feeling terrible driving around and breathing that air," he recalls. "So, I went up Ice House Road, near Loon Lake [located just west of Lake Tahoe], which at the time was clear and clean." He knows this area and its pristine atmosphere well, having spent a ski season in Lake Tahoe in 1999. Two years later, he made the permanent move from his native New Zealand to Sacramento.
Absconding to the wilderness that fateful, fumy day impressed upon Turner the urgency of good air quality, even for someone like him who doesn't suffer traditional seasonal allergies. The writing, flashing brighter than ever, has long been on the wall: as climate change advances, hotter and drier conditions will result in more active, and even prolonged, fire seasons. "I very much liked the idea of having a little sanctuary from the smoke," he says.
The monumental task of "keeping the inside in and the outside out" of the River Park ADU will fall upon triple-paned European tilt-and-turn windows that seal completely, unlike the sliding frames common in American homes, and a seven-layer wall system that's been enhanced with cocooning and enveloping reinforcements. In comparison, a regular wall that barely meets the building code may only have four layers. When it comes to the air tightness of a passive house "it's kind of like one of these," says Turner, holding up a black Hydro Flask, a water bottle with double-walled vacuum insulation to keep drinks at hot or cold temperatures for up to 24 hours.
To achieve such a snuggly, protective enclosure, the ADU's wall system includes not one, but two separate layers of sustainable insulation: rock wool (a dense, sound-deadening board made of volcanic rock fibers) and New Zealand sheep's wool (think of this nontoxic alternative to spray foam as a thick shearling blanket for the house that happens to nod to Turner's heritage). Midway through the architectural strata, a continuous wallpaper-like adhesive membrane will seal the ADU's airtight perimeter. Turner likens this layer to a clear plastic book cover, while architect Julie Torres Moskovitz, who designed the first certified passive house in New York City (dubbed "Tighthouse," the brownstone retrofit and expansion was completed in 2012), thinks of this thin coating as a high-performance Patagonia or North Face shell jacket that guards against the elements and keeps a steady core temperature. In this way, passive houses are also resilient during power outages.
The most important machinery in the house will be the ERV, or "energy recovery ventilation" unit, which continually draws out contaminated air like cooking exhaust while steadily pumping in fresh, clean air through an attached HEPA air filter.
Speaking of the kitchen, the River Park ADU will be using a streamlined induction cooktop, which is an easy lift for those dabbling in sustainable electrification. After all, gas stoves emit respiratory irritants called nitrous oxides and leak climate-harming methane, even when turned off. According to a 2022 Stanford University study, the 40 million gas stoves in the U.S. annually produce pollution equivalent to 500,000 tailpipe emissions. Such data has inspired NYC to impose a landmark ban on gas stoves in new construction starting December 2023, leading The Washington Post to recently suggest that "the mighty gas stove might be facing dethronement." But we digress.
---
READ MORE: Q&A with Alberto Ayala, Director of Sacramento's Air Quality District
---
The ERV and the HEPA air filter will be housed in the ADU's first-floor great room, inside an enclosed space under the stairs. "I like to think of an ERV as a fresh air device," says Turner. Moskovitz, who authored The Greenest Home in 2013, a passive house compendium featuring 18 global case studies, adds, "I have clients—whose kids have asthma—that wanted just cleaner air. And since Covid, now everyone understands the importance of fresh air."
• • • •
Our sun has inspired countless odes to its blazing glory, not the least of which is the innovative Tesla Solar Roof that's destined for the ADU's shed-style slope, which will be optimally oriented to the south for maximum sun exposure. Rather than mount photovoltaic panels to a run-of-the-mill roof, Tesla's futuristic tempered-glass shingles double as energy generators and a weatherproof barrier—a sleeker twofer, if you will. Turner hopes the Tesla Solar Roof will generate enough power to make the ADU net-positive (one-upping net-zero houses, another archetype of modern sustainable homes), so he can funnel the extra juice to his electric vehicles, a Ford F-150 Lightning and a Volkswagen ID.4.
Turner's collaborator on the River Park project, Nar Bustamante of Sacramento-based Nar Design Group, has designed approximately 20 ADUs in the last five years alone, but for this latest one he traveled back in his memory to the 1990s, when he spent nine years constructing houses in Santa Fe, New Mexico. "I built rammed-earth homes, a lot of adobe homes, a lot of straw-bale houses," says Bustamante. "I actually haven't done a whole lot of buildings like that] since I left New Mexico. But I have extensive experience with passive homes."
Architectural historians may argue that the first attempts at passive houses long predated—like, by millennia—the Saskatchewan Conservation House. Take the Ancestral Puebloan cliff dwellings in southwestern Colorado's Mesa Verde National Park, for example. Cliff Palace, the most expansive of these ancient digs (circa 1260 AD with more than 150 rooms, faces south. A deep overhang shields the dwelling from the high summer sun, while the carved sandstone—similar to the earthen materials of Bustamante's early builder's palette—absorbs heat from winter beams, angled low on the horizon. In this way, passive houses could be considered primitive at heart.
"It's not some exotic technology," confirms Lisa White. "The magic really happens when all of the passive building concepts come together in a holistic way to create a healthy whole that is greater than the sum of its parts." For all of its sun-worshipping, the River Park ADU feels like a moon shot—one small step for fighting climate change, one giant leap for Sacramento's sustainable future. Even in blueprints, the project's good intentions leap off the page. Says Bustamante, "You can tell when a house has a soul."