Pizza chain Pieology to open in Sacramento on Nov. 19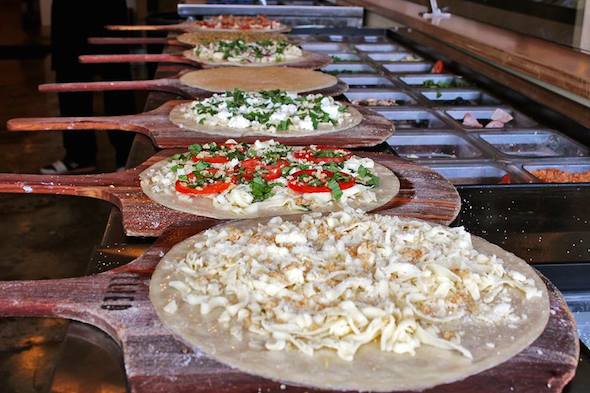 Pieology Pizzeria, a chain that originated in Fullerton and specializes in customizable pizzas, will open in Sacramento at 16th and K streets on Nov. 19.
The space formerly housed the Indian restaurant Monsoon and, prior to that, Spin Burger Bar and Bistro 33. Though the space has seen establishments come and go, Pieology's new owners are confident it will be a durable addition to the neighborhood.
"There are a lot of daytime workers coming through and plenty of apartments nearby," says franchise president Daljit Hundal. "It's not just busy during the week. Downtown seems to be turning around a little bit with lots of folks coming around on weekends."
The 2,700-square-foot eatery will stick to the same formula as Pieology's other locations around the country in terms of menu format and decor, with an open, industrial feel that features polished concrete floors, mod light fixtures and tiled walls. The restaurant will seat 70 inside and up to 20 more guests on the outdoor patio.
As for the pizza, picture a Chipotle-style line-up of three sauce choices (red sauce, herb butter or olive oil), four cheese options and two dozen toppings (from artichoke hearts to meatballs to jalapeños) on gluten-free or regular crust. The 12-inch, thin-crust pies are turned out in a brick oven that cooks them in less than four minutes. Guests can also forego customizing and pick from seven Pieology specials, as well as salads and cinnamon strips that round out the menu. Pies start at $8.
"It's pizza done in a different way than the traditional thick crust, and it's inexpensive," Hundal says, adding that Pieology will also offer beer and wine.
1020 16th St. pieology.com
Related Links