Plant Nite sprouts up in Sacramento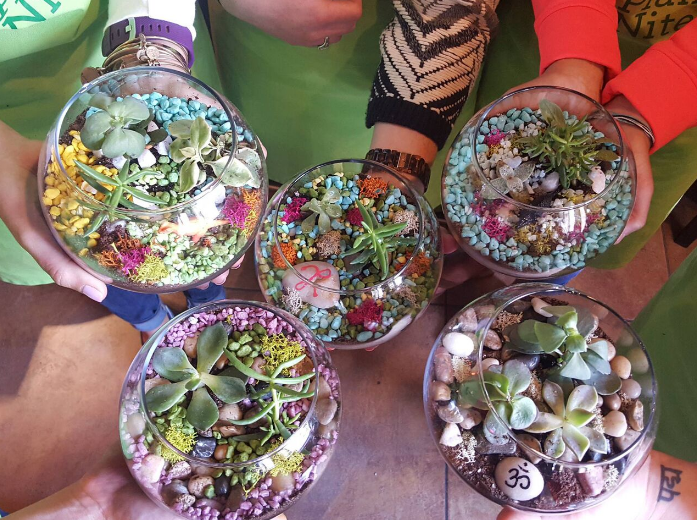 Slip on your party clothes and a pair of gardening gloves. Plant Nite, an organization that launched in Sacramento in March, is gaining popularity for its evenings that combine a night on the town with a crafty lesson in terrarium arranging.
The event is a nationwide spin-off of another event called Paint Nite, during which attendees sip cocktails and wine while coloring canvases with incarnations of iconic paintings like The Starry Night. Founded by Paint Nite's creators Dan Hermann and Sean McGrail, Plant Nite launched in Boston in 2014 and the concept has since taken off in over 40 cities around the U.S.
In the Sacramento region, Plant Nite takes place at restaurants, bars and cafés like Alley Katz in midtown and The Monk's Cellar in Roseville. The organization supplies succulents, air plants, and glass, wooden or industrial planter boxes, and participants spend two hours working out their green thumbs to create a terrarium with assistance from the event's host. Supplies, which may also include miniature gnomes, garden signs and colored sand, are included in the ticket price, and guests are encouraged to buy food and drink on-site.
"I really enjoy when people get excited about what they've created," says Carrie Posey, one of two Plant Nite licensees in the Sacramento area, who began coordinating events in the region in March. "[Attendees] are surprised about what they have the potential to make and they all leave with unique terrariums. They walk out with them as if they're holding babies."
Plant Nite allows independent planters and artists like Posey to work through its national headquarters, get licensed and launch local chapters in their communities. Posey, who has been gardening and working with miniature plant displays for the past 15 years, has partnered with local flower wholesaler Floral Resources Sacramento to purchase supplies like succulents and planter boxes.
Some upcoming regional events include fall- and Halloween-themed displays, and many for the remainder of September have sold out. Posey said she's already planning for the holidays, hoping locals will create gifts for loved ones at Plant Nite events—succulent sprig in one hand, sangria in the other.
$40-55. For a complete list of upcoming Plant Nite events, visit plantnite.com.
You Might Also Like
Comeback Cadillac: a restaurant with a legendary local cocktail reopens
A new "urban nursery" plants roots in Oak Park
First Look: Vibe Health Bar opens with fresh-focused menu and inviting space