Pods Save America
In Amsterdam, a waterfront restaurant transformed prefab greenhouses into cozy private dining rooms to help stem the spread of COVID-19. We'd like to eat our peas in a pod too.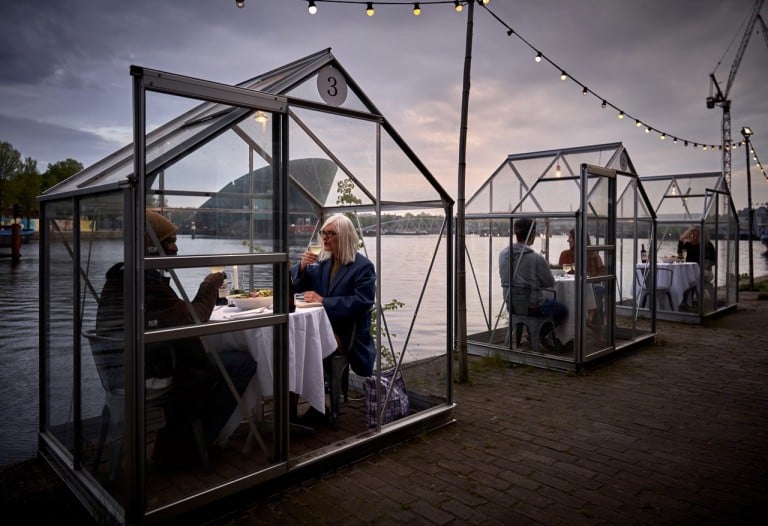 The Idea
When COVID-19 launched its global rampage, restaurants everywhere shuttered their doors and waited to reopen. But some got creative and began planning for a new kind of dining experience once the world began to open back up again.
One Amsterdam restaurant, the plant-based Mediamatic Eten, decided to test the idea of seating patrons inside, fittingly, small greenhouses. The clear walls allow for beautiful views of the night sky and the adjacent canal, while keeping the diners protected and free from floating germs. For a touch of French panache, the eatery calls the units Serres Séparées (translated as "separated greenhouses"). They're illuminated only by candlelight, and are recommended only for people who are already living together.
To make things even safer, the servers all wear face shields and latex gloves and deliver the meals via long wooden planks so they never need to enter the dining pods. The spaces are, of course, thoroughly sanitized between each party.
After months of testing, the greenhouses—which seat either two or four people—officially opened on June 1 and were immediately booked up for months in advance (each four-course dinner runs about $112 for two, not including drinks).
A similar concept has also launched in Germany, and another is expected to be implemented in July in England.
The Players
With Sacramento's temperate weather, dining pods like these—which come with small windows for ventilation—would be safe, fun and romantic. Not every restaurant has the room for them, but certainly the ones along the waterfront would be perfect matches (we're looking at you, Old Sacramento and Drake's at the Barn in West Sacramento), or any eatery with a spacious outdoor patio.
The Bottom Line
A structure similar to those in Amsterdam can be purchased at Home Depot for about $430. And with meals commanding upwards of $150 or so (with drinks), they'd likely pay for themselves in very short order. Pandemic or no pandemic, private outdoor dining rooms is an idea whose time has come. Talk about a Dutch treat.