Political Theater
From San Francisco to Boston and Minneapolis to Austin, small-scale, localized theater productions have captured the imaginations of locals and visitors alike for years on end. Here's why we should have our own show that must go on (and on)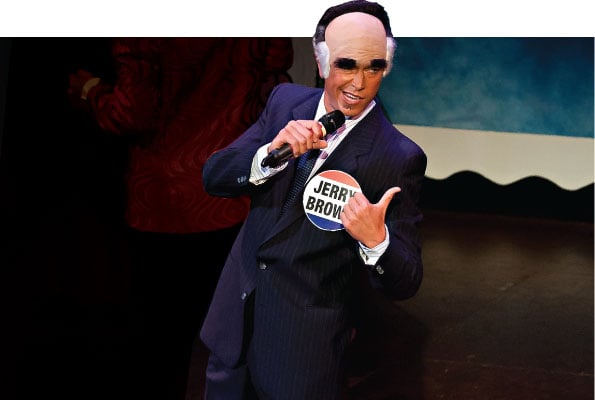 The Idea
On April 27, the Washington, D.C.-based comedy sketch troupe The Capitol Steps will perform at the Crest Theatre, bringing with it timely political satire that has packed houses in D.C. and nationwide since 1981. Meanwhile, in San Francisco, the over-the-top Beach Blanket Babylon has long been on a short list of top tourist attractions there since it started in 1974, and it, too, lampoons politicians, albeit with a more California-heavy bent (Jerry Brown, Meg Whitman, and Gavin Newsom are among recent targets). Both have become must-see theatrical productions, partly because of their comedic chops, partly because they stay fresh by reflecting current events, but also because they celebrate their respective regions—they give you a strong sense of place. Someone here needs to capitalize on our own political DNA and create a signature political show that will give locals and visitors a distinctly Sacramento flavor. We certainly have a built-in cast of characters, from Brown and Newsom to our own celebrity mayor, and we also have our share of Capitol fodder, from budget woes to political sex scandals. But national and international politics should be fair game, too, and will give the show the broad appeal it needs to last for years. And we don't need to be a top-tier tourist mecca to sustain a long run. Atlanta's Peachtree Battle played there for seven straight years until 2008, and Triple Espresso entranced Minneapolis audiences for 12 years. And here in Sacramento, Six Women With Brain Death ran for an entire decade, ending its continuous run in 2006.
The Players
There are two ways to make this happen. One is to build it from the ground up; the other is to import and adapt another show. Sacramento isn't brimming with playwrights, but Gregg Coffin is our most successful one, reaching Off Broadway with Five Course Love in 2005. There's also comedian Jack Gallagher and B Street Theatre artistic director Buck Busfield, who have successfully merged comedy and real life on numerous occasions. And of course, California Musical Theatre is an obvious candidate to produce a show like this, given its deep theatrical roots and its perfectly sized and centrally located Cosmopolitan Cabaret theater at 10th and K (where Boston's 31-year-old comedy Shear Madness played last year). Or there's the franchise option. Approach the producers of The Capitol Steps or Beach Blanket Babylon (who may be more receptive now given that fellow San Franciscans Chip Conley of the Citizen Hotel and George Karpaty of Pizza Rock and Dive Bar have invested in downtown Sacramento) and propose a Sacramento-specific version.
The Bottom Line
The key is to have a theater small enough to fill the house on a long-term basis. The 200-seat Cosmopolitan is smaller than the 393-seat Club Fugazi where Beach Blanket plays or the Capitol Steps' 600-seat theater, but it may be perfect given that Sacramento doesn't have the tourism base that those two cities do. And while Beach Blanket plays five nights a week, the Capitol Steps only perform in D.C. on weekends. However it's done, it could be the perfect addition to K Street's burgeoning entertainment district, and the perfect comedic antidote to our decidedly tragic political system.