Pop-up restaurant Roaming Spoon hits the town with secret dinners and more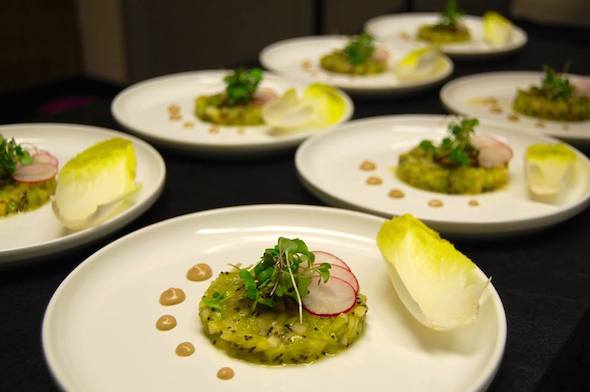 The Roaming Spoon—a vegan pop-up dining experience that hosts special culinary occasions at galleries, coffee shops and other destinations around the city—is shaking up the Sacramento food scene this month with four events.
Since launching in November 2013, chef Sylvanna Mislang—a veteran of the well-regarded kitchens at Mikuni and Blackbird—has crafted a series of intimate dinners for up to 12 guests at sites like the former Exhibit S gallery at Downtown Plaza and the midtown coffee hot spot The Mill. Mislang's meals often showcase unusual, artful pairings of local and seasonal ingredients such as the kiwi tartare, a bold-flavored combination of kiwi, capers, shallots, balsamic vinegar and Maldon salt flakes.
"I like to play with textures and colors, and look at food in a way that is unexpected," Mislang says.
This month's events will kick off with a Secret Dinner on Feb. 8 at 7 p.m., including an intimately set five-course vegan dinner for $60. (Diners can register at The Roaming Spoon's website.) As with Mislang's previous Secret Dinners, the evening's menu and location are kept tightly under wraps until the day of the dinner, when attendees are notified via email.
In addition, for diners who want their meals to be more pop-in than pop-up, downtown's Shine cafe temporarily closes every second Monday of each month from 6-9 p.m. for The Roaming Spoon's happy hour. This coming Monday's event will feature a menu of winter street tacos and roasted Brussels sprout salad, and Roaming Spoon will return to Shine on Sunday, Feb. 22, for a special potato brunch. It will also be on hand at the Amour Craft Market (a holiday fair presented by Loomis Mercantile) on Valentine's Day.
Vegans and meat-eaters alike have indulged in Mislang's creations, like the raw cauliflower risotto (finely chopped cauliflower mixed in with truffle oil risotto) and the maple soy yogurt, both of which have been featured in past Secret Dinners. Mislang says her focus on the personal aspect of her pop-up dinners makes her work most rewarding.
"While I'm preparing the next course in the kitchen, I can hear laughter from the table," Mislang says. "They're strangers at first and then they become friends by the end."
709-3511. theroamingspoon.com
Related Links
–Former Enotria restaurant reopens as Cask & Barrel next week
–Track 7 Brewing sets Feb. 21 grand opening for new Natomas taproom
–New Brunch Boys food truck puts weekend tradition on wheels