Pop-up rooftop park returns to midtown this weekend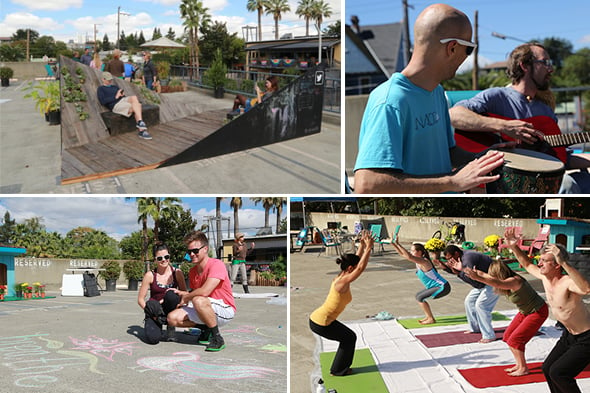 This weekend, join the Rooftop Alliance as it transforms the roof of a midtown parking garage into UPark 2014, a pop-up urban park offering two days of yoga, dance, art, movies, beer, a mobile produce stand and other offerings.
The park will occupy the top floor of the garage at 20th and L streets, previously the site of a bike-in outdoor movie screening this summer. Inspired by parks and gardens on rooftops in cities such as Vancouver and Chicago, the Rooftop Alliance started the UPark event last year in the hopes of making permanent parks and gardens on the rooftops of restaurants, businesses and residential complexes in Sacramento more common and accessible.
"As we're becoming compact in big cities, people are becoming more aware of making the most of our space," said Tristan Osborn, a founding member of the Alliance. "This is a unique event in Sacramento, where we can show people how they can experience a city on a different level, while embracing our unutilized spaces in a funky way."
Portable miniature parks that Osborn calls "parklets" will furnish the lot with mobile gardens, seating and other fixtures. Visitors can take yoga classes from Asha Yoga, enjoy craft brews from local breweries at the open-air beer garden, or view performances by dancers from the Sacramento Ballet. Kids, meanwhile, can take lessons from the dancers during sessions Saturday at 4 p.m. and Sunday at 11 a.m. (face painting will be offered Saturday from 8 a.m. to 4 p.m.) A film yet to be determined will screen Saturday at 10 p.m. while the West Sac Veggie Trike—a traveling, miniature produce market—will also stop by the rooftop with local, sustainable produce.
"It is not too often that you can experience the city at this view," said Osborn. "It gives us an opportunity to show that these are great ways to be outside in a low cost, non-permanent and natural setting."
Free. Sat. 8 a.m.-midnight. Sun. 8 a.m.-2 p.m. Top deck of parking garage, 20th and L streets. upark.rooftopalliance.com