Pop-Up Theater debuts at Bastille Day Festival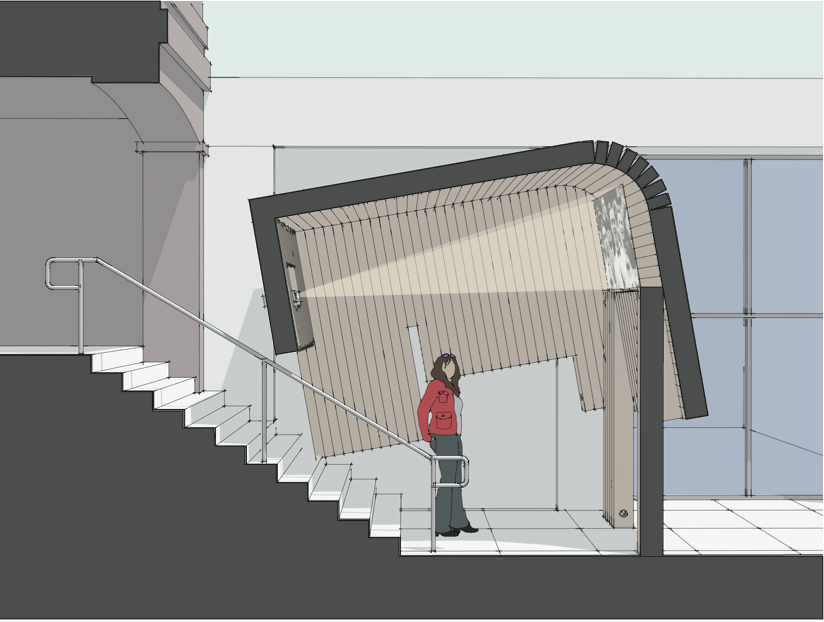 If you missed the Sacramento French Film Festival last month, fear not cinephiles. This Sunday, July 14, you'll get another chance to take in some French classics housed in a new pop-up theater being constructed as part of the fourth annual Sacramento Bastille Day Waiters' Race & Street Festival.
The miniature street theater, which is being designed and hand-built by Sacramento's Dreyfuss & Blackford Architects, will be positioned over a sidewalk-facing stairwell at 1801 L Street in midtown, adjacent to Ginger Elizabeth Chocolates. Visitors to the theater will be able to duck under an entryway and catch some short French films while standing or sitting on the stoop.
Dreyfuss & Blackford's design director Kris Barkley conceived the design of the structure and is using corrugated cardboard "beams" that were designed by Barkley's colleague, architect Jason A. Silva, and donated by Sacramento's American River Packaging. "It's completely recyclable, it makes for a rigid structure and it's completely moldable," says Barkley.
Last year, Silva started a pop-up architecture group called SacDigiFab, which created the BTWN Architecture Pavilion for the 2012 Launch Festival using similar corrugated cardbaord beams (see a video of that project here). SacDigiFab will be coordinating more designs for this September's Launch Festival.
The eight-foot beams determined the width of the theater, which will rise about 12 feet from the ground and be about 12 feet deep. The screen onto which the films will be projected inside will measure about three feet by five feet. The space will also be wheelchair accessible.
And while it will be designed to be recyclable, Barkley says it's durable enough to use repeatedly and will likely be employed for other local events.
The theater will be installed this Sunday morning, opening to the public at around 11:30 a.m. and will stay open until the street fair ends at 3 p.m. For more information, click here.