Pushing the Envelope
With Sacramento's historic post office building about to lose its namesake tenant, now is the time to think big and put our stamp on this city's future.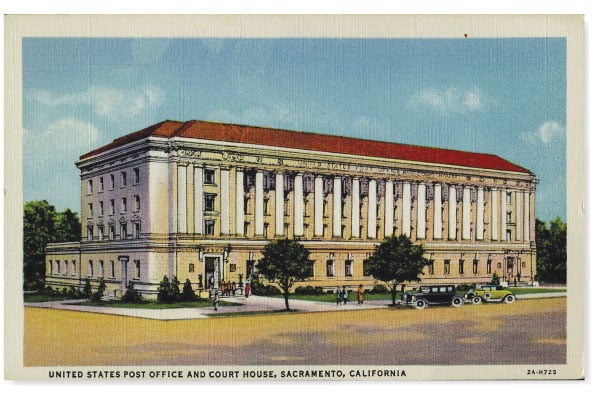 In the 1930s, with the country suffering through the Great Depression, President Franklin D. Roosevelt initiated an economic stimulus plan called the New Deal, and put millions of Americans back to work by constructing thousands of new federal projects in cities across the country. And because of the program's mandate to build high-quality structures that would last for generations, it also left a legacy of architectural gems, many of which still stand today.
One of the most spectacular examples of that New Deal architecture here in Sacramento is the historic U.S. Post Office building on I Street, across from City Hall, which was completed in 1933 and designed by the local firm Starks & Flanders. Leonard Starks (who founded today's Nacht & Lewis Architects) is the same man who designed other iconic local buildings like the Elks Tower, the Alhambra Theatre and C.K. McClatchy High School. And his neoclassical post office with a Doric colonnade remains one of our city's grandest structures.
But today, with the prevalence of electronic communication, the U.S. Postal Service has been in a state of steep decline for years, resulting in the closure of an astonishing number of post offices. Unlike the years during the New Deal program of the '30s when the government constructed over 1,100 new post offices, last July the Postal Service announced it would close 3,653 post offices (although it recently announced it might save some of them by reducing their hours).
Sacramento's historic post office was not on the cut list, but in an effort to reduce costs (and alleviate the post-9/11 inconvenience of passing through metal detectors to simply buy stamps since there are other federal agencies in the building), the Postal Service will vacate the building on July 31 and move operations to the Westfield Downtown Plaza shopping mall. And while it's sad to lose the last public access to this great structure with its ornate interior comprised of brass lighting fixtures, an elaborately designed coffered ceiling and terrazzo floors, this move also leaves Sacramento with an opportunity that many other cities around the country are pouncing on. And one that we should, too.
From small towns to big cities, local governments and private developers are recognizing the extraordinary potential in converting these historic, elegant structures into community assets, such as museums, theaters and universities, that have the power to change the face of their downtowns.
One of the most exciting current examples of this involves another 1933 structure: the Beverly Hills Post Office. Shuttered in the early '90s, the building was purchased by the city of Beverly Hills in 1998 and, after years of searching for the right use, a $15 million gift from the Annenberg Foundation paved the way to incorporate the historic building into a stunning performing arts complex that will open next year.
The structure will be used for a small 150-seat studio theater, three classrooms, a cafe and a gift shop. And its main hall will serve as the entrance to a modern building that will house a 500-seat theater which is being designed with copper-colored panels on the façade that double as abstract references to envelopes in a nod to the historic post office.
Other cities have also embraced the idea of expanding their cultural options by converting old post offices into museums. In 2000, the federal government sold the city of Las Vegas the former U.S. Post Office and Courthouse (also built in 1933) for $1—yep, just one buck—on the condition that the building be restored and used for a cultural purpose. It took over a decade, but earlier this year, the building was reborn as the National Museum of Organized Crime and Law Enforcement, popularly known as the Mob Museum. The museum says it expects to draw 300,000 visitors to the city's downtown district each year.
Nashville's 1934 post office reopened in 2001 as the Frist Center for the Visual Arts. The project was a public-private partnership that included Nashville's Frist Foundation, the city of Nashville and the U.S. Postal Service. In this case, too, the city owns the building, which the feds sold for $4.4 million under the condition that the facility, like in Vegas, be used for cultural purposes.
As explained on the Frist Center's website, "A community-wide 'visioning process' among Nashville's citizens in the early 1990s highlighted the public desire for a major new visual arts facility. A committee determined that the underused post office building would make an ideal home for the new art center."
In Portland, Ore., that city's 1918 post office will also soon be a focal point for the arts, but in the form of a university. In 2008, the General Services Administration (GSA) awarded the building—at no cost—to the Pacific Northwest College of Art, a private fine arts school that dates back to 1909. The school, which worked with the U.S. Department of Education to secure the property, hopes to finish the renovation of the historic structure, which is slightly smaller than Sacramento's post office building, in 2014.
In other cities, private investors have purchased old post offices and courthouses in order to convert them into high-end residential, retail or hotel properties. For instance, in Dallas, developers recently turned that city's 1930 post office into 78 residential units and added a rooftop terrace (some postal services remain on the ground floor). Similar efforts are underway in Chicago, Washington, D.C. and even in Modesto, where a 1933 Beaux-Arts style post office was purchased by a local developer last September with plans to convert it into 10 residential lofts and a 4,000-square-foot penthouse.
And some cities, like Fort Worth and Palo Alto, are currently considering buying their historic post offices without a specific plan in mind. They simply realize the value that structures like these could bring to their downtowns if they're used in the right way.
So what about Sacramento?
Before we even start dreaming about the possibilities, there are a few obstacles. The U.S. Postal Service, which has steadily cut back its operations at the I Street branch over the decades, now occupies only about 11,000 square feet of the structure. Then there's another 34,000 square feet that is currently empty in the building for a total of about 45,000 vacant square feet out of 160,000 total. The rest is filled with office space for other federal agencies. They would need to move.
But if the city pursued the historic building, there is precedent to the GSA vacating historic post offices to make room for uses that are beneficial to the city.
For example, when the GSA turned over control of the Portland post office to the Pacific Northwest College of Art, two federal agencies—the U.S. Citizenship and Immigration Services and the U.S. Immigration and Customs Enforcement—were still on-site, occupying about 54,000 square feet of space. But the GSA made plans to relocate them, signing leases in nongovernmental buildings.
Here in Sacramento, we have 72,000 square feet of empty space at the nearby Robert T. Matsui U.S. Courthouse and the John E. Moss Federal Building on Capitol Mall, according to the GSA. And with downtown's dismal vacancy rates, the feds could get a great deal on space that was built in this century. In turn, the city would get a majestic building with which to conjure a cultural or educational magnet for downtown.
So if we got it, what could we do with it?
One idea is to try to lure a satellite campus of a major university here, like we did with Philadelphia-based Drexel University a few years ago. In March, Boston's Emerson College broke ground on an $85 million West Coast satellite campus in Hollywood. The University of Pennsylvania's Wharton School recently moved into a historic building in San Francisco that was constructed in 1925. There's no question that having thousands of students pouring in and out of a downtown campus would be nothing but a good thing.
Another idea is to pursue something else we don't have nearly enough of. When it comes to museums, Sacramento is at a serious cultural deficit. Of the 35 largest cities in America, Sacramento ranks dead last (tied with Detroit, San Jose and Fresno) with only two museums that are members of the American Association of Museums. Sure, we have a few more that aren't members, but so do other cities. And the AAM number is one that publications like Money magazine use to determine their "Best Places to Live" rankings. No matter how you slice it, we come up woefully short.
So what kind of museum would be the right fit for Sacramento? That would be a great discussion to have as a city, but we do know that even with the Crocker's recent expansion, it is still only able to display a small fraction of its holdings. Perhaps there's a way to tap into the Crocker's collection to carve out a distinct focus for a second art museum, possibly with an emphasis on contemporary art or photography. In San Francisco, for example, both the de Young and Legion of Honor are part of the same museum group.
Or in the way that Vegas plays off its connection to the mob, a new museum here doesn't need to focus on art at all, but could be themed in a way that connects to the region. Perhaps we can create a compelling concept for a Museum of California Politics. Or maybe the Smithsonian's National Postal Museum would consider a West Coast satellite in one of its grandest California postal buildings. Or The California Museum (with its increasingly prominent California Hall of Fame) might be interested in its own space instead of occupying part of the off-the-beaten-path Secretary of State complex.
But time is short. The GSA says it intends to replace the Postal Service space with other federal agencies, though no plans are currently in place. With so many government buildings downtown, far too many streets close at 5 p.m. But we can change that. Converting a government building into a public one would be a huge victory for the city's core. This is a once-in-a-lifetime chance to both celebrate history and reverse it at the same time.
Regardless of what we'd do with our historic post office, we should see this moment as the rare opportunity that it is—a chance to dream big and the potential to enliven downtown and help attract visitors from around the region, state and country.
This building is the perfect example of how great projects were once born out of desperate times. Now, with the economy on the rocks 80 years later, it's time to take bold action again and strike a New Deal of our own.