Q&A with Sacramento Food Bank CEO Blake Young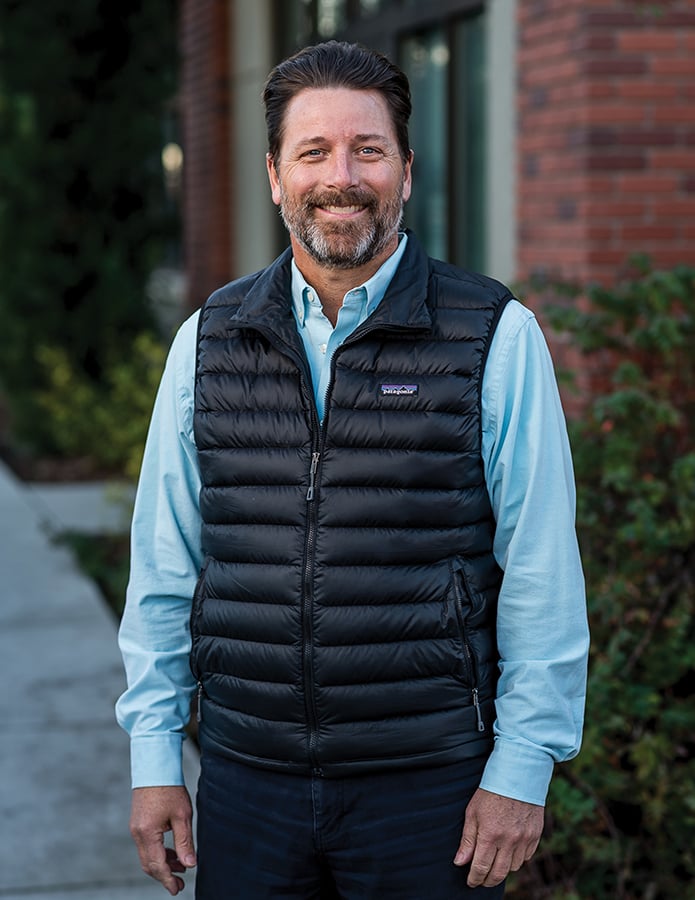 During Covid, food insecurity has emerged as a full-blown crisis within a crisis. Feeding America, a nationwide network of food banks, estimates that one in six people will face hunger as a result of the pandemic. Given that, unsurprisingly, the Sacramento Food Bank & Family Services has seen the number of individuals it serves almost double since the start of the coronavirus epidemic. A year after Gov. Gavin Newsom declared a state of emergency to fight the viral outbreak, we check in with Blake Young, the nonprofit's long time president and CEO, to learn how his organization has been navigating the challenges of Covid-19, how it's expanding to meet a growing need, and what we can do to help (hint: it's not by donating food).
California's first stay-at-home order was issued last March. So much has happened since then. What was it like for the Sacramento Food Bank in those early days?
Two things happened very quickly: Demand shot up and our volunteer base had to stay home. There were a lot of things we had to pivot. First, it was, "How do we keep our staff and our volunteers safe?" We had to jump into making a safety protocol for the pandemic. Second, we began to source double the amount of food. Third, we had to figure out a new way to move the food, and that's why the National Guard, the Red Cross and other major groups came out to help. Obviously the cost of operating went through the roof—we had to bring in more people, we had to buy more food. 
Can you give us an idea of how much more food?
Pre-Covid, our network—we supply food to over 220 agencies like the River City Food Bank and Loaves & Fishes—was feeding about 150,000 people per month. Right now, we're feeding up to 280,000 people a month. So that's about a 90% increase. We will [likely] distribute north of 35 million pounds of food this year. Last year we did 28 million pounds, so roughly 10 million more pounds.
You've seen on the news what we call "mega distributions." Those big drive-through distributions at places like Hiram Johnson High School and Arcade Church are meant to take pressure off the agencies. Because many of our agencies are volunteer-led by seniors, a lot of them had to close their doors. The demands are higher, but we're pushing through fewer agencies. So we set up large-scale, drive-through distributions to take pressure off of the agencies that kept their doors open.
Where does Sacramento rank in California when it comes to hunger?
Well, the issue we're really talking about is poverty. Sacramento County's poverty rate is higher than the state and national averages. Folks in our county are having a very difficult time putting food on the table. It's very ironic.
Why do you say that?
There's a perfect storm in Northern California, or California in general. Our state has a very high cost of living. Housing is expensive. Our county is not known for really high-paying jobs. And good-intentioned people who are wonderful mothers and fathers are having a hard time with the cost of living, and something has got to give. I'll tell you, one of the most heart-wrenching things I hear a lot about is parents going without a meal so they can feed their kids.
Just hearing that hurts. What are the needs of the Sacramento Food Bank from the community? Perhaps you can provide some donation guidelines.
You bet. Well, right now we're not taking food donations from the public because of the coronavirus. We have in the past even accepted people's lemons off their trees, but not right now because of the crisis. Besides, we handle food by the semi-truck-load, the majority of which is purchased from farms all over the state of California. I mean, hundreds and hundreds of semis. So, the best way to donate is cash. And here's why: We can provide five meals for every dollar. You give a dollar, we give five meals. Money makes a significant impact.
And right now, because our operating costs are through the roof, and because the demand is so high, we're trying to forecast for the next two years to ensure that we have ample product for the folks in our county. Based on our analysis of the 2008 recession, people are going to be in need for quite some time. Quite frankly, we are concerned about sustainability. We really want to make sure we can sustain the organization and provide ample food volume so that the people who need us are going to be able to get the nourishment they need.
What has the community support for the food bank been like during Covid?
The number of wonderful people who have come out and supported our organization has been magnificent—just tremendous. We've had at least a 30% increase in donors and a significant increase in volunteers. I've been lucky enough to talk to a lot of them and their hearts are in the right place. They risk themselves to be exposed to Covid when they come out to volunteer.
I'm kind of on the ground level, watching how people have come together. They are so sincere about their neighbors in need and they've really stepped up—we have thousands of people who have done that. I think, you know, the profile of regional food banks has been raised. It took a pandemic to really shine a light on food insecurity. It's a really big issue. 
What do you think of the grassroots mutual-aid efforts that have popped up—such as public refrigerators, sidewalk pantries—to combat food insecurity?
I think they're wonderful. As an organization, we would love to support them. There's obviously a process—our partner agencies are on contract with us and go through compliance checks, meaning food handling, safety, etc.—but we would love to be in partnership with them. The restaurants have also done a tremendous job during Covid. You've probably heard of Great Plates Delivered [a free meal-delivery program for California seniors]. There are lots of restaurants getting a little bit of funding, stepping up and providing meals.
Are there any myths you'd like to debunk about food insecurity?
There is a homeless population issue that's definitely serious, yes. But the majority of people who come to us for help are working families that don't have enough money to get by. Actually, the highest percentage of people we serve are kids under the age of 18. We have working families, we have isolated, homebound seniors. Another misconception is that people who come to the food bank don't work or don't want to work. That's just not true. We have tens of thousands of people come to us who have jobs and are either marginalized or having a hard time making ends meet.
Has anyone you met on the distribution line made a particularly strong impression on you?
When we were doing a mega-distribution at Christian Brothers High School, a gentleman was in line who had just had heart surgery. He told me he had lost his wife to cancer and that mentally put him in a spin. Then he lost his job. This was the first time he had ever been to a food program. I also recently talked to a single mom who escaped a violent environment. She works full-time and she has a very good job, but her twin daughters are on dialysis and the medical bills have a huge impact on her ability to provide for her kids.
I guess the point to both of those stories is that you can't judge people for asking for help. I talk about it all the time—hunger is next door. Most people are embarrassed about being hungry or not being able to provide for their families, and they just don't seek out help or talk about it. 
What have been some of the silver linings that have emerged for the food bank during the pandemic?
We have forged new partnerships. We formed a really important partnership with [local nonprofit] Paratransit, in which they deliver food boxes to isolated seniors. That's been really cool. The second really important relationship we formed was with the Sac City Unified School District. In partnering with the school district, we distributed family food boxes to children who would ordinarily get their free and reduced-price meals during the school day.
We have also strategically evaluated, and been able to implement, a new crisis plan. If something like this happens again, we are going to be ultra-prepared to meet the need.
And I think what we learned is that our staff and volunteers are really resilient. The mission really drives all their activity. People are in it to make sure that our county is well nourished. The kindness and generosity that I've seen has increased my faith in humanity. I see a lot of heroes. 
For more info on the Sacramento Food Bank, including how you can donate or volunteer, visit sacramentofoodbank.org or call 916-456-1980.