R Street favorite Magpie Cafe relocates in July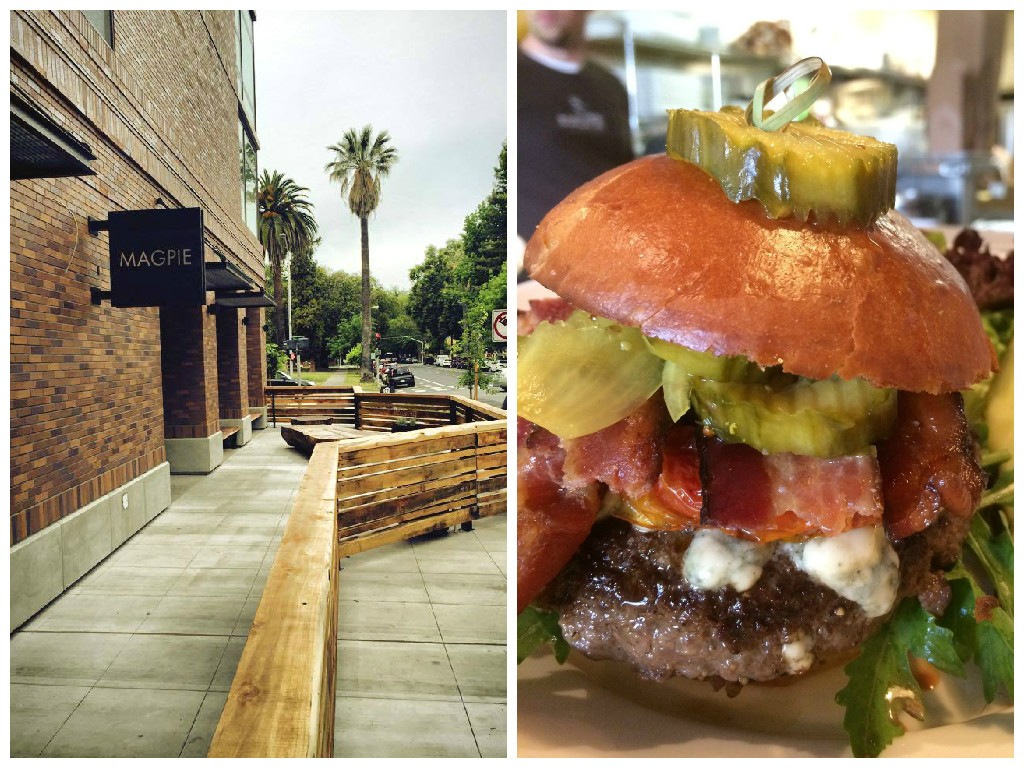 After five years, Magpie Cafe will bid farewell to the R Street corridor this Sunday, June 28, and will reopen at its eagerly anticipated new location in downtown's 16 Powerhouse building (near 16th and P streets) on Monday, July 5. Its current space will continue to operate under a new label, Nido by Magpie.
"It's a pretty big risk to pull up our stakes and walk away from [the R Street block]," says Ed Roehr, who owns Magpie with his partner, Janel Inouye. "Magpie had a pretty good thing going on R Street. We are going to forgo that and see if we can do it better."
Helping the team do just that will be a new kitchen custom-built for a restaurant (comprising equipment like a fryer, a salamander and a flat-top grill) and a full bar. Roehr says Magpie's menu will be finalized after the crew becomes comfortable in the new space, but there is already mention of a new burger (with Point Reyes blue cheese and bacon, pictured above), fish and chips, and perhaps a deep-fried component to the popular seasonal vegetable plate. Lunch will be served from 11 a.m.-3 p.m., and between lunch and dinner (which will start at 5 p.m.), a hybrid menu of lunch items and small plates will be available. Brunch will still be served on Saturdays and Sundays beginning at 8 a.m., with a menu featuring favorites like the biscuits and gravy, and French toast.
"The way that we are approaching it is we want to come over and still be Magpie and make sure we're still in one piece," says Roehr. "We're putting on new shoes and a new hat and seeing if we are going to be able to do the same thing or if we are going to have to do something different."
Cocktails will include a martini, bloody Mary and an Old Fashioned, as well as a beer cocktail called the Sacramento Treat, made with Magpie's honey and lemonade, and local Pilsner. The bar will also house eight taps (the current Magpie has four), pouring a range of beers from stouts to saisons and porters, and never pouring the same keg twice in a row.
As for the original location, it will continue to operate as Nido by Magpie, serving coffee, pastries, breakfast sandwiches, and an abbreviated version of its menu focusing on shareable small plates like empanadas and focaccia pizza, becoming what Roehr describes as a "fantasy Italian-Mexican-French cafe."
This weekend will be the last chance to dine at the R Street spot (it will close after Sunday brunch) before Magpie moves to its new home, which will have a larger outdoor seating space, brick interior and black wood furniture. (Inside, capacity will also increase from 40 to 60 seats.) Roehr describes it as "the grown-up version of Magpie" whose vibe will be determined by the neighborhood. "It's going to be exciting to see it unravel," he says. "I don't know what's going to happen – it's going to be an adventure."
Current location: 1409 R St. New location: 1609 16th St. 452-7594. magpiecafe.com
You Might Also Like
Taste: The region's latest food, drink & restaurant news for June 24
Prominent Bay Area restaurateur to open new local craft cocktail bar this summer
Insight Coffee, Magpie Café and others readying to open in new 16 Powerhouse building