Race for your life this weekend at Sacramento's Zombie Run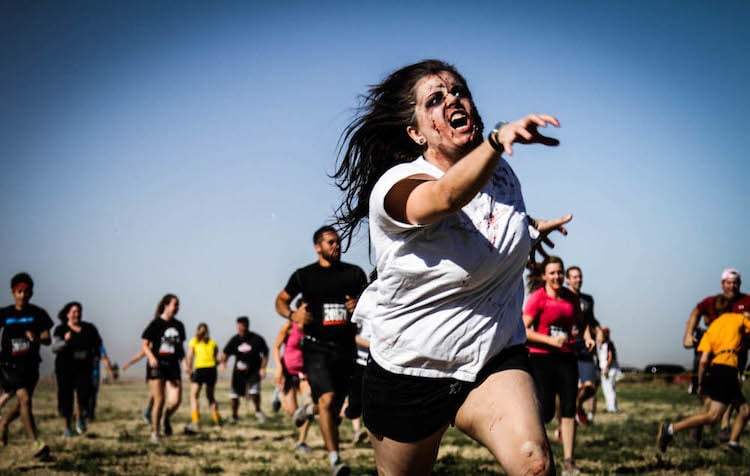 Undead culture is alive and well these days—even in our health and fitness traditions. Look no further than Sacramento for evidence this weekend, when distance runners and brain feasters unite for the beginning of the end at The Zombie Run.
"The whole idea of the run is that an apocalypse has happened and taken over Sacramento Raceway," explains Zombie Run series director Chloe Swenson, who oversees the national network of 5K races and obstacle courses pitting humans against a field of zombie foes. Participants have the opportunity to choose sides before the infection takes root at the racetrack situated just south of Mather Field. "You can sign up as either a zombie or a human," Swenson says. "Zombies get professional makeovers before we set them out on the course to await the runners." (The deadline to register in Saturday's races is today at 6 p.m.)
Runners, on the other hand, must guard the life flags dangling from their waists by dodging the cold grasps of their lurching, lunging adversaries. While the Zombie Run follows such Sacramento horror-sprints as the Running Dead Zombie Mud Run in 2012 and last fall's Capitol Apocalypse 5K, participants at this weekend's outbreak in Sacramento will be the first to experience the national Zombie Run's two new variations: Extreme and Black Ops.
At Extreme (commencing at 9 a.m.), runners can expect obstacles like climbing walls, mud pits, smoke, and, of course, hoards of zombies. Those registering for the new Black Ops run (getting underway at 8 p.m.) should anticipate a few additional challenges, namely running a thoroughly obstructed 5K in the not-quite-dead of night.
On a lighter note, the zombie apocalypse features a catered after-party. Survivors can gather for food, beer, games, music and good old (human) camaraderie. "People stick around and tell their survival stories or how they were taken down by the zombies on the course," Swenson says. And if the idea of a nice post-apocalyptic nosh doesn't warm your heart, maybe this will: Those who opted to remain human for The Zombie Run will have one last chance to get a macabre makeover from one of the on-site professionals. Take advantage of the rare opportunity to celebrate like a human while looking like a soulless, dead-eyed nightmare. In other words, have your brain and eat it, too.
A portion of the run's proceeds benefit the Kennedy Krieger Institute, which dedicates itself to improving the lives of children with brain injuries and disorders.
So don't spend your Saturday on the couch watching reruns of The Walking Dead. Run with the dead through an apocalyptic hellscape while promoting the future of humanity. Register at The Zombie Run's Eventbrite page before 6 p.m. ($45 for zombies, $85 for runners) or in person on race day ($50 for zombies, $100 for runners). Sacramento Raceway is located at 5305 Excelsior Road (near Highway 16 east of Bradshaw Road).