Radio Activation
Over the next year, the visionaries behind a new downtown headquarters for Capital Public Radio will transform a long-empty mid-century building into a living, breathing physical manifestation of the station's news-and-music format. Behold the ultimate audiovisual room.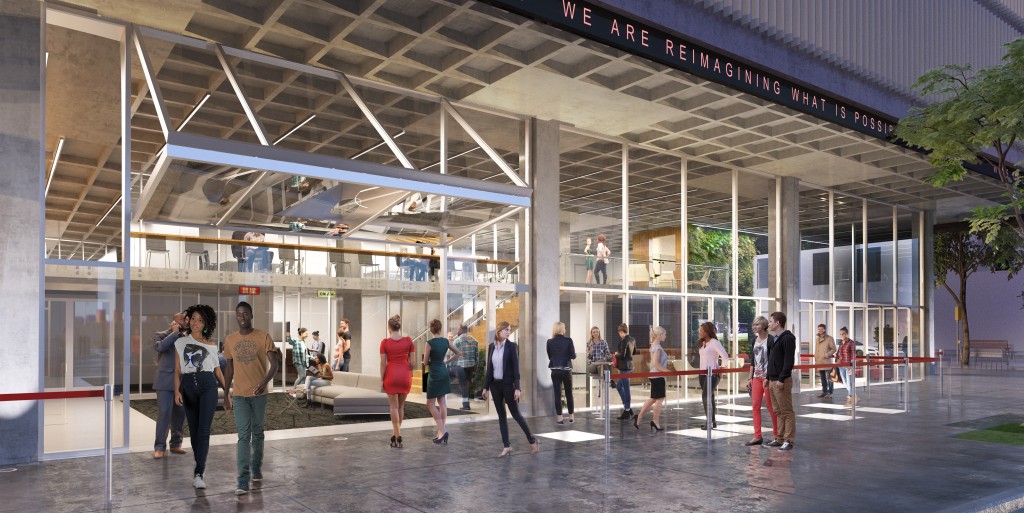 TThe year is 2020, and it's dusk on a cool, cloudless day in Sacramento. At the corner of 8th and J, Capital Public Radio's new $10 million glass-fronted headquarters glows like a lantern. On the sidewalk, a jazz ensemble—moonlighting members of the Sacramento Philharmonic—improvises a snappy, syncopated rhythm. Passersby watch CapRadio's music director Gary Vercelli work behind the mic from a ground-floor broadcast studio. Momentarily, a local author will read from the pages of his Pulitzer-shortlisted novel inside the building's auditorium, the Sutter Health Center for Community Engagement. There's a crowd of waiting ticket holders in the entry lobby examining the lush foliage on the multistory living wall or people-watching on a staircase that doubles as bleacher seating. For a once-blighted downtown corner, this buzzy scene is a highly anticipated triumph.
"This project is going to be transformative for the area and for the organization," says Curtis Owyang, design director at architecture firm LPAS, which has been working with CapRadio on designing its fresh new digs for the last six years. The first blueprints depicted an expansion of its current command post on the Sacramento State campus, a low-profile, semicircle-shaped building from 2002 that the original architect reportedly designed with the curved hull of Star Trek's USS Enterprise in mind.
The unusual architecture has served CapRadio well—the pie-slice-shaped rooms have proven acoustically sound for radio recordings and the half-moon courtyard was converted into a three-quarter-acre garden that produces 3,500 pounds of fruit and vegetables each year for local food banks. But the gap between the building's secluded location at the south end of the campus, on Folsom Boulevard near Highway 50, and the organization's mission to serve and engage the community has been irreparably widening for decades.
"We're pretty invisible where we are now," says station president and general manager, Rick Eytcheson. "CapRadio is licensed to the university, so it's made sense to be here. But at the same time, we've never really been part of that exciting college energy." While LPAS' initial on-site expansion included a prototype for the Center for Community Engagement and a glass spire that would have heightened, so to speak, the station's physical presence in a "Hey, can you see us now?" kind of way, the designs still didn't satisfy the aspiration to be at the center of the action.
"Part of the early effort was to increase their identity and enhance their visibility. That project fell through for a lot of reasons, but those desires are still part of the new design," says Owyang, who toured almost a dozen properties around the city with Eytcheson and other CapRadio board members before settling on 1010 8th Street, won over by its 18-foot-high, street-level glass enclosure and pivotal location right in the middle of all that juicy downtown redevelopment, never mind its four-block proximity to the State Capitol and two-block walk from City Hall—frequent subjects of the political high-rolling often reported on CapRadio.
Such a monumental change of address seems well timed, as many neighboring projects start to, or have recently, come online: Down the street on K, The Hardin is a fledgling dining destination with a gastronomic lineup that includes Ruhstaller's taproom, Kodaiko Ramen & Bar (from Kru's Billy Ngo) and Solomon's Delicatessen. The Bank, the city's majestic new food hall, is located one block away. Next door on 8th is a future tech hub anchored by locally based national technology consulting firm Cambria Solutions. And within five minutes' walking distance is Golden 1 Center—widely regarded as the catalyst of the downtown revitalization—and its stylish DoCo microhood, complete with the sophisticated Kimpton Sawyer Hotel and its lively summer pool scene, Fizz Champagne & Bubbles Bar, and local streetwear shop Getta Clue.
---
Fun fact for architecture geeks: The San Francisco office of Skidmore, Owings & Merrill (SOM) designed the building that Capital Public Radio will soon inhabit. The project's architect John Winter once recounted how in 1958 he had been struggling for weeks to resolve an issue with the structure when legendary SOM architect Gordon Bunshaft—best known for his iconic Lever House building in New York City (pictured left)—visited the SF office and weighed in. "I showed him my Sacramento project and explained the problem," said Winter. "He got out his pencil and with a few scribbles in 30 seconds he solved the whole thing."
---
"Settings have a lot to do with design, and ours will tap into, and hopefully contribute to, the energy that's rising downtown, thanks to all of these cool businesses that have moved in," says Owyang. "But in this case, I would say that CapRadio's mission plays an equal, if not larger, role in the design."
Which brings us back to that soaring glass enclosure—it is as much a means of expressing CapRadio's transparency in journalism and openness to the community as it is a crystal clear view into a hive of activity: An airy, light-filled lobby will lure the public through a cool portal—a fold in the glass, if you will—with rotating art displays, video monitors broadcasting news and other journalistic programming, and a lush three-story living wall. This shaggy vertical garden of ferns and other leafy greens is an homage to CapRadio's campus courtyard garden and will extend down to the newsroom for the organization's 80-plus-person workforce. Accessible by a "grand staircase" of bleacher seating, the subterranean space will be infused with natural light via glass panels in the sidewalk.
A wall made of reclaimed wood will bisect the ground floor and mark the entrance to the Sutter Health Center for Community Engagement, as it will be known, named for the local health care giant that's kicked in $2.25 million for 15 years of naming rights. The 180-seat auditorium will stage public panels, author readings, plays and musical performances. Owyang is also hopeful that the city will allow an LED news ticker that will nearly wrap around the structure's exterior with headlines from the day's news.
Bridging past and present, a couple of quintessentially mid-century details that are original to the 1960s structure, which was designed by Skidmore, Owings & Merrill as a Bank of California branch topped by three floors of parking, will be emphasized in the new design: The aluminum fins that distinguish the exterior of the parking garage are referenced in wood inside the auditorium—an acoustical feature that will help disperse sound. A concrete waffle-slab ceiling, a striking example of classic mid-century architecture, will be emphasized with lighting. "I don't know about anyone else, but architects love this kind of stuff," gushes Owyang. "It's so cool."
And since fortifying the public's trust in the media is of paramount importance for upright journalists, CapRadio is in talks with longtime collaborator CalMatters, a Sacramento-based nonprofit and nonpartisan journalism project that deciphers complicated political issues for the public through online articles, podcasts and brown-bag panels (recent sold-out events have covered California's mental health legislature and the controversial confidentiality of police conduct records), to share the newsroom and facilities at 1010 8th.
Neil Chase, CEO of CalMatters, whose offices are currently located one block away at 7th and J, appreciates the aesthetic reflection of his organization's mission. "Just like CapRadio, we are funded by people who believe what we do is important," says the former executive editor of The Mercury News. "I love that there are going to be [floor-to-ceiling] windows where you can watch journalists doing podcasts and radio shows. Journalism has to be transparent so that people know what we're doing and trust us. It's our nature to tell people as much as we can about what we do."
Also in talks to take up residence at the complex is the Sacramento Philharmonic & Opera, whose heritage timber office in Old Sacramento also feels on the fringe of its target audience. The group's in-house presence would not only embolden its public interface, but also legitimize the arts-and-culture perspective at the new space in a way that only a resident jazz trio playing on the sidewalk or an opera diva's command performance in the auditorium could do—the organization's professional musicians would be on hand for shows impromptu and otherwise. According to its executive director Alice Sauro, "moving in would underscore the new modern company," which is not usually an identifying characteristic of any symphony or opera. As such, the philharmonic, which currently hosts pop-up concerts around town at farmers' markets and libraries, would have a permanent venue in which to mount similar shows on a more regular schedule at 8th and J.
In addition to the focus that has been placed on high-quality journalism, the new build is meant to inspire—its lofty spaces designed to accentuate live music. We're willing to bet that instrumental Beatles covers or an orchestral accompaniment to a reading of Where the Wild Things Are might end up being the most publicly engaging forces in 1010 8th's arsenal. Bringing such cheer to this corner of downtown could be the project's most beautiful achievement, creating a glow from within that has nothing to do with lights.