Raise your glass at these spirited Sacramento Cocktail Week events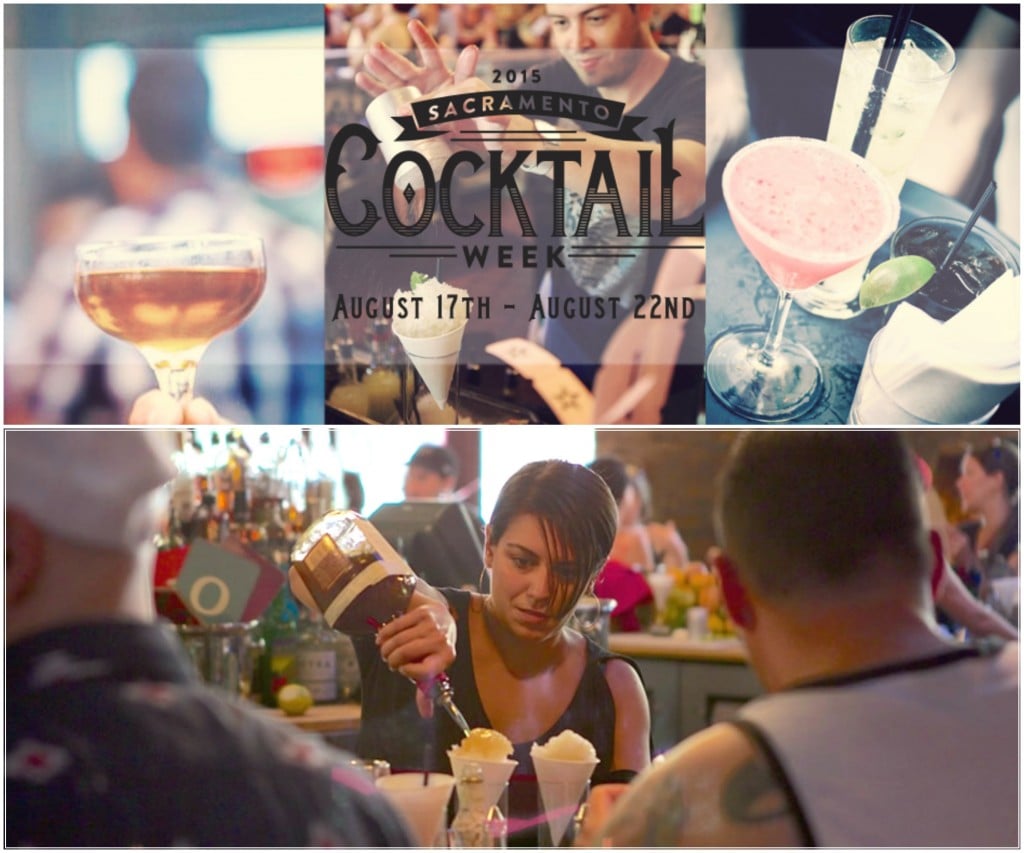 Formerly known as Midtown Cocktail Week, the newly named Sacramento Cocktail Week kicks off its 8th annual event with even more exciting alcohol-infused festivities, from pop-up pajama parties to gin history classes and bartender competitions from Aug. 17 to 22. Here are the rundowns on six of the spirited main events.
Liquor on the front, Poker in the rear
Aug. 17
Cocktail Week will kick off at R Street's new bar-and-barbershop hangout, Bottle & Barlow, which will be transformed into a casino, resort and martini bar for the evening. At the resort and martini bar, mixologists will recreate trashy dive drinks made with 86 & Co. spirits like Aylesbury Duck vodka and Caña Brava rum, among others. From there, you can head into the barbershop, which will morph into a casino for the night with blackjack, roulette and poker tables, or for more casual gamers, raffles. Free admission. 6-9 p.m. Bottle & Barlow. 1120 R St. bottleandbarlow.com
Sacramento USBG: SCW15 Capitol Games
Aug. 18
On this night, the California Auto Museum offers a little of everything with food trucks, drinks, sports and live music, plus craft cocktails served in a 27-foot-long Airstream transformed into a bar. Feast on soul food from Cecil's Taste or burgers from The Culinerdy Cruzer at this event hosted by the Sacramento Bartenders' Guild. Catch live music from The Manzanita Band or test your sports skills with games from the Sacramento River Cats and Sacramento Republic FC. $10 presale; $15 at the door. 6-9 p.m. California Auto Museum. 2200 Front Street. calautomuseum.org
Cocktail Competition
Aug. 19
At one of the week's most popular events, eight teams of bartenders from local establishments like Red Rabbit, Shady Lady and Hook & Ladder Manufacturing Co. will go head-to-head for cash prizes at Harlow's. Watch as eight teams representing each bar wage battle against both the clock and other teams to make six randomly selected cocktails. Plus, guests can quench their thirst with punch samples made by the competing bartenders after they drink in the action. Last year's winner, Chris Dooley of Ella Dining Room and Bar, pocketed $1000 for his drink, the Bloomsbury Bramble. $10 presale; $15 at the door. 6-9 p.m. Harlow's. 2708 J St. harlows.com
City Under Construction
Aug. 20
As the Golden 1 Center rises on Sacramento's skyline, Hook & Ladder Manufacturing Co. is taking the city's "under construction" theme to new heights. The restaurant's staff will be wearing hard hats and bartenders will be carving ice and serving drinks to match the theme, like the clever Matte Finish cocktail (a strawberry daiquiri-style drink served in a plastic paint can) or a watermelon margarita mixed with a drill. Free admission. 6-9 p.m. Hook & Ladder. 1630 S St. hookandladder916.com
Sacramento Cocktail Week Beach Bonanza
Aug 21.
This event brings the California seashore to downtown Sacramento at Goldfield Trading Post, where bartenders will serve up beach-themed drinks featuring Bacardi with a beachcomber menu and bites like fish tacos. In between drinks, you can play boardwalk carnival mini games and soak in the sounds of a California-inspired playlist from DJ Shaun Slaughter. Free admission. 6-9:30 p.m. Goldfield Trading Post. 1630 J St. goldfieldtradingpost.com
The Tag Team Smackdown
Aug. 22
Celebrate your love for craft cocktails and WWE wrestling at the Coin-Op Game Room's Tag Team Smackdown. At the final featured event of this year's cocktail week, spirit brands Aviation American Gin and Caña Brava host an in-house wrestling tournament. There will be plenty of cocktails, as well as food from their regular menu with items such as hot wings and meatballs, and of course, many of Coin-Op's pinball and arcade games, like the boxing-themed game Punch-Out. Spandex optional. Free admission. 6-9 p.m. Coin-Op Game Room. 908 K Street. coinopsac.com
Some of Sacramento Cocktail Week's events require reservations or tickets in advance. For more information, visit sacramentococktailweekcom.
You Might Also Like
What's brewing at seven late-summer beer events around the region
Six sandwiches to savor during National Sandwich Month
Farm-to-freezer: Beat the heat this summer with local gourmet popsicles