Raising the Roof
Cities everywhere are discovering the environmental (and aesthetic) benefits of green roofs. And from Chicago to Austin, city halls that are setting the example. As a city with our own green ambitions, isn't it time we planted some seeds of change?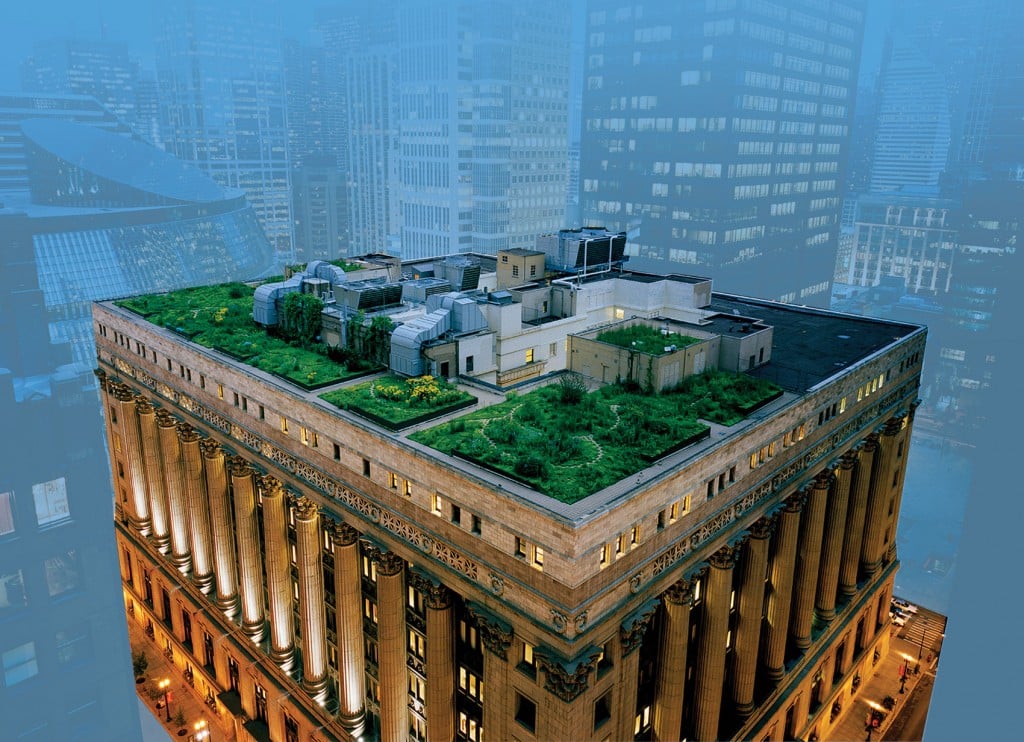 The Idea
It's summertime in Sacramento, and that means the livin' isn't always easy. But what if we could actually do something to mitigate the oppressive heat and help the environment at the same time? It turns out we can. Scientists are learning more every day about "urban heat islands," a phenomenon that occurs in dense urban environments when the dark pavement absorbs the heat instead of reflecting it, raising the daytime temperature of downtowns by as much as 5 degrees more than surrounding areas. That's why more buildings are installing white roofs that reflect sunlight. They cool interiors and require less air conditioning. That's great. But in the winter, the rain still slides right off the white roofs, putting pressure on our flood systems (an especially pesky problem in Sacramento), and picking up pollutants like oil and exhaust on its way down our streets and into our rivers. Not so great.
That's where green roofs come in. Popular in Europe for decades, it wasn't until 2000 when Mayor Richard M. Daley of Chicago declared his desire for Chi-town to be a green leader and brashly installed America's first green roof on a city hall (pictured) that American cities took notice. Not only do green roofs cool buildings in the summer, they also provide insulation in the winter, filter and store rainwater, and greatly increase the lifespan of roofs. Today, with aggressive incentive programs, the Windy City is home to over 700 green roofs—tops in America, according to the Toronto-based Green Roofs for Healthy Cities. And Portland, whose city hall will sport a new green roof next spring, also boasts powerful incentives, along with a city-run green roof blog and annual convention. Sacramento? Not so much.
The Players
If we want a green city hall, too, it needs to start with our mayor. And that's one initiative that Mayor Johnson's fellow council members would be wise to embrace. If they have questions, their timing is good. Green Roofs for Healthy Cities is holding its annual conference just up the coast in Vancouver from Nov. 30 to Dec. 3 (bonus: the early-bird rate is in effect until Sept. 30). And legislators shouldn't be the only ones paying attention. There are very real financial incentives for developers to explore green roofs, too.
The Bottom Line
Tom Liptan, who's been heavily involved in Portland's green roofs initiative (and also, ahem, consults for other cities) says green roofs can cost anywhere from $5 to $20 per square foot. In Portland, the city has created a $200,000 budget specifically to create green (or "eco") roofs for its 24,000 square-foot city hall complex, starting next spring. The larger, modern annex portion of Sacramento City Hall's rooftop is roughly 28,000 square feet, but would likely cost less to retrofit for a green roof than Portland's much older complex. So how can Sacramento justify a cost like this in a struggling economy? Smart cities know that the green technology isn't just politically or environmentally savvy, but one of the next major economic trends. For a city that hopes to be at the forefront of the green movement, how can we afford not to tend our own garden?