Ready Set Glow
In Poland and the Netherlands, luminescent bike lanes light the way for cyclists. As a burgeoning bike mecca, it's time for Sacramento to follow their path.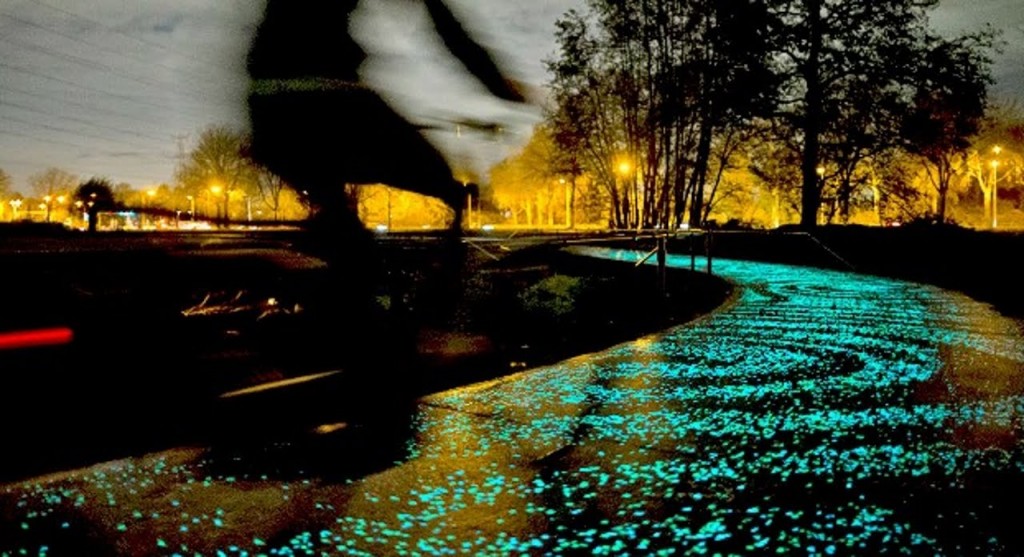 The Idea
Dutch artist Daan Roosegaarde has long been fascinated by the intersection of art and technology, particularly the use of light to transform the ordinary into the extraordinary. Perhaps the splashiest example of this predilection is his 2014 tribute to fellow countryman Vincent Van Gogh, in which thousands of solar-powered LEDs were embedded into the pavement along a half-mile stretch of a bike path near the painter's hometown of Nuenen as an homage to his 1889 masterpiece, The Starry Night. The blue and green lights shine for a full eight hours after the sun sets, creating a radiant tribute to the Netherlands' favorite son (see video here). Now the studio is planning more such trails in other locations.
Inspired by Roosegaarde's creation, urban planners and engineers in Poland debuted their own glowing path late last year, in part to improve cyclist and pedestrian safety at night. The 100-meter-long track in Lidzbark Warminski comprises glowing particles known as luminophores that were created by the European materials firm TPA. Fueled by the sun, the particles emit light for up to 10 hours, providing a clear path and making for a visual treat.
Sacramento, of course, is home to countless bikeways, none more celebrated than the 32-mile American River Bike Trail that runs from Discovery Park to Folsom Lake. Imagine the lane itself burning blue and green and twinkling at night, mimicking the glistening surface of the adjacent river. Imagine flecks of gold within it hinting at our Gold Rush history.
The Players
The conversation should start with groups such as the American River Parkway Foundation, the Sacramento Area Bicycle Advocates and the Sacramento Metropolitan Arts Commission. Any one of these organizations could act as the project's champion, perhaps raising funds through crowdsourcing sites like Kickstarter. Who would build it? West Sacramento's Clark Pacific is a cutting-edge concrete company that Apple hired for its new headquarters in Cupertino. What if the company partnered with the California Lighting Technology Center at UC Davis or Folsom-based KiboWorks, whose custom LED projects include the Times Square New Year's Eve ball and the blue lights atop the U.S. Bank Tower on Capitol Mall?
The Bottom Line
While the creators of the two European pathways are mum on the costs, the Van Gogh path has paid dividends in terms of global media attention (The New York Times, Travel & Leisure, etc.). And like the Van Gogh homage, our track should nod to Sacramento's own rich past. After all, our city's entire raison d'être can be attributed to our rivers and the Gold Rush. So, with May being National Bike Month, let's get going and glow with the flow.