Right as Rain
This year, California was hit by a serious drought, with more dry spells predicted in coming decades. It's time to get creative and save water for a non-rainy day by building our own tower of showers.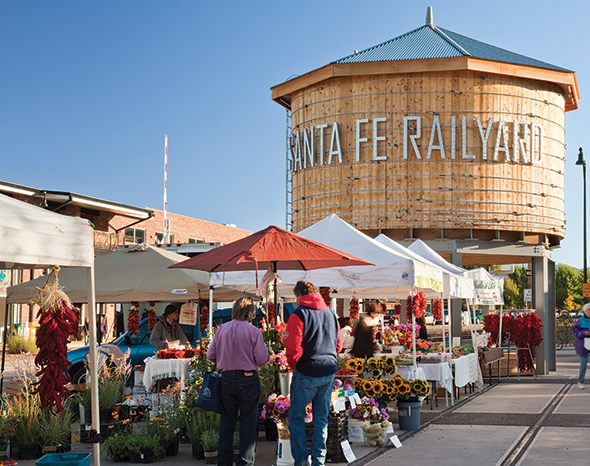 The Idea
The last year has been a particularly rough one for our drought-stricken state. And according to multiple recent reports, things may only get worse in the coming decades as the Sierra snowpack shrinks. But while serious droughts have been few and far between over the decades in California, states like New Mexico have been challenged by a consistent lack of water for generations, and have found creative ways to adapt.
For example, when it came time for Santa Fe to plan the redevelopment of its historic railyards over a decade ago, it held an international design competition to come up with concepts for how to turn a dusty 50-acre stretch of land into a vibrant destination. The winning entry included a proposal to collect rainwater from the roofs of the buildings and design a tower that would double as a rainwater harvester and a new local landmark with a historical nod.
And when the project was completed in 2008, the water tower instantly became the visual centerpiece for a public space that included a farmers' market, shopping, dining, live music and other amenities. The cedar-planked tower holds over 40,000 gallons of rainwater and is connected to five underground tanks that contain 75,000 additional gallons of storage. The main tank itself also features holes in the bottom that spray a welcome mist onto visitors underneath during the hot summer months, with an inlaid map below their feet that shows the Santa Fe watershed. Both Chattanooga and Austin have also recently built rainwater harvesting towers that pull double duty as civic sculptures.
With an anticipated need for creative water solutions, Sacramento should embrace this unique brand of water tower architecture. A century ago, a tower not dissimilar from the one in Santa Fe rose above Jibboom Street near the Sacramento river and the railyards. So a new water tower here would reestablish a visual link to our history and help prepare us for a drier future by collecting rainwater that could be used to irrigate surrounding park space and landscaping, all while adding to the city's architectural landscape too.
The Players
Sacramento has its own historic railyards, which are in the early stages of redevelopment (and include an old, nonoperational water tower). A new tower there would make eminent sense. Such a structure might also fit well near the wooden embarcadero of Old Sacramento. The city could work with both of these entities to figure out how best to integrate a tower with the needs of the surrounding areas.
The Bottom Line
This past summer, Richard Howitt—a UC Davis professor emeritus of agriculture and natural resource economics—estimated that California would lose $2.2 billion in 2014 due to the drought. And several studies on the subject have concluded that increasing our water storage capacity is one of many key strategies we need to employ.
With our own rainwater harvesting tower, we could couple our environmental needs as a state with our architectural goals as a city and make Sacramento a model for sustainable design—come rain or shine.