Ring Leader
He's one of the toughest fighters in one of the toughest sports known to man—mixed martial arts, aka cage fighting. Now, two years after losing his title, Urijah Faber has a shot to become a champion again on July 2. But until then, he has TV shows to appear on, video games to star in, a clothing line to promote, and a fitness company to build. Can Sacramento's "California Kid" become the ultimate comeback kid? And more importantly, what is he doing kissing Rosie O'Donnell?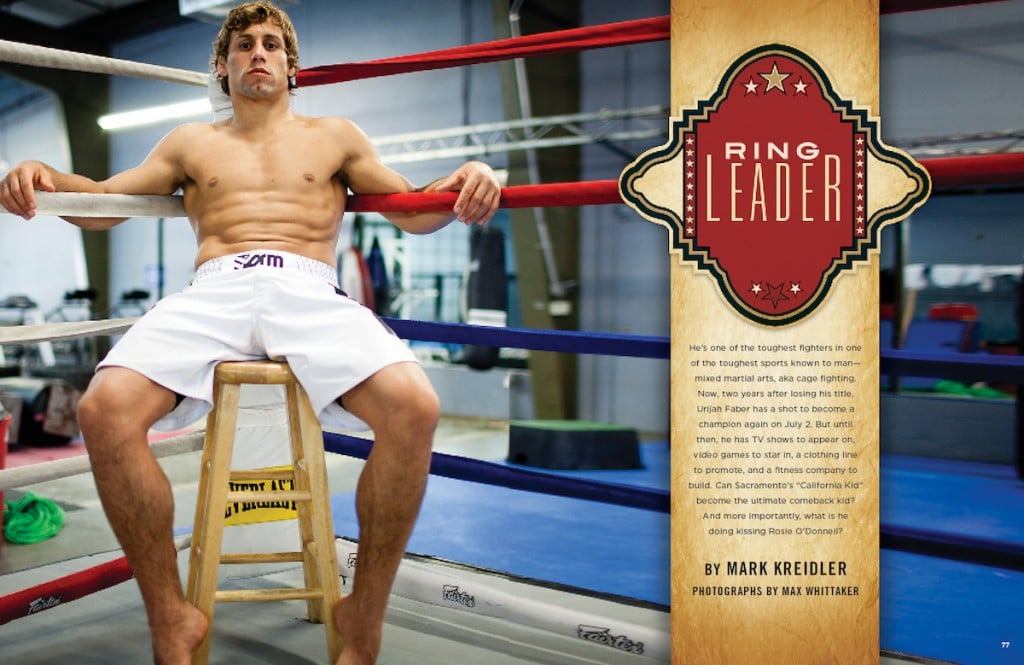 UUrijah Faber is on fire.
Not literally. Well, almost literally. He moves through his morning like something's burning, put it that way. Lots of motion, lots of activity. As one of the fighters on his team says, "It's like he's not normal if he's not ridiculously busy," and that would make this particular day utterly normal.
At just this moment, Faber has a pointed message for his fighters, the members of his Team Alpha Male, a collection of mixed martial arts professionals like him that he trains and manages. He needs to deliver the thought quickly, because time is short. When you are one of the most visible stars in a rising industry like the world of mixed martial arts fighting (or MMA, as it's known), the days make a habit of blowing by—and in this case, Faber is counting down the hours until he launches one of his proto-typical, career-broadening, road-warrior trips.
"Let's see," he says, staring into his phone for the contents of his itinerary. "I'm going to Portland tomorrow and then Utah on Friday, and then I fly to L.A., and then to San Diego, and then back to Oregon. Then I come home for two days, I think. Yeah, two days. Then I go to Sweden."
And all of this will be happening of course while he's training for one of the biggest fights of his life—an opportunity, at age 32, to regain his status as a champion at the Ultimate Fighting Championship (UFC) title bout on July 2 in Las Vegas.
Faber sits back in the chair and swears lightly to himself. "Dude, that's crazy," he says, smiling. "I didn't realize I was doing all that."
A little white lie, that one. Anyone who spends time around Faber comes to understand pretty quickly that the guy who in dress and manner might be mistaken for a skate park denizen is, in fact, one of the sharpest operators in his field. He always knows where he's going.
But right now, he's on the mat, at the end of a brutal workout, and Faber puts it to his charges in plain language. "It's one thing to have a hard workout," he says. "It's another to have that mentality that you're not going to lose." He speaks sincerely, without raising his voice. He gets up from his spot on the mat and walks around the circle of athletes deliberately, his right hand bandaged and tightly wrapped after an incident with a sparring partner during a workout. (When I ask him about it, he's dismissive. How did he hurt it? "On a guy's jaw," he replies.)
His fighters lean close, listening intently. What they imagine—and what they're paying for—is that they are receiving advice from the man who knows what he's talking about, which Faber, a five-time MMA champion, certainly does. What they might be surprised to learn is that they also are being mentored by one of Sacramento's emerging serial entrepreneurs—a full-fledged, multifaceted, internationally oriented businessman. But there's no time to get into that now. It's time to pack. Urijah Faber is on the move again.
**********
Urijah Christopher Faber, by now, is a brand. He is one of the leading lights of a sport, MMA, that many people don't fully understand but which is quickly rising from niche status and spilling over into popular culture like other mainstream sports. For evidence, look no further than Twitter. During Urijah's most recent fight in March, Faber was, in Twitter parlance, trending. That means that during that fight in New Jersey, he was the fifth most discussed topic on Twitter in the United States.
And with the July fight looming against rival Dominick Cruz for the UFC's bantamweight (135-pound) title at the MGM Grand in Vegas, Faber, the self-nicknamed "California Kid," finds himself in an odd position. He is old enough to be considered one of the godfathers of the industry and a business titan—and he is just young enough not to want to yield the competitive edge, the winning, that has made his fortune possible in the first place.
"I'm probably at about the halfway point of my career," Faber says. Question is, which career?
Viewed strictly as a fighter, Faber is closer to the end than to the beginning. Those are the laws of nature, and they are nearly immutable. By his own optimistic account, Faber might have four or five years of good fights left in him. Santa Barbara born, Sacramento raised, Faber has made his mark in an athletic industry that is brutal even by the standards of American full-contact sports. MMA, for those uninitiated as viewers, appears as an open brawl between two competitors who don't have any other way out of the octagon-shaped cage in which they are fighting—and in the early days, when the sport was forming in the 1990s and rules were few and far between, that's about what it was, a brawl. Even now, with stricter guidelines and officiating, Faber and his foes beat each other mercilessly, and often into submission, by a combination of wrestling holds, martial arts moves and straight-up boxing and kicking that appear primitive in comparison with most organized sports in the world. It is often a bloody, broken-boned siege, from which only one fighter emerges victorious. For most of the past decade, that fighter has been Faber.
He has won matches; he has won titles; he has won hearts. Faber's combination of punishing moves in the octagon and dazzling smiles out of it has earned him a global following that includes actors, musicians and entertainers. At the Jersey fight in March, the audience was littered with celebs like Kevin James, Ice-T and Taboo from the Black Eyed Peas. But his unlikeliest fan, who was there to cheer Faber on, is also one of his most devoted—Rosie O'Donnell.
In fact, O'Donnell is such a fan of Faber's that prior to the fight, she squeezed her way through the packed crowd to try to capture an image of him on her camera phone as he walked into the arena. Spotting her, Faber stopped briefly and gave her a peck. "He kissed me!" she shrieked excitedly as he continued on toward the ring.
Faber isn't the most dominant fighter in the short history of MMA, despite his 25 wins in 29 bouts; but in terms of popularity and reach, he sits near the top of the list.
And all of this is good for business. Faber's gym, Ultimate Fitness, a place he and a partner put together in a small building at 17th and I streets downtown, has clicked to such an extent that it has given rise to thoughts of multiple locations and programs geared toward the youth market. Faber's clothing line, originally put together to give him and his buddies a clean, stylish alternative to the skull/pit bull graphics that permeate the MMA fight scene, has gone global. His management firm, MMA Incorporated, comprises some of the top emerging talent on the fight scene. His longtime parent-company sponsor, Pepsi, keeps him in full supply of Amp energy drinks, endorsement money and worldwide exposure. Faber owns a hatful of homes around the Sacramento area (including one in a neighborhood near American River College where he lives) and he is renovating a space with a coastal view in Point Arenas to use as a training center for Team Alpha Male, his collection of 30 or so devoted young pros.
Faber is going to Portland twice on this particular itinerary to spend long days filming a brief appearance on the TNT television series Leverage with Timothy Hutton, playing a part chosen for him by series co-star Christian Kane, a longtime friend. There is word of Faber potentially being chosen as a coach on the upcoming edition of Spike TV's MMA-based reality series, The Ultimate Fighter 14. A motivational book created by Faber is scheduled to be distributed through global publishing giant HarperCollins in 2012. The stop in Los Angeles is so that he can be part of (read: model for) the latest MMA-related video game release, UFC Personal Trainer. The San Diego journey will allow Faber to connect with some U.S. Marines in training exercises at Camp Pendleton as part of an MMA documentary.
The trip to Sweden? Faber is working in the corner of one of his fighters.
Rosie O'Donnell is such a fan of Faber's that prior to the fight, she squeezed her way through the packed crowd to try to capture an image of him on her camera phone as he walked into the arena. Spotting her, Faber stopped briefly and gave her a peck. "He kissed me!" she shrieked excitedly.
And that brings him back to the present, to his training, and to his next spotlight moment in the octagon-shaped ring to do the thing that created all of this activity in the first place. The fight in Las Vegas against Cruz is no routine setup; it is a match Faber wanted and sought. He dropped 10 pounds in weight class to make it happen. In 2006, Faber delivered Cruz the only defeat of Cruz's otherwise sparkling MMA career, yet it is Faber, the elder of the two, who remains annoyed by his opponent. He says he felt disrespected by Cruz back then, when, during a charity autograph session, Cruz repeatedly signed his own name over Faber's face on a series of poster images. "Just a kind of young, immature thing to do," he says of Cruz's act. "We never really got it resolved, and that was four years ago." The Vegas fight presents Faber with a chance to take Cruz's bantamweight title belt.
But Faber wants to win for himself, too. His 25-4 career record obscures the closer truth that he has won only four of his last seven matches, and Faber has not held a title in the sport since 2009; in the interim, he lost three brutal title bouts, one which he finished despite fighting with a broken hand and a dislocated thumb (he now fights with metal plates in his damaged hand). The last title decision, lost to Jose Aldo before a raucous pro-Faber crowd of 10,000-plus at Arco Arena in April 2010, left Faber in a considerable amount of pain. But instead of fading out, Faber switched weight classes and promptly won two matches to set up the title fight with Cruz.
"It'd be great to have it," Faber says of the 135-pound championship. "But for me, it's more of a personal thing. It's a symbol of just being the best at what I do, and that's important to me. But I don't think it's a life-changer. At this point, I think I have established my credentials in the sport."
**********
Faber was born in 1979 in the Santa Barbara community of Isla Vista, in the home of his parents, Theo and Suzanne, with midwives assisting the birth. In the other significant ways, Faber is pure Sacramento. His family moved to the area when he was 3 years old, and since then Faber has seen the city from several different angles, "wealthy" until recently not being one of them. "I've lived on U Street, lived on 71st Street right by Hiram Johnson [High School], my dad was in Carmichael," he says. "I moved to Lincoln in the seventh grade."
A multi-sport athlete, Faber graduated from Lincoln High School with a passion for wrestling and set out for UC Davis, where he obtained his degree in human development in 2003 and went from wrestling walk-on to scholarship winner under renowned coach Lennie Zalesky, the former Iowa star. Faber, a modest 5-foot-6 and 135 pounds, had always been drawn to the contact sports. And he didn't lack for confidence. As soon as he saw the concept of mixed martial arts fighting in 2003, "I just always thought I'd be good at it. I thought no one would ever be able to beat me up, you know?" Faber laughs. "Because I thought I was going to be bigger than I am. Didn't grow."
The concept of MMA began in the early '90s as an attempt to determine which of the many martial arts disciplines— karate, jiu-jitsu, kickboxing, kung fu, etc.—could be considered "supreme" over all others. It wasn't for a few years that anyone realized such fights could be shown for profit, much less that combining several of the martial arts into one attack style would excite crowds. Years after that, the Ultimate Fighting Championship became an entity of its own. By the time Faber graduated from UC Davis and went to work as a staff wrestling coach there making $7,000 per year, the concept of MMA as a profession had begun to take root. Faber almost immediately jumped in. His first professional fight was in November 2003. By June of 2004, he was a champion.
Among the many fight tactics he employs, Faber is particularly drawn to the art of Brazilian jiu-jitsu, which emphasizes using all sorts of ground-based takedown moves to dominate opponents, wrenching them onto their backs or into untenable positions from which it's easier for Faber to employ a fight-ending chokehold. Of his 25 wins, 13 have been by "submission," forcing his opponent to concede during the match to such chillingly named moves as the rear-naked choke and the guillotine choke.
By 2005 Faber was defending old titles and adding new ones at an astonishing rate, and his chiseled features and marketable smile elevated him to a place of recognition well beyond most of the people he was fighting. Compact and trim, with a pronounced cleft chin and a jutting jawline that gives him a little touch of superhero profile, Faber generally sports flowing, shoulder-length, golden locks, a medium-deep tan and an easygoing manner. Fans, friends and business partners have found the combination hard to resist.
"He has this charisma, and you either have it or you don't," says Matt Fisher, the Sacramento chiropractor who eventually became Faber's business partner. "And he's smart enough to use it to his benefit—and that's where he flourishes. He takes these good looks and this charisma, and that smile, which my mom always comments on, and then he takes these smarts and uses them. He's a very humble guy—but he's an extremely confident guy as well."
Fisher and Faber wrestled at Lincoln High a decade apart, then reconnected via a mutual acquaintance. Fisher initially approached Faber about getting some private training sessions, but over breakfast one morning at Jalapeños in midtown, the two almost immediately launched into the idea of opening a gym, a concept Faber had considered some time before. "We grabbed a napkin and started jotting down plans," says Fisher. "We had a great connection."
Such would become the formula for most of Faber's ensuing business moves. When Faber decided to launch an apparel line, he went with Mark Miller, a man who'd already had huge success turning DC Shoes into a major-market player. Within a few weeks, Form Athletics was born. Faber debuted the apparel at a World Extreme Cagefighting event at Arco Arena in January of 2010. Seven months later, the flourishing company was purchased outright by international apparel giant K-Swiss for $1.6 million. Miller and Faber retained substantial control over future designs and rollouts.
In a brilliant bit of cross-promotion, many of the pieces of Form gear—shirts, hoodies, hats—prominently feature the Amp energy drink logo. It's all part of keeping Faber's passions and connections alive, in the same way that he chooses most of the fighters for Team Alpha Male, even though his managers, Jeff Meyer and Mike Roberts, run the day-to-day business of Faber's MMA Inc. management firm, which takes a cut of the earnings of its 30 athletes.
The ideas flow from the mind of an inherently restive soul. Faber's parents divorced when he was in kindergarten; Faber shuttled between the two of them and diverted his own interests to acting and theater. By the time he was 9, he was appearing in Sacramento area television commercials for such diverse clients as local radio station KZAP and the SPCA. "Then in high school," he says, "I'm an athlete, I've got a girlfriend, I've got my buddies, I work full time. I put myself through college. I'm just a busy person."
And that's how he likes it. He sleeps perhaps six hours a night, usually too full of energy and ideas to log much more. He doesn't watch much TV and doesn't play video games. Constantly jotting down thoughts on pieces of paper or in a computer file, Faber has found himself needing to exploit his good connections in order to make his ideas come to fruition, so that he can continue to focus on being a fighter.
As Matt Fisher says, "He knew from the start that he wanted to be able to have businesses, be successful, and not be tied into one. In a very honest and open way, he uses the situation. He found me to partner with him in a way that would make the gym work. He found Mark Miller. He's a very good businessman in that regard."
Faber has made his business mistakes, such as opening a second gym in Rancho Cordova just about the time the recession hit hardest a few years ago. (It has since closed.) But in general, his ideas work. And his switch last year from the smaller World Extreme Cagefighting league to the industry giant UFC when they merged ensures not only greater paydays (a top UFC fighter can earn several hundred thousand dollars for a title match), but massive exposure via that league's television contracts with such growing networks as Versus and Spike.
Some months ago, Faber took off for a training session in Santa Barbara. "I drove him," says T.J. Dillashaw, a 135-pound fighter for Faber's Team Alpha Male. "The whole drive down, he was on the phone doing business. It's interesting—the only time he's really relaxed and able to sleep is a week or two out from a fight, and that's because he trims everything else back and just concentrates on getting great workouts and eating right and getting a lot of rest."
And that time will come; it just isn't here yet. Right now, Urijah Faber has some places to go, some people to see. There may be a deal to broker. There may be friends and family involved. "Business and pleasure, it's all the same thing to me," he says. "I feel like I'm always on vacation."