Ruhstaller's new downtown taproom opens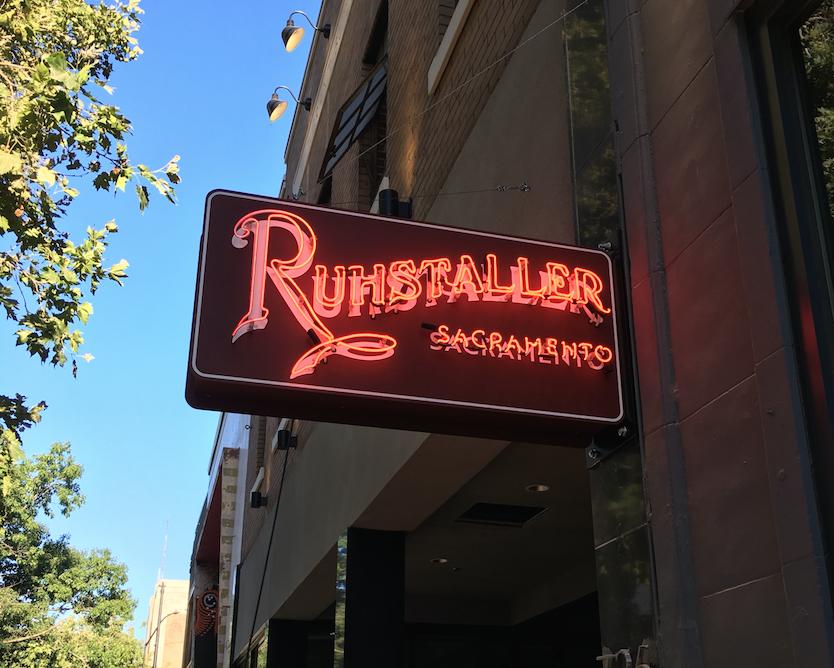 Ruhstaller will hold a soft opening for its new downtown taproom on Monday, Aug. 27, from 3-8 p.m. It's the first of 17 retailers to open at the Hardin, the stylish new mixed-use project spanning the 700 block of K Street that will also house the Solomon's Delicatessen, Kodaiko Ramen & Bar and other soon-to-be hot spots.
The local brewery's Dixon-area farm, with its avant-garde roadside signage and rows of climbing hops, is a familiar sight to those traveling down 80 toward the Bay Area, but it closed its previous downtown Sacramento taproom (around the corner from the new one) in March 2017, leaving the farm taproom as the only retail outlet for Ruhstaller, which is named after one of Sacramento's legendary Gold Rush figures, brewer Captain Frank Ruhstaller.
Hop heads waiting for the cozy, cool, cellar-like taproom to open are good and parched after such a long dry spell, but owner J.E. Paino says it will be worth the wait. "I'm very pleased with the final product," Paino says. "Our goal was for it to feel like the cousin of the former taproom, and I think it's better in a lot of ways. The outdoor space is absolutely wonderful."
Paino is referring to the wittily rustic patio that spills onto K Street, where patrons can sample one of 18 brews on tap (another improvement on the elder cousin's eight) while watching folks come and go from the nearby Golden 1 Center. Old favorites like the 1881, made with locally grown hops, and the roasty Capt. California Black IPA will flow alongside seasonal offerings like Dirt Triple Crown Blackberry IPA.
The space downstairs, on the other hand, is a world of its own, by design. "A friend of mine said a couple of years ago, 'Sacramento is like this big hug.' That's what we want this place to be like," says Paino.
As such, he notes that there won't be televisions broadcasting games "unless the Kings make the playoffs." Instead, the warmly lit room has more of a speakeasy vibe, with rustic wood paneling from pallet crates and saloon-style sofas for lounging. Artifacts from the original Ruhstaller brewery are housed in glass jewelry cases, and historic photos line brick red walls. There are also at least 99 bottles of beer on makeshift walls in the pool room. Ruhstaller strives for the comfort level of a coffee shop where you can while away part of your work day, and Paino encourages patrons with laptops (and children and dogs, for that matter too) to come camp out. Just don't expect to get a huge amount of work done if you're tasting the wares, he cautions: "It might be a better place to come pretend to work."
726 K St. 916-447-1881. Open Mon.-Wed. 3-8 p.m., Thurs.-Fri. 3-10 p.m., Sat. 11 a.m.-10 p.m. and Sun. 11 a.m.-8 p.m. ruhstallerbeer.com
You Might Also Like
Soak up the suds this summer at 11 new Sacramento breweries and taprooms
Brew n 'Cue – Urban Roots Brewing & Smokehouse
​Alums of Berkeley's legendary Cheese Board Collective to open vegetarian pizzeria and bakery in Sacramento