Ryan Guzman Q&A
We catch up with actor Ryan Guzman, a former pitching standout at West Campus High School and Sierra College, about taking the field again for Richard Linklater's highly anticipated new baseball movie "Everybody Wants Some."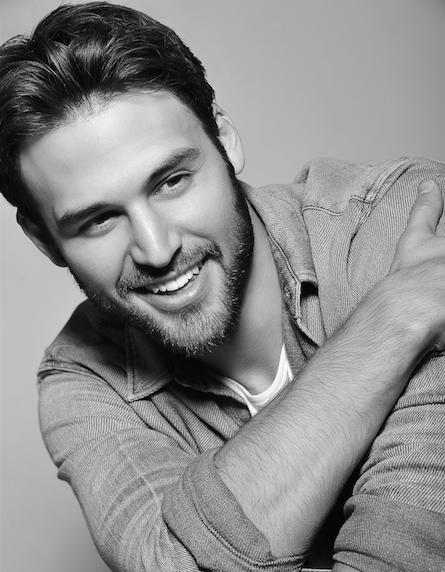 Talk about a full-circle (or rather, full-diamond) moment.
Ryan Guzman
, a former pitching standout at West Campus High School and Sierra College, is about to take the field again, this time as one of the stars of the new baseball movie
Everybody Wants Some
, which will roll into theaters on April 15 and serve as Richard Linklater's follow-up to his critically beloved coming-of-age film
Boyhood
. The Sacramento-raised actor talks about living the dream, hitting Jimboy's Tacos every chance he gets, and taking inspiration from his previous co-star Jennifer Lopez.
I don't know if you remember, but we met in 2010 when you were featured in a Sactown fashion spread.
The photo shoot at the [Sacramento International] airport? Oh yeah, I remember that.
What a difference six years makes. You were a fashion model then and now you're starring in a Richard Linklater movie.
Man, everything's kind of that pinch-me moment. I never expected to be where I'm at, but I'm so happy and appreciative and I just keep on working hard to try and earn that spot. It feels unbelievable to look back and be like, "I [shot] a Richard Linklater film and it's about to come out."
Speaking of which, I know Linklater likes to keep things under wraps, but can you tell us a little bit about Everybody Wants Some?
It's an ensemble film set in the 1980s and based on these nine or 10 characters who are all baseball players. [The story takes place] right before college starts, and the baseball players are all starting to get to know each other and kind of grow. My character, Roper, is one of the captains of the team and is also a very big party guy. It's hard to describe because it's so much more than just that. That's just kind of like the background noise that you'll hear. For me, it's Animal House meets Bull Durham. It's like these two amazing, classic films have come together and that's what we have.
Were you a fan of the director before you got cast?
Oh yeah, of course. I'd seen a bunch of his films like Before Sunset. I don't know anybody who hasn't seen Dazed and Confused.
[Landing this role] was a dream come true. I was filled with fear, but also excitement. I couldn't contain myself. I gave [my parents] a call [when I got cast] and they didn't really know who Rick [Richard Linklater] was. So I had to tell them because they made so much more of a big deal about Step Up. [Guzman got his big Hollywood break in 2012 when he landed the male lead in the popular dance film franchise's Step Up Revolution. He also starred in Step Up: All In.] I was like, "Guys, Everybody Wants Some is going to be a million times different in every facet than Step Up. You should be very happy that I booked this role."
Linklater has said that Everybody Wants Some is a spiritual sequel to both Dazed and Confused and Boyhood. What do you think about that notion?
I have to agree with Rick because they [all] kind of feed off each other. Dazed and Confused [took place] in high school. It was his high school experience, obviously exaggerated and turned into a good story. Then with Boyhood, at the very end [the main character] goes to college. So I think it's a spiritual sequel for him because it's his path leading toward college.
In that case, Dazed and Confused is filled with classic lines. Do you have any predictions on what might be your "All right, all right, all right"?
I don't know if I have one. I think the audience will just have to [decide].
Well, if no catchphrase comes out of Everybody Wants Some, you'll still have "I love your mother's cookies." [Guzman ad-libbed that memorable line playing the title character in last year's psychological thriller The Boy Next Door co-starring Jennifer Lopez.]
People still yell that at me all the time. I love it. The last time I got it, I was just walking around and some guy was walking past me and he told me that he loves my mother's cookies. It definitely creeps you out for a quick second and then makes you laugh right after.
Going back to Everybody Wants Some, you play a baseball player on screen, but you were an actual baseball until you got injured in college.
Yeah, I went to West Campus [High School] and did pretty well as a pitcher there, and I ended up going to Sierra College and playing baseball and having some great numbers there, too. I think in my last season, I won nine games and lost one. So baseball has always been a love of mine. Getting injured in college was a huge setback. You devote 13 or 14 years to baseball and then that gets taken out of your hands. But we got to train at University of Texas' complex [for the movie]—I'd always wanted to go to University of Texas [at Austin] and play on that mound. So many of my baseball idols—before the steroid complications, Roger Clemens was one of them—played for that school.
Speaking of the University of Texas, you were born in the Lone Star State, I believe?
Yeah, I was born in Abilene [Texas], and [moved to Sacramento] when I was like 3. My dad was in the Air Force, and most of my family on my dad's side had come from Mexico to Sacramento. My mom's side was already from Sacramento. I grew up in the Rosemont area. I went to Sequoia Elementary School and Einstein Middle School.
Do your mom and dad still live here?
They still live in the same Rosemont area. It's a close-knit community. [I visit] as much as I possibly can. [Guzman now lives in L.A.] Anytime work gives me an opportunity to go, I go out there and visit. First, I hit Jimboy's up. I love Jimboy's—I love that grease. I get six or seven tacos and I just down them. But then I meet up with my family. I hang out with my cousins and friends that I call my family members as well. Most of my best friends are married and have kids now, and I want to still feel a part of their lives. I like that Sacramentans act a little different than the rest of the world. I think we've got our own flavor. Salt of the earth, for sure. There's something so real and genuine about that—you know who you're dealing with. You come out to L.A., and you have a bunch of actors you're dealing with. You have no clue who you're meeting for the first time.
Wasn't there a funny story about your dad watching The Boy Next Door in a Sacramento movie theater?
Oh, you're talking about my dad yelling at the screen [during a steamy encounter between Guzman and Lopez's characters]. So I obviously knew the sex scene was going to be something that my family would see if they were to watch the movie, and I didn't know how they would react. So I told my mom, "It's coming up at some point in the early stages of the movie. Be prepared and close your eyes when you feel like it." So my mom did that, but my dad decided, while that scene was coming up on the screen, to get out of his seat and yell, "There you go, Guz! That's my boy!" It was a proud papa moment.
From everything I've read, it seems like you and Jennifer Lopez got along great.
I love Jennifer. I just went out to Vegas to see her show. It was incredible. She killed it like I knew she would. We hung out after and she was super happy to have her own show in Vegas. There is not one woman who works harder than her. I feel like I'm doing a lot, but then I look at her and I'm not doing anything. Anytime I'm with her, I always tell her to slow down and chill out for a little bit. I just want her to not overwork herself. Sometimes I feel overworked and I'm not even doing half the stuff she's doing. But it's still very inspiring. Hopefully at some point in time I'll have my own Vegas show.
What would you do in your Vegas show?
Let's see… if I could sing like Maxwell or Sam Smith, Vegas would be mine because I know I'd be dancing all over that place.
Well, you did recently sing in a movie, Jem and the Holograms. One of your co-stars in that film, Molly Ringwald, is from here. She was born and raised in Roseville. Did you spend any time together off set?
Actually, I only hung out with her maybe once and it was a very quick thing. She was more comfortable with the girls, I guess. It was very much a girls' set. I didn't know she was from Sacramento. Damn, I would've said something. We're 916 brethren.
So what's next for you after Everybody Wants Some?
Right now I'm getting in my Jennifer Lopez mindset and trying to create my own content. I've got my own [production] company that I started about two years ago called Primo Entertainment. My cousin Daniel Villalobos is my co-owner. John Baca-Dubets—we used to play baseball together at Sierra College—is out here helping me out as a DOP [director of photography]. We're doing short films, full-length films, concert videos and TV shows. We've got maybe nine or 10 scripts that we're working on right now. We're creating the content that will [hopefully be] good enough to be sold—we have a couple golden eggs we're sitting on.
It sounds as if you're building your own mini empire, à la Jennifer Lopez.
Yeah. It's not going to be mini, though. I was given this opportunity for a reason, so I might as well take advantage of it. And I get to work with two of my best friends on something that I know is going to be great and fun and that people are going to enjoy. I mean, that's the dream. I just have to work hard enough to deserve that dream.