Sacramento-area artisans have eyes on Martha Stewart American Made prize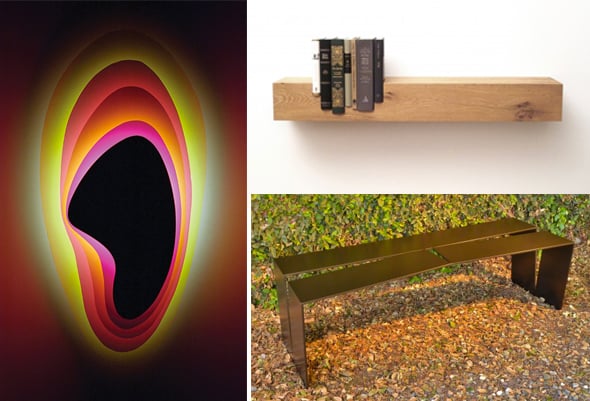 It's maker break time for a handful of Sacramento-area artisans.
The Martha Stewart American Made contest has thrust more than 900 independent producers in the design, crafts, food and style realms into a competition to be recognized as one of the country's foremost "makers"—the affectionate shorthand describing the new wave of do-it-yourself product creators.
Among the 900, four finalists from the Sacramento region are in the hunt for one of 10 winners' slots. They include the Courtland-based furniture and home-products designer blankblank, the Sacramento-based sustainable seafood distributor Siren Fish Co., Granite Bay's foodie fundraising startup Ternero Olive Oil and the Yuba City-headquartered gardening supplement Shake and Grow.
Anna Pavao Zinn, who co-owns blankblank with her husband, designer Rob Zinn, says they're honored to be included among the makers in the running, which she counts as a tribute to their 10-year-old company's emphasis on sustainability—with materials, builders and customers alike.
"I think a lot of this is meant to trickle down from Martha Stewart to inspire entrepreneurs, who in turn can support and inspire other entrepreneurs," Pavao Zinn says. "We're a little bit bigger than some of these makers she's working with, but we're very happy to show that it can be done. We're happy to show that you can grow a little boutique-y cottage industry into something, and still support handmade values."
Siren Fish Co. founder Anna Larsen views sustainability as part of her three-year-old company's mission as well. Her community-supported seafood model distributes hundreds of pounds of line-caught fish from California's northern coast each week to more than 650 Siren subscribers. The products are received within 48 hours of coming out of the water, along with an introduction to the fisherman, details about the fish, and recommended preparation methods and recipes.
"We're supporting local fishermen, and we're also [educating] people who buy the fish. So [even] if they're not buying it from us, then they know the right questions to ask," Larsen says, continuing with a chuckle. "We're making picky seafood customers."
Larsen says this year's American Made competition is the first that Siren Fish Co. has entered, despite her longtime devotion to Stewart and her media empire.
"I've loved Martha my entire life," Larsen says. "When I was in eighth grade and I would be home sick, I would watch Martha Stewart Living. I think I was the youngest subscriber to her magazine. I had it in college in the dorms! That's the level of love I have for Martha. She's the quintessential boss lady."
Of the 10 winning slots, nine will be determined by Martha Stewart-affiliated judges, and then an Audience Award will be chosen online. Voting commenced Sept. 15 and will continue through Oct. 13. Site visitors can vote up to six times per 24-hour period; winners will be announced Oct. 17, followed by an American Made event and awards presentation in New York on Nov. 7-8.
Each award winner receives a prize package including $10,000 for his or her business, a trip for two to the New York event, a spot for the business in the Martha Stewart American Made Market and a feature on MarthaStewart.com.
The American Made competition launched in 2012 and has since counted residents of Yountville, Oakland and San Francisco among its big winners. Pavao Zinn and Larsen say they hope they can help nudge that attention toward the makers in capital region, from design to food and beyond.
"It would be great for Sacramento to get recognized," Larsen says. "I think the people who live here know what they've got. It feels like we have we have all the elements in place to have a big push in the food movement here, and it's happening. And it's exciting."
View the profiles of blankblank, Siren Fish Co., Ternero Olive Oil and Shake and Grow—and vote accordingly—at marthastewart.com/americanmade.
Related Links
Ÿ-Artist David Garibaldi featured on NFL Network
–Stardom is in your hands with Sacramento company's new iPhone game
–Snoopy license plates may score big windfall for California museums