Sacramento Bike Czar
When Jennifer Donlon Wyant began her post as Sacramento's first-ever active transportation program specialist in 2016, protected bike lanes and bike-share options were nonexistent. Now, protected cycling paths have started to emerge in the central city and bright red, electric Jump bikes are suddenly everywhere, with electric scooters on the horizon. The bicycle enthusiast talks with us about embarking on the city's ambitious plan to reach zero traffic fatalities and her vision for a more walkable, bikeable Sacramento.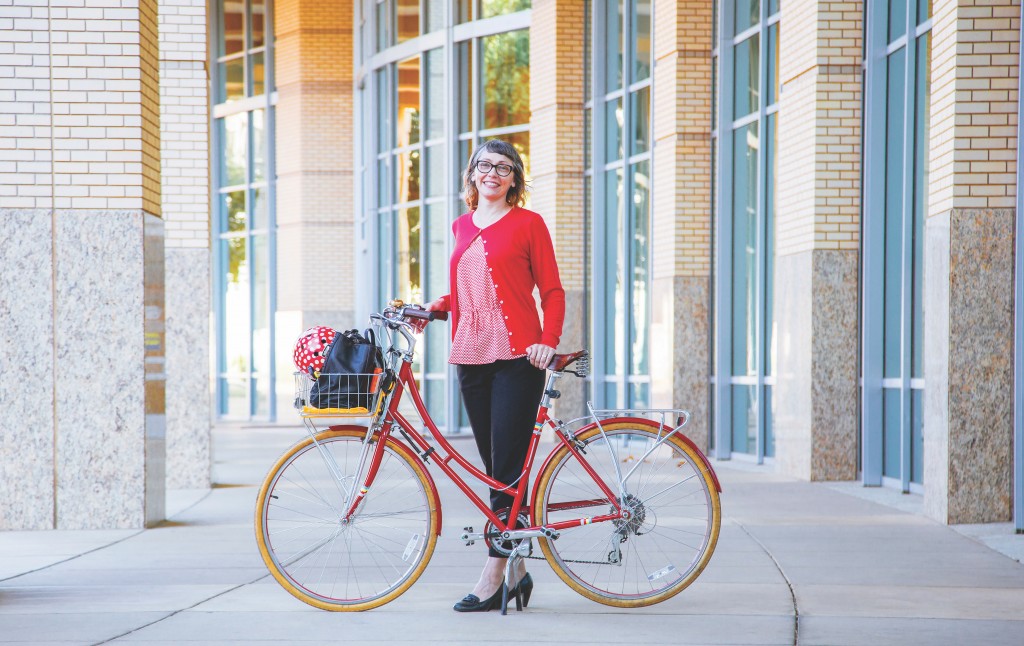 FFirst, what does an active transportation specialist do?
Active transportation is any mode in which you self-propel, so I'm involved with nearly all of our efforts related to walking and biking. I follow the city's mission, which is to move people and move them safely.
Do you bike to work?
Yes, I do. I live in East Sacramento, so it's 3.6 miles from my house to City Hall. If I'm going longer distances, I'll get on a Jump bike.
Speaking of Jump bikes, they have really taken off. The electric bike-share program started in May with 300 bicycles. Two hundred more were added in July, with another 400 on the way. What's your take on them?
Honestly, at first I was a little weird about it being an electric assist. I didn't know if I was on board with that. I didn't see the need for them and I worried about novice users on electric bikes. However, they are fabulous. It's a gentle glide that gives you a little bit of support. You still need to pedal, but you're not working up a big sweat. We're getting new people on bikes who are experiencing the city in a different way and traveling without emissions. It's a win for everybody.
Before I joined the city, I worked in a lot of cities that already had bike sharing, and I knew we had a great opportunity to be incredibly successful. We already had a culture of bicycling. Also, we're a flat city, and within the grid, we have a good recipe for bike sharing. We are much more successful than Jump ever anticipated, which is why we started off with a small number of bikes, and the challenge we initially faced was that we didn't have enough bikes. I'm not surprised that it's taken off, but I am incredibly happy that it has.
Other than needing to meet demand, have there been challenges with Jump you've needed to address?
We are working with Jump to talk about some of the challenges I've seen that are reported, such as sidewalk riding and wrong-way riding, all the things that a lot of Jump users are doing incorrectly. The city of Sacramento offers a free urban biking class every month, and we want Jump to do something similar to educate their users about bike responsibilities and good etiquette about being on a bike.
Jump is owned by Uber, which is also working on building electric scooters. When do you think we'll see a scooter-sharing program in Sacramento?
Probably this winter. We have processes the city has to work through. We're working on how to address common challenges, like parking. Where do you put them when you're done using them? We also have to make sure sidewalks aren't getting blocked, curved ramps aren't getting blocked, and that users follow Sacramento and state laws. We want to make sure that we set the foundation for good expectations so that we can make sure people are safe.
You oversee the city's Bicycle Master Plan, which recommends where bike lanes—both protected and unprotected—need to be implemented. As of last year, Sacramento had no protected bike lanes. Where are we now? 
This past summer, we implemented 25 blocks of parking-protected bikeways and five blocks of buffered bike lanes. Next, we are extending the parking-protected bike lanes on P and Q streets from 15th to 21st streets. That will be happening in the next year or two, depending on our funding. Also, in the next year or two, Ninth Street will get a parking-protected bikeway between H and Q streets. We got a grant for that. And we're looking at I Street and Fifth Street.
And we're not just working on the grid. We want to make sure that we invest in the entire city. So Mack Road near Meadowview, that will be getting some buffered bike lanes, as well as Folsom Boulevard in the east part of the city. And I think in both those cases, that is serving folks who need to travel by bike because that is their [only] mode of transportation.
For those who may question why we need more bike lanes, what do you say?
One, when you put these in, you increase safety for folks. So the number of injuries goes down for all users, not just bicyclists but also for pedestrians and for drivers. The severity of injuries also decreases. And then lastly, it increases retail sales. From Salt Lake City to New York City, Chicago and Seattle, we found that when you do these road diet projects and enhance safety improvements, retail sales go up because more people want to spend time along these corridors.
Speaking of safety, you are also working on the city's Vision Zero Action Plan. Can you explain what that is?
The overall goal—which the council adopted last year—is to reach zero traffic fatalities by 2027. It's incredibly ambitious, but it's also incredibly important. We have more traffic fatalities than we have homicides in the city of Sacramento. In 2016, there were 41 homicides and 38 traffic fatalities. But in 2017, there were 39 homicides and 45 traffic fatalities. We saw a dramatic increase [in traffic fatalities] between 2016 and 2017. It's something that we can't accept as being OK. We can prevent these traffic fatalities, but we need to need it to be a call to action.
One thing we're about to start is our Vision Zero Top Five corridor study. We identified the five worst corridors in the city for traffic fatalities and serious injuries. This fall, we'll be going out to the community [to do] a study of those corridors related to safety. They're all in traditionally underserved, lower-income communities. We're looking at Marysville Boulevard, West El Camino [Avenue], Broadway-Stockton, lower Stockton [Boulevard], Florin Road, and all the way to the south part of the city.
You're the first person to have the position of active transportation program specialist for the city. How has it been going so far?
There is actually an incredible amount of support. Hector Barron, our director of public works, is a bicyclist and Vision Zero [Action Plan] is really his project. Howard Chan, our city manager, is another bicyclist. Our council is incredibly supportive. I remember when I brought the Bicycle Master Plan to the council for its approval, Councilmember Jay Schenirer said, "You have the most supportive council you will ever have for bicycling, so do what you will with it." As a consultant, I've worked in many, many cities. I've seen supportive staff and community members, but to have a city council and a city manager and a public works director who are all incredibly supportive in active transportation is unheard of.
How did you get into this field?
I grew up in walkable communities—[I was] born in New York City, then moved out to the suburbs, eastern Long Island. My dad's a sport cyclist who bikes in his Lycra. So he instilled a love of bicycling in me. Then I was living in San Francisco and I was a planning specialist within an architecture firm, and I learned that you could actually get a job doing transportation planning and you can focus on walking and biking. I had no idea! So I went to grad school and I specialized in city planning. I went to San Jose State, and while I was in grad school, I worked for the city of Oakland. And that's how I met one of the principals at Alta.
You're referring to Alta Planning & Design, which advises cities on transportation planning. What did you do for the firm? 
I was with Alta from 2008 to 2016, and I did a whole spectrum of projects, from working on the East Bay Greenway [a bike and pedestrian path that follows Bay Area Rapid Transit and traverses the cities of Oakland, Hayward and San Leandro] to working in Bakersfield—I did their bicycle master plan. I did a lot of work in Tahoe, looking at State Route 50 and going through design options for the community like safe routes to schools.
How did you make the jump to the public sector?
My wife bought our house in East Sacramento a long time ago when she moved here from the Bay Area, and then when we got married in 2011, I moved up here. I was commuting to Alta—I was taking the train to Oakland. I had been doing some work with the city [of Sacramento through Alta], and staff had mentioned this position was open. I didn't know what it was like to work for the government but I thought, "It's my home city. I love living here and if I can help contribute to it by improving mobility for people, why not?"
What does a more bikeable, walkable Sacramento look like?
It's thriving with a lot of people. I see a sidewalk that's 20 feet wide with lots of people, and moms biking with their kids and the kids on their own bikes, and they can do it on a street without fear of getting hurt or being hit by a car.
It's about creating a [sense of] place and investing in us. When you invest in people rather than cars, you have a richer environment, and you're more responsive to your community.