Sacramento Film Commissioner Jennifer West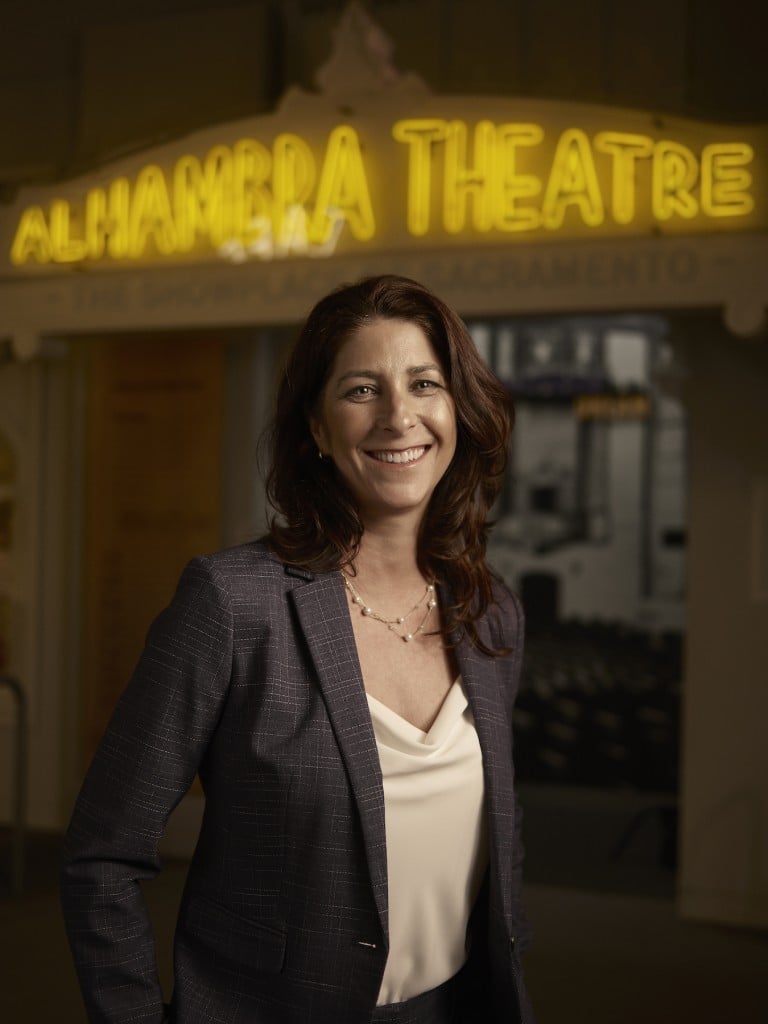 As a one-time Hollywood studio accountant, Jennifer West used to routinely play one of the most important roles on a movie set: She was the one who made sure megastars like Julia Roberts, Anthony Hopkins and Val Kilmer got their paychecks. Today, after a two-decade industry break, West wields a new kind of celluloid influence as Sacramento's first-ever full-time film commissioner. She talks about building the city's film office from scratch, nurturing the next generation of local auteurs, and her bold vision for creating a mini Hollywood of the North.
You came on board in January to helm the city's new film office. What does a film office do and why does Sacramento need one?
Basically what a film office does is serve the productions that are shooting in the area. Sacramento had a film [commission] through [the tourism bureau] Visit Sacramento. It was mainly tasked with permitting films. We brought it into the City of Sacramento and expanded on that idea to include a lot more customer service, like working with films and location managers when they want to shoot here and putting them in contact with other people they may need—local crew, that sort of thing. The idea is to make it super friendly and encourage people to shoot here
What are the primary objectives for you and your office? What would success look like?
In the past, the metrics were only how many permits were issued per year. I think we also want to look at the economic impact, as far as how much money is being spent on local crew, on hotels, services, incidentals, food and equipment rental so that we can start tracking our wins that way. As a baseline, we'd like to at least hit the number of permits they've hit in the last year. Lucy Steffens [the former part-time film commissioner at Visit Sacramento] has told me that they permitted 60 to 70 projects year over year.
Does this include TV and digital production as well?
Yes. It's all-inclusive. As you know, content is changing dramatically.
What would you say are Sacramento's biggest strengths and weaknesses when it comes to attracting movie and TV producers?
Our biggest strength is our locations— anything in Sacramento County, from River Road to Sugar Mill, and then in town: the railyards, Old Sacramento, Leland Stanford Mansion, Sutter's Fort, Sutter Health Park. We have these great cityscapes that can [look like] any city.
We're super close to Los Angeles. We're direct flights from L.A. and Burbank. You can get cast, crew or equipment up here in a few hours. We've got great new hotels coming on line. We have Michelin-rated restaurants. We have Wide Open Walls [murals], we have culture, we have entertainment. You know, you could be shooting on the river in the morning and in the snow in the afternoon. We're centrally located, the wine country is nearby. There was a commercial that just shot here; their home base was Sacramento, and then they went out to different locations from here. That's great—if this is the central base and then they go out to [other] locations, whether they be outside of our county or in our county, that's good for Sacramento too.
One of the biggest downfalls, obviously, is that we don't have a soundstage here. I've been talking with a few people who would love to help get that going. One of the things I had heard before I came on was that Sacramento didn't have any crew, and so crews had to come up from Los Angeles or the Bay Area. And I'll tell you what, in the months that I've been here, I'm finding that's not true. We do actually have qualified crew—from ADs [assistant directors] to wardrobe people, all the way down the line—who are working full-time, whether they're working here or they're working in the Bay Area. It's just that nobody has really been in a position to go out and brag that we do—I'm going to scream it from the tops of buildings. I'm very excited to see that we do actually have a depth of crew, and I'll work to strengthen that depth and also go deeper by bringing on PAs [production assistants] or interns to get them trained on things that are shooting here.
How do cities compete for movies and TV shows? What resources do they need to offer not just technically, but economically or creatively, to attract them?
Some states have a tax incentive. We can offer productions a 30 percent [tax credit] in California. We have $330 million a year in tax incentives that get divvied up pretty quickly—and in my estimation, mostly in Southern California, which is unfortunate. I would hope that some of that money could filter up to Northern California. But beyond the state-level incentives, we in the city and the county have to create local incentives. I just found out that Sacramento has a City of Festivals grant: If you bring in a new festival to the city of Sacramento, you can apply for this grant that will help pay for parking, police, parks, public works, fire—the basic services. So I want to create something like that for film. Maybe we can offer office space or maybe we can offer low-cost insurance. These are all in the idea stage right now.
Beyond the cultural cachet and the image boost that movie shoots bring to a city, how might Sacramento benefit from film productions coming here?
We're moving away from just being the state capital and we're moving into a lot of different and new exciting industries. And any time you do that, you're obviously gonna have economic impact. You're going to be paying local salaries and wages. You're going to be paying people's car payments and they're going to turn around and spend their paycheck on everything that they need. Lady Bird even benefited [Sacramento] with tourism—there are Lady Bird tours and that sort of thing. It's about putting us on the map as a film destination and [benefiting from] everything that surrounds that.
---
READ MORE: Homecoming Queen – Greta Gerwig discusses Lady Bird, her "love letter" to Sacramento
---
Local filmmaker Mark Herzig has argued that Sacramento could be considered the birthplace of cinema, thanks to Eadweard Muybridge's motion picture experiments in 1877 in what is now Boulevard Park. To what extent, if any, have you and the film office thought about capitalizing on that legacy of Sacramento as the birthplace of movies?
It's not something that was totally on my radar until I met Mark. But I am meeting with Marcia Eymann, who runs the Center for Sacramento History. There are a lot of films in the archives there and I'm just excited to get over there and see what she's got. And apparently she licenses some of the old footage of things. If it's true that we are the birthplace of cinema, then fantastic. Let's call ourselves that.
Speaking of Muybridge, I know Gary Oldman has been linked to a Muybridge biopic, Flying Horse, that will reportedly film extensively in Sacramento. But the project's been delayed for a while. Do you know the status of that film?
I do not know the status of that. Those are things that you hear that are rumors.
Can you tell us about any other movies or TV shows that are shooting or are planning to shoot in Sacramento?
Basically it's our job to not let those secrets out. There are things constantly shooting here. I'm surprised at the quality of Netflix or Hulu shows or [others] that may be shooting here that nobody ever knows about because we're not allowed to talk about it. The last thing we want is a crowd on set. So we keep most of that stuff under wraps. Sorry, I can't share.
You're a first-time film commissioner, but you're not new to the film industry. During the 1990s, you worked on movies as an accountant, right?
I landed in the film industry when I graduated from UCSB. I was the assistant to Paul Prokop, senior VP of production finance at New Line Cinema—the greatest guy in the world. He took me aside one day and said, "What do you want to do in this industry? I'll point you in the right direction." And he handed me a budget. And through that I said, "Well, you know, the accountant makes a lot of money, and I'm really good with numbers, so let's do that." So he moved me into post-production accounting. From there I worked freelance in the accounting departments for [various films]. Batman Forever was my first movie. And then I did Oliver Stone's Nixon. And then I did My Best Friend's Wedding in Chicago. At that point, my old boss at New Line asked me to come back and run their small television production department. So I did that for about another year and a half until my husband graduated from chiropractic college down there and we decided to find our forever home. And Sacramento it was.
When you were in accounting for these films, did you still run into Val Kilmer or Julia Roberts along the way?
Yeah. I took all the paychecks to set every week. It's just part of the job. And then, of course, you meet everybody at the wrap party at the end of a production.
Do you miss it?
Some days I do. I mean, I knew I was basically giving up my career in film when I moved here—it was time to start a family and buy a house that was affordable and all of that great stuff. So I got busy with my life and raising my kids, but I'll be honest: When I moved here, I told my husband, "I am going to be the next Sacramento film commissioner." That was 20 years ago. I never gave up the thought or the fight or the wanting and the willingness to have this position. And here I am! I'm back in it, and I'm thrilled. My husband says that he loves to see me walk in the door every day with a smile on my face now. So he knows I'm exactly where I need to be.
That is the best story I've ever heard!
(Laughs) I can tell you one more. When we were trying to decide where we were going to live for the rest of our lives we made a list of 15 to 20 things that the city that we wanted to live in had to have. It had to have old homes. It had to have big trees. It had to have small community but city feel. It had to be close to the mountains and the rivers and ballparks. The list was insane. We thought, "Oh boy, we're lucky if we find five of these things."
We were staying with my cousin, who was living here in Sacramento at the time, while we were popping out to Monterey and Carmel. She drove us through the Fab 40s in the fall, and that was it. I said, "What are we doing not looking at Sacramento? This place is amazing." Sacramento was not on our list because I grew up in Lodi and I didn't want to move home, and I thought Sacramento was too close to home.
My whole philosophy in getting this job is that Sacramento wasn't on our list at all, and yet we wound up choosing it. I want to put Sacramento on the stakeholders' list so they will choose us. We're not anywhere on their radar yet, so we have to rebrand this office to say, "Sacramento isn't what you thought it was. Sacramento is so different now, and it's amazing and it's wonderful and you're going to love it here. And we've got the crew, and we have the equipment and the locations—and all of the fun stuff, too, for your one day off; we've got concerts you can see, games you can go to." That is my entire end goal.
Let's talk about that end goal: It's 2025. You've been in your role for five years. What do you want the filmmaking industry to look like in Sacramento five years from now?
Do you know what Cinespace is in Chicago? The founders bought up a bunch of old buildings and started turning them into soundstages with support services like camera and grip equipment where people could come and shoot a full series in Chicago, exteriors and interiors. They've continued to expand and build more and create training programs, and [now] Chicago P.D., Chicago Med… all those shows are filmed there in Chicago. I just talked to Rich Moskal. He was the Chicago film office director for [nearly] 23 years, and he is advising our office. He's a great asset to me—he has a lot of knowledge and I can call on him with any questions.
I want us to have a Cinespace—not necessarily their name, but something like that here in Sacramento. It's not going to happen in five years. But in 10 years, let's have 30 soundstages with the support services all intact. And a beautiful backlot—we kind of have some of those in the town of Locke and Old Sacramento, but [I want] a true backlot that you could change and schedule anytime. I want films shooting here—10 feature films a year. That's a lot. But you know, if we had a huge soundstage with 30 stages, it could happen. I'm just using every opportunity and every connection I have to try and create this thing that I think all of Sacramento wants.
---
Sept. 1, 2020 Update: The interview was conducted in February, before the Covid shutdowns, but with productions now resuming, West is still optimistic about the future of filming in the Sacramento region. She cites a growing interest from Bay Area and Southern California commercial productions, as well as bump in activity from election-year broadcasts and the global intrigue associated with Joseph DeAngelo, aka the Golden State Killer, whose decades-long road to capture was featured in the recent HBO documentary, I'll Be Gone in the Dark, which was partly filmed in the Sacramento area. (Filming for the docuseries started the day before DeAngelo was taken into custody at his Citrus Heights home on April 24, 2018.) And even though West can't confirm or deny any subsequent filming in the region related to the case, she says, "I've fielded many calls of interest."
To keep active productions safe, West's office, Sacramento Film & Media, requires filmmakers to follow the industry's safety guidelines. The new ground rules include closed sets with "absolutely no visitors" and "reduced shooting hours, preferably a 10-hour shooting day." Locally, cast and crew are capped at 20 people total. And if a proposed "hub approach" is adopted by the industry, "producers will aim to hire cast and crew based in the city where a production is underway," reports IndieWire. Which means local crews would be more likely to work on productions, one of West's long-term goals as commissioner.
"Stakeholders are beginning to see Sacramento as a viable film location," she says. "You can bet our industry will come back strong and safely."