Sacramento International Film Festival to host local premiere and after-party for Colin Hanks' Tower Records doc, plus more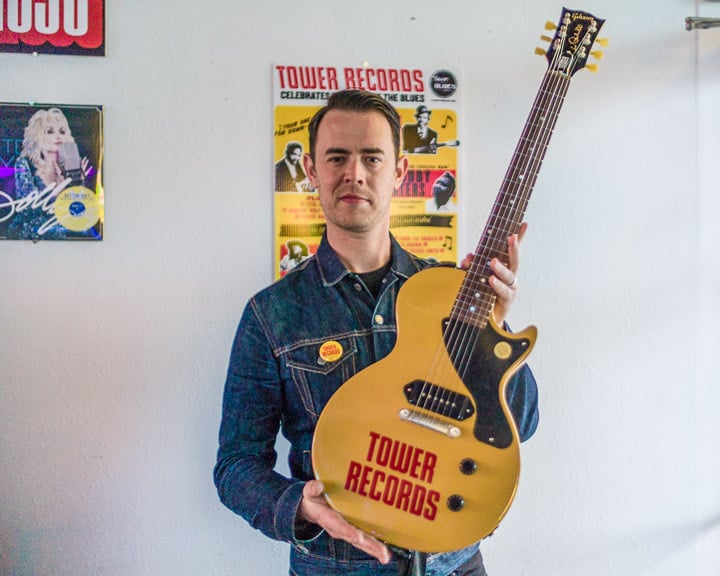 Did you miss out on snagging tickets to the sold-out local premiere of the Tower Records documentary All Things Must Pass, which will kick off this year's Sacramento International Film Festival? Here's a new chance to celebrate our hometown record store company: Following the screening on April 25, Verge Center for the Arts will host an after-party for the film, which will also serve as a fundraiser for the Center for Sacramento History's ongoing Tower Records Project.
The movie's director Colin Hanks and producer Sean Stuart (both Sacramento natives), along with Tower Records founder Russ Solomon, will be in attendance at the post-premiere bash, which will feature archival Tower pictures from Solomon's vast photo collection and an audio-visual display of footage of the Tower Records Sunset Strip location in West Hollywood frequented by stars like Elton John (who participated in All Things Must Pass).
A live auction will give attendees a chance to vie for such niche items as vintage Tower Records wall calendars signed by Solomon, Hanks and Stuart, as well as a Les Paul 100 "Tower Records" guitar specially made and donated by Gibson. Sacramento comedian Jack Gallagher will emcee the event, while local DJ Dal Basi (who once worked for Tower Records) will spin the turntable.
Other highlights of the Sacramento International Film Festival, which will conclude on May 3, include a Digital Odyssey Conference aboard the Delta King in Old Sacramento on May 2. The all-day event will host screening sessions like Future Visionaries, which will present short movies by young aspiring auteurs, and workshops like Behind the Magic, which will address elements of filmmaking like makeup and breaking down a script, and feature special guest Tim Russ (aka Commander Tuvok in Star Trek: Voyager series).
On April 30, the Delta King will also hold a viewing of the documentary In the Turn about a young girl who faces bullying and discrimination due to her transgender status, but finds solace in a self-described "queer roller derby collective" where gay, lesbian and transgender individuals create a support unit around the free-wheeling sport.
Another highlight of the week will be the American Screenwriting Conference on May 3 hosted by Dr. Lew Hunter, chairman emeritus of the UCLA's screenwriting department. He will discuss the art of writing for television and film along with other esteemed panelists, including Phil Lorin, whose résumé includes co-writing the 2006 Pixar film Cars.
The Tower Records documentary after-party: $30 (free for attendees who purchased the Sacramento International Film Festival VIP passes; see below). Saturday, April 25. 9 p.m. Verge Center for the Arts. 625 S St. Call 808-7072 or visit cityofsacramento.org for tickets or more information.
The Sacramento International Film Festival: $12-$25 per event; $150 for VIP festival pass. Times and locations vary by event. 524-5138. sacramentofilmfestival.com
Related Links
Tower Records documentary set for world premiere at SXSW Film Festival
R Street takes big leap forward as the Warehouse Artist Lofts create new cultural hub
Go down memory lane this summer with concerts by Huey Lewis, The Beach Boys, Boyz II Men and more