Sacramento podcaster releases a new book that's a real conversation starter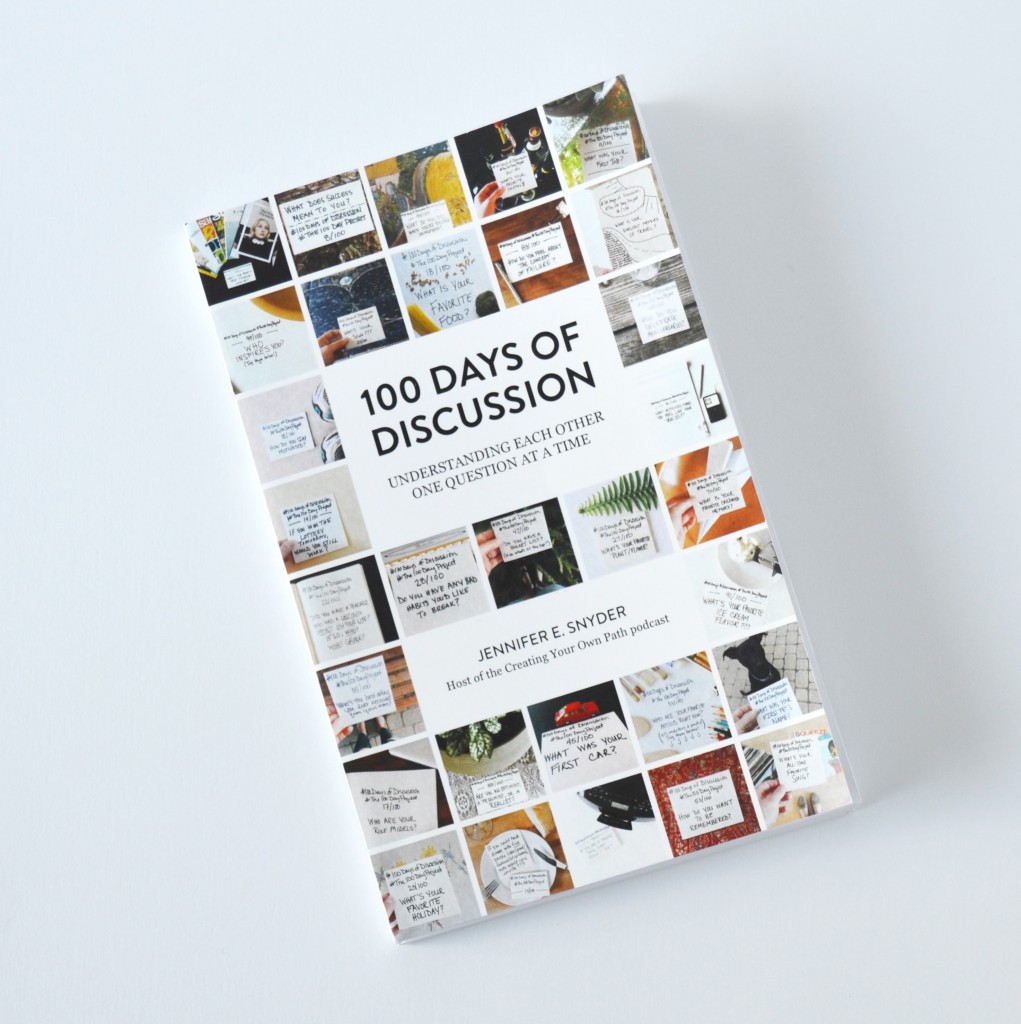 What's the first thing you do after work? What is your favorite childhood memory? Do you have a bucket list?
West Sacramento-based freelance writer and podcast host Jennifer Snyder, who runs the weekly Creating Your Own Path (CYOP) interview series, has written the book on conversation starters—these and 97 more.
Slated for release Feb. 3, Snyder's self-published 100 Days of Discussion includes talk fodder ranging from casual dinner party icebreakers like "What are a few of your guilty pleasures?" to more thought-provoking prompts like "Do you feel free to be yourself?" The book provides plenty of white space for jotting down notes or workshopping questions with a group.
The idea materialized in 2015, inspired by #The100DayProject on Instagram, a viral phenomenon launched by The Great Discontent, a magazine based in New York City that publishes "inspiring, in-depth conversations with today's artists, makers, and risk-takers" and challenged followers to create or practice one thing each day for 100 days. Snyder contributed by asking 100 new and probing questions of her podcast fans—something she'd done with her husband while on cross-country road trips—and packaged them using the hashtag #100DaysofDiscussion.
"People showed up, especially for the deeper questions," Snyder says. "Some of the answers brought me to tears."
The project's impact had her yearning to go one step further—to facilitate the oft-neglected art of face-to-face conversation, at a time when she felt the country divided over political affiliations and beliefs. Thus, the book was born.
"I know it won't bring everyone together, but it's important to remember that we're multidimensional people and the power of conversations is so important," Snyder says. "It's the only way you can really begin to understand someone else."
100 Days of Discussion will be available in print on jenniferesnyder.com for $17 on Feb. 3, as well as in upcoming audio and e-book formats (prices will be announced on the author's site soon). Part of the proceeds will help support Snyder's new residency program for emerging artists, which will offer them exposure and a stipend through her podcast, along with a chance to create art pieces based on episodes for an online shop.
You Might Also Like
Art Hotel creators release coffee-table book (plus, an update on ArtStreet)
Back to the Future: 8 fascinating local time capsules
New speaker series taps into Sacramento's creative side