Sacramento winery RailBridge planning new eatery in historic Elks Tower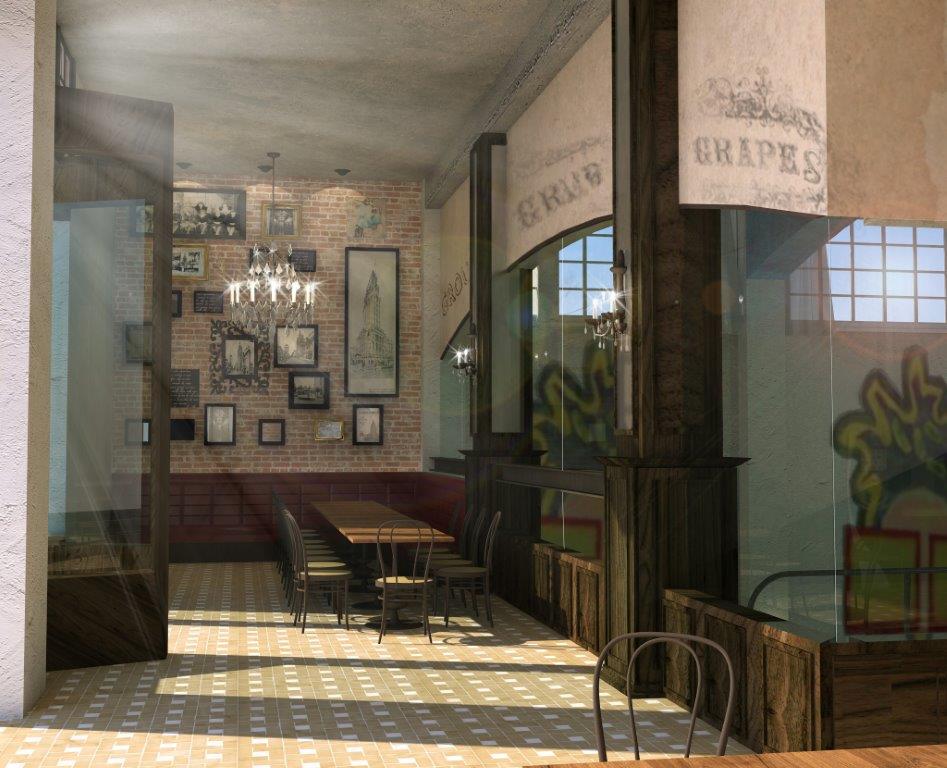 UPDATE: RailBridge Cellars & Company will open at 8 a.m. on Monday, Feb. 8.
The main menu will feature entrées like a pork osso bucco served with grits and pan-seared salmon with pappardelle pasta, as well as ample sandwich choices like the The Levine, with pastrami from the celebrated Southern California-based Brent's Deli on double-baked rye bread. The breakfast menu (which will be served until 11 a.m.) will include items like steel-cut oatmeal and a croissant breakfast sandwich with bacon and Gruyere cheese. And after 2 p.m. small plates like beer-battered fennel with citrus cilantro aioli or rock shrimp street tacos will become available.
An extensive two-page wine list will present wines offered by the glass, half bottle and bottle, and the beer list will largely look to local breweries like Track 7, Bike Dog and 12 Rounds to provide selections for RailBridge's 10 taps.
Read more about RailBridge Cellars & Company below in our original 2015 story and visit railbridgecellarsandcompany.com for more information.
*******
A Sacramento winery is turning its focus to one of downtown's most iconic buildings for a new restaurant venture.
RailBridge Cellars & Company will occupy 1,800 square feet of space on the ground floor of the Elks Tower at 11th and J streets. Launched by the brain trust behind RailBridge Cellars winery (itself based blocks away on North 16th Street), the restaurant is expected to emphasize both California cuisine and the vintage ambiance of its historic home.
"In my mind, the best thing you can do in Sacramento is bring back things that have character and historical value to them," says Michael Gelber, president of Alexis Ventures, which owns and operates RailBridge Cellars. "The Elks Tower is one of those things. We thought, 'Let's create a style and a look that would be more indicative of the '20s, '30s and '40s.' "
Gelber's father-in-law Steve Ayers owns the Elks Tower, where Alexis Ventures also operates RailBridge's tasting room on the penthouse floor and the sprawling ballroom events space. At its new ground-floor eatery, in addition to spotlighting its namesake wines and a full food menu by chef Christian Sieck (formerly of Enotria and Ten22), RailBridge will also feature a broad spectrum of roughly 50 local and international wines chosen by sommelier Michael Chandler.
"I'm not the biggest person to sell chardonnay or cabernet," says Chandler, who worked with Sieck at Enotria and adds that RailBridge will offer its wine selections for retail purchase as well. "I'd rather you have a great pinot noir from New Zealand. I'd rather you have a great malbec from Argentina. I'd rather you have a great tannat [from Uruguay]. Because when you introduce someone to something new, they're going to come back again and come back again sooner, because you just made their day—and probably got them a good deal on it, too. People recognize that."
Open Monday through Wednesday from 8 a.m. to 7 p.m. and until 8 p.m. Thursday and Friday, RailBridge will offer breakfast, lunch and early dinner options to start. The restaurant's motto "Grounds. Grub. Grapes" refers to a trinity of morning coffee (custom-roasted for RailBridge by Rocklin-based Vaneli's), food, and the vino that will pour during lunch and happy hour.
The menu is still in development, but Gelber and Chandler forecast offerings ranging from sandwiches, salads and pastas to small plates, multicourse tastings, and even cooking classes that will pair Sieck's cuisine with Chandler's wines.
"People can come in and work with the chef and sommelier on a how-to—whether it's dinners, whether it's pairings, whether it's barbecue, whether it's how to work with beef or fish," Gelber says. "We'll start getting back to basics with people."
The concept promises a sleek, modern reinvention of its space in the Elks Tower, which opened in 1926 and whose brick, steel and woodwork all feature prominently in the design of RailBridge Cellars & Company.
The restaurant interior will feature windows with a view into the underground lounge that once housed the building's Elks Lodge and pool. Carrara marble from Italy, acquired from renovations to the state's historic Library & Courts building on Capitol Mall, will be repurposed for use in RailBridge's floors, tables and bar tops. Artist and designer Steve Hamm—known for his work at dining and drink spots like Grange, Shady Lady, Blackbird and Strings Urban Kitchen (Alexis' other restaurant property)—will contribute aesthetic touches.
"We're just trying to tie all this history together—keep it old school, keep it simple," Gelber says. "Really the best things were those that existed back in the day—not the 'make and replace.' It's the things that lasted forever and ever. That's where we're trying to come from."
921 11th St. railbridgecellarsandcompany.com
Related Links
New sports bar and restaurant project underway near downtown arena
R Street favorite Magpie Cafe relocates in July
Brasserie Capitale serves up a French revelation on K Street