Sactoberfest 2014 celebrates beer and food with local flair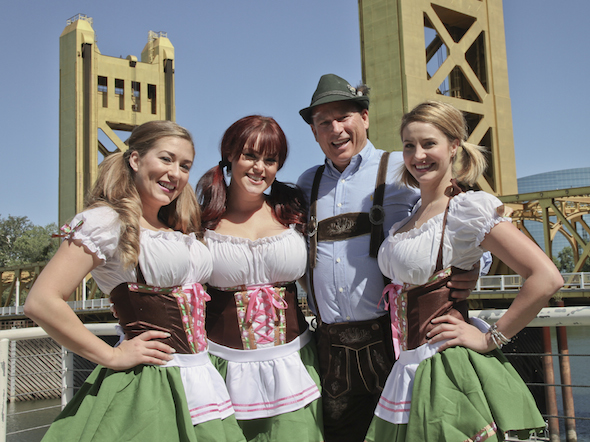 Get ready to raise your glass—or your gargantuan beer stein—and toast to a three-day weekend of fine brews, brats and festivities at this year's Sactoberfest.
Now in its second year, the festival taking over West Sacramento's waterfront Bridge District from Oct. 10-12 is a version of Oktoberfest—the traditional German harvest celebration dating back nearly two centuries—with a Sacramento twist, highlighting the local food scene.
"We want this to be a solid experience of what Oktoberfest really is," says Sactoberfest producer Rich Clakeley. "It's not just about the beer, but also about the experience of culture, agriculture, food and more. Since Sacramento is such a great farm-to-fork region, we knew this was the best place to bring that altogether."
Organizers expect more than 23,000 liters of beer to be poured over three days at Sactoberfest's 20,000-square-foot beer tent, which will include authentic German offerings like Erdinger, Spaten and more specialty brews like the fruity Stiegl Radler Grapefruit (which draws its tart aroma and natural cloudiness from real fruit juice), Barock Dunkel (a World Beer Cup award winner in 2004, 2008 and 2012) and the light, refreshing Dinkelacker Pilsner. Neighboring craft breweries like Jackrabbit, Yolo Brewing, Bike Dog and Sudwerk will also be on hand pouring locally brewed märzen, hefeweizen, dunkelweisen, kölsch and other signature beers.
Not to be outdone, the food lineup includes highlights like schnitzel and spaetzle (featuring a fried pork loin with buttered German egg pasta topped with whole grain mustard and mushroom cream sauce) from Broderick Roadhouse chef Chris Jarosz, as well as a braised beef roulade with a gravy-like sauce braten, warm German potato salad and stewed blaukraut Munich (a mixture of braised red cabbage with apples) from Ten22 chef Jay Veregge. Vegetarians can get in the mix, too, with Veregge's rustic brown rice and root vegetable cabbage rolls with cinnamon tomato sauce, warm potato salad, and blaukraut Munich.
Traditionalists, meanwhile, can try a variety of handmade bratwursts from the Franklin Boulevard institution Morant's Old Fashioned Sausage Kitchen, and dance off some of the calories to the tunes of live music acts like the 21-piece Chico Bavarian Band, Alpine Horns and The Flying Dutchman.
Clakeley says members of the USL PRO champion Sacramento Republic FC soccer squad will be on hand Friday to tap the event's ceremonial first keg, and he also cites Sactoberfest's modern version of a "karneval" (amusement playgrounds traditionally at Oktoberfest), including a 60-foot-tall Ferris wheel and giant slides—all aimed at showcasing Sacramento's unique scenery in a festive way.
"You can have the experience of the festivities in Munich while taking in the views of downtown and the Sacramento River—especially at night with all the lights sparkling," Clakeley says. "It will be stunning. We have gone a lot farther to make the festival a truly authentic Oktoberfest event while embracing best of what Sacramento has to offer."
Oct. 10-12. $30-$95. 951 Riverfront Street. West Sacramento. 607-4715. sactoberfest.com
Related Links
–Sac Brew Bus takes Sacramento's craft-crazy beer fans on new regional tours
–Federalist brings new beer, bocce and food destination to midtown
–Beer, wine and whiskey explained with stylish and locally produced 'How It's Made' posters