Sample Sacramento's must-eat dishes on new downtown food tour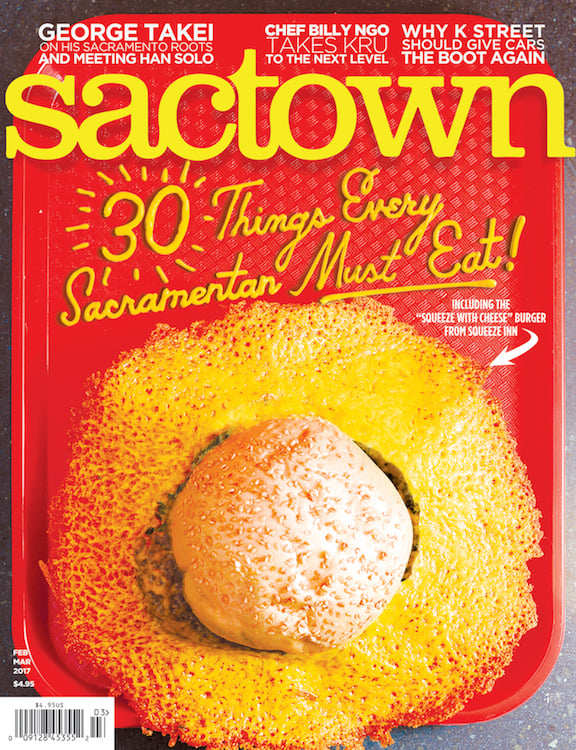 It's no secret that we at Sactown magazine love our local dining establishments and their gustatory gems. Over the past 10 years, we've written about the best local bacon, pizza, barbecue and brunches, and our covers have been splashed with mouthwatering images of local doughnuts, beer, coffee, sandwiches and pork dumplings.
Our most recent cover story gives readers a glance at what we think are the "30 Things Every Sacramentan Must Eat," featuring dishes from forever favorites like Squeeze Inn's Squeeze with Cheese and Frank Fat's banana cream pie to instant classics like Bacon & Butter's flawless flapjacks and Hawk's charcuterie plate.
So when Local Roots Food Tours—which ranks as the No. 1 tour in Sacramento on TripAdvisor for its guided culinary walking tours—agreed to base one of their culinary escapades on these must-eat dishes, we were thrilled. Their tours also include insightful details about the neighborhood, as well as its history and architecture.
Beginning Thursday, March 9, in partnership with Sactown, Local Roots will offer guided tours with stops to sample some of the signature dishes featured in the Feb/Mar issue. You and up to 15 other locavores will hop around to five or six downtown and midtown restaurants, including Frank Fat's to sample its banana cream pie, the vegetarian mecca Mother to try its chicken-fried mushroom po'boy, Blackbird Kitchen to sample its Captain's Chowder, and Firestone Public House to dig into its classic brandy-fried chicken. You'll also get a taste of Ella Dining Room & Bar's roasted bone marrow and Squeeze Inn's famous Squeeze with Cheese burger with its quarter-pound cheddar skirt.
Along the way, you'll chat with chefs about the history of the restaurant and learn about how each dish is made, including secret tricks and ingredients that keep diners coming back.
Fear not if you're a vegetarian—or if bone marrow doesn't quite make your mouth water—Local Roots can accommodate any allergies or palates (veggie burgers are available at Squeeze Inn, for instance), and chefs will provide extra menu items to sample along the way. The only thing you need to bring is your appetite.
Tours are $78 and will be offered at 1:30 p.m. on March 9, 14, 16, 21, 23 and 30. Tours begin at Hyatt Regency Sacramento at 1209 L St. For more information and to purchase tickets, visit localrootsfoodtours.com.
You Might Also Like
Empty Bowls event returns to help fight hunger in Sacramento
A new party bike company with pub crawls and history tours rolls into town
Cesar Chavez Plaza's new Mexican restaurant to open this spring