Send in the Cones
Months into a global pandemic, cities around the world are racing to reimagine their streets so that more of us can walk, bike, exercise and commute more safely. Unfortunately, when it comes to this critical public health issue, Sacramento finds itself backpedaling once again.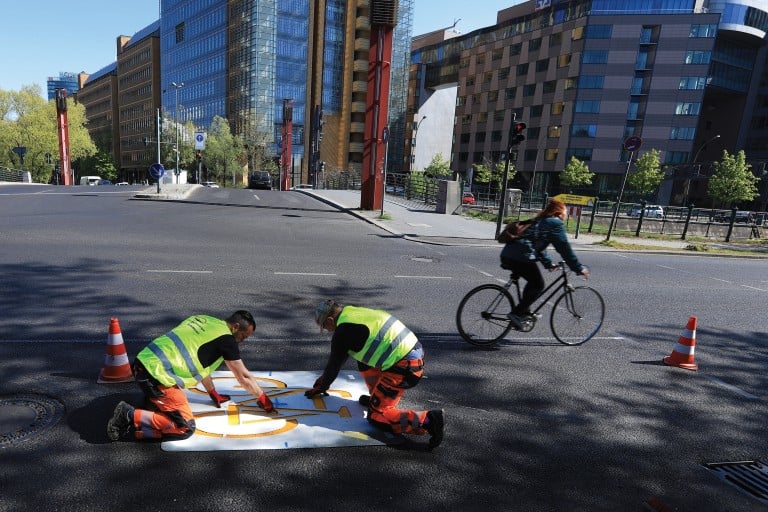 Full disclosure: I am not a cyclist. I don't even own a bike. I own two cars—one of which is the very first car I bought 35 years ago from my dad for $2,200. It's very old, clearly cheap, and doesn't currently run, but I'm sentimental and can't bring myself to part with it. My wife pleads with me to sell it. But I can't. And only semi-recently—and reluctantly—did I part with my childhood Hot Wheels collection.
Such is my attachment to cars. I love them.
But here's what else I love. I love cities.
I love cities even more than I love cars. I get all the nerdy e-newsletters about urban planning and transportation. I go on "study missions" to other cities with the local chamber of commerce to learn more about how they work. When it comes to cities, I'm such a fan that 14 years ago, I—alongside my patient co-editor wife, Elyssa—started this very city magazine that you're reading right now.
I want Sacramento to be a great city. I want it more than you know.
And here's why I'm telling you all this: When it comes to cities and cars, my hometown is in the slow lane to Progressville. When it comes to moving quickly with the times to adjust to the transportation needs of a global pandemic, Sacramento is not a great city. Frankly, it's not even a good city.
But it can be. And now is the time.
Never before in our country's history have I seen more mayors and city councils expediting plans to make their cities' streets more accessible, safer and healthier than in these past few months. As I write this in mid-June, it's happening almost everywhere in the world. Truly, the list of cities jumping all over this trend is extraordinary.
But not here. Not in Sacramento.
The urgency that civic leaders around the globe have isn't about building some starry-eyed utopian ideal; it's about making a better city quickly to protect its citizens from COVID-19 today (as cases are spiking in California) or if it comes back even stronger this fall or next year, as many expect it to. Quite simply, mayors and city councils are slashing bureaucratic red tape in the name of public safety.
The reason behind their urgency is that as the world reopens, there's little room in cities for social distancing. Try maintaining 6 feet of distance when you're walking with two other people on a 5-foot-wide sidewalk, or as a jogger huffs and puffs by you with no notice, 18 inches away.
To make matters worse, as the pandemic rages on, our transportation options are dwindling. Carpooling is down. Uber and Lyft rides are down. Jump bikes have disappeared from Sacramento streets.
Most significantly, people are staying away from public transportation like never before, with bus and rail ridership down 74% in New York and over 90% in San Francisco. Here in Sacramento, Regional Transit ridership, while slowly recovering now, fell by nearly 80%. People are understandably nervous about getting on a bus or in a train with dozens of strangers, sitting in recently occupied seats and breathing shared air for long commutes. Regional Transit is taking many proactive steps to make its vehicles cleaner and safer, but industry experts believe it could be years before ridership numbers get anywhere near back to normal.
The result: More people than ever are turning to bikes. And I'm talking record numbers. The New York Times says, "The United States is facing a severe bicycle shortage." In The Washington Post, a cycling trend analyst recently likened the bike scarcity to the new toilet paper panic.
* * * * *
But even if you already have a bike, here's the problem: Sacramento may be a great cycling city if you want to ride along the scenic American River, but if you want to get to work or the grocery store or anywhere else in an urban environment, our bike system is frightfully, embarrassingly bad. Yes, there are bike lanes all around, but not the kind we need to become a better city.
In 2017, I wrote an essay showing that out of the 40 biggest cities in America, Sacramento ranked dead last (tied with Las Vegas) when it came to protected bike lanes—the kind of lanes where there's a physical barrier between the cyclists and the cars, usually vertical poles or planters or concrete partitions (or sometimes parked cars). When I wrote the piece three years ago, every major city was racing to construct them for their many benefits: less vehicular traffic, lower levels of pollution, and a healthier commute.
Again, almost every city but this one.
Just to be clear, cities don't build bike lanes to make their cyclists "comfortable" or "happy." They do it to save lives and because studies show conclusively that more protected bike lanes lead to far more bike commuters, primarily because they feel safer; they don't fear getting hit by a car in a protected lane. In France, whose capital has been adding pop-up protected bike lanes faster than almost any city on Earth, bike ridership has soared by 44%.
And even if you haven't been on a bike in years, I think we can all agree—there are a lot of really bad drivers around here. In the last three years, a national study ranked Sacramento drivers amongst the worst in America. In fact, in 2017, Sacramento drivers were ranked the worst in America, judged by the number of accidents, DUIs and other factors.
In my April 2017 essay, I challenged the city of Sacramento to build its first protected bike lane in front of the Capitol by the following spring, in time for the Amgen Tour of California race. Funding for bike infrastructure doesn't typically come from the city's general fund (here it's usually stitched together from various grants and portions of the gas tax), but in May of 2017, the city approved a one-time budget allocation specifically for bike infrastructure, and a new protected bike lane opened in front of the Capitol a year later, along with a few other streets downtown.
That was a great, albeit a very late, start.
But now it's the summer of 2020 and not a single protected bike lane has been built since those in 2018, not downtown or anywhere else in the city. It's been two years. Yes, there are some in the works for later this year, but now the game has changed: Protected bike lanes are no longer a civic amenity; in the age of COVID, they're now a civic necessity.
And consider this: For the third year in a row, Sacramento has the fifth-worst air quality of any major city in America, according to the American Lung Association. Guess what makes humans more susceptible to COVID-19 and other respiratory conditions? Yep, air pollution.
Another great byproduct of such lanes: In city after city that has installed protected bike lanes, the retailers and restaurants adjacent to those lanes have seen economic boosts. In 2007, when New York City opened its first protected bike lane along a six-block stretch on 9th Avenue, cycling accidents decreased by 47% and sales for the adjacent retailers and restaurants increased by 49%.
A recent, very informal poll of small businesses—conducted by me—along the protected bike lane on J Street that was installed in 2018 yielded positive reviews as well. Joel Quiggin, manager of Mike's Cameras, says his business "has been positively affected by the bike lane." Tyler Williams, co-owner of The Jungle Bird bar and restaurant, said he has "noticed an increase in patrons traveling to and from on bikes."
And it's not just cool tiki bars that these lanes help. In 2016, then Chicago Mayor Rahm Emanuel committed to 50 new miles of protected bike lanes in his city as an economic development tool. "As we add more and more bike lanes, we continue to recruit more companies and more and more workers who work in the new digital economy," he has said. "These types of investments actually lead to economic growth."
Add up all the benefits—better air quality, a healthier populace, fewer accidents, less traffic, increased sales for small businesses, and better social distancing during a global pandemic—and the case for creating more ways for people to safely get around the city has reached a critical stage.
That's why cities are reacting in two specific ways: first, they're expediting protected bike lanes and second, they're creating what are known as "slow streets"—meaning they're reconfiguring mostly residential streets to slow them down (by reducing the speed limit to make them safer for pedestrians and cyclists); partially closing them by taking two-lane roads down to one; or shutting down some streets to through traffic altogether.
Cities around the world are tackling these street programs as fast as humanly possible.
And when I say fast, I mean really fast.
In April, Berlin, Germany, installed 14 miles of temporary "pop-up bike lanes" in 10 days. Officials told The Guardian that most of the lanes will likely become permanent. That's 14 miles more than we've put up in the last two years.
In May, Toronto announced a massive expansion of its bike infrastructure. "Instead of waiting years for new cycling infrastructure, council is directing staff to install it in a matter of weeks," said councilmember Kristyn Wong-Tam. "Right before the summer, there's going to be brand-new cycling infrastructure dropped into neighborhoods, into areas of the suburbs and right into downtown Toronto."
Weeks.
That same month, Boston Mayor Marty Walsh announced that as a response to COVID-19, the city would expedite nearly three miles of new temporary protected bike lanes in the city that had been on the drawing board since 2013. "This is a bold package of street and sidewalk improvements to undertake on a short timeline," he told The Boston Globe.
The department of transportation estimated that each lane would be installed in "about a day."
* * * * *
The key, transportation experts say, is to move quickly and throw the old rule books out the window.
Allison Arieff, a frequent contributor to The New York Times on urban design issues and the editorial director for SPUR, the Bay Area civic planning organization that focuses on transportation, says that cities need to stop overthinking during a crisis like the one we're facing with this pandemic. "Instead of thinking about building some expensive, massive biking network, just frigging put some cones down," she says. "It takes nothing."
(To wit, you can buy a dozen traffic cones on Amazon for $95, or about $8 each.)
Arieff, a UC Davis alum, also says we should be considering our region's natural advantages. "In a city like Sacramento that's so flat and has such good weather, it's obviously an amazing place to think about bike infrastructure. I think that boosting any car alternative to getting around now is a priority." She cites San Francisco's recent efforts to make more room for pedestrians and cyclists. "They didn't have to do anything. They put down a few bollards and some little signs. Sacramento could absolutely be doing that."
Over in Europe, where cities like Rome, Paris, London and Milan are adding new COVID-induced "emergency" bike infrastructure at rates that dwarf most American cities, there's also an emphasis on both short-term benefits and long-term gains. "Don't waste this awful crisis," said Matthew Baldwin, deputy director general at the European Union for road safety and sustainable mobility, during a web conference in May. "Put down traffic bollards… get out the paint. If you get the [bike] lanes out there, people will use them. Perfection can follow."
Yes, many of these lanes will be used for exercise and recreation, but the truly critical role they play is in helping people get to work and around their communities when the alternatives are either unappealing or impossible.
When I asked the noted urbanist Richard Florida, author of The Rise of the Creative Class, about the future of post-pandemic cities, he talked about a shift toward more people working at home and how cities need to focus on becoming more resilient to crises. But he also talked about the notion of better serving our essential workers, such as bus drivers, cashiers and janitors.
According to Census data, more than a third of essential workers who rely on public transportation don't own a car.
"The real opportunity," says Florida, "is to craft a long-term economic recovery strategy, which creates a better kind of community, one where front-line and essential workers are paid a living wage, and one where our communities are more inclusive of not only workers but neighborhoods, and one where our communities are made more resilient from a health and safety standpoint."
And that leads, in part, to having safe transportation alternatives for those who need it the most.
"I think one of the biggest and most enduring changes we will see are more bike lanes," he says of how the pandemic will alter our cities.
Think about that for a second.
One of the most celebrated living urbanists in the Western world is saying that the implementation of more bike lanes will be one of the single biggest tools that cities will use to fight the coronavirus and protect their citizens.
And while it might be tempting to think that densely built European or East Coast cities—where people rely more heavily on public transportation because it's more widely available—have different priorities than we do out West, think again.
* * * * *
Look at what nearly every big city here on the West Coast is doing.
On April 10—only weeks after COVID began its destructive reign in Northern California—Oakland Mayor Libby Schaaf announced that the city was closing 74 miles of streets to through traffic to allow more room for pedestrians and cyclists to physically distance themselves and provide more space for safe exercise. "We are giving Oaklanders more room to spread out safely," she said. "When we close streets to cars, we open them up for amazing possibilities." Some of the streets were closed within 24 hours.
On April 21, San Francisco Mayor London Breed (another UC Davis grad) announced that a dozen streets in the city would be partially closed. "As we gradually reopen our economy, biking will be an even more important and healthy way to move around our city for people young and old," she later tweeted.
On April 28, Portland announced that due to COVID-19, 100 miles of streets would be reconfigured, including partially closing some streets and adding pop-up walking and cycling lanes throughout the city. The Portland Bureau of Transportation commissioner Chloe Eudaly announced the agency is "carefully considering how transportation behavior has changed and how it needs to change, not just as we recover from this crisis, but to support a sustainable future."
On April 29, San Diego Mayor Kevin Faulconer said that the city would also start blocking off certain streets. "COVID-19 has forced us to rethink everything we do and how we go about our daily lives, and what we need right now are more safe spaces for San Diegans," said the mayor. The city started with four streets, with plans for more.
On May 7, Seattle Mayor Jenny Durkan announced the permanent closure of 20 miles of residential streets and a pledge to "accelerate the installation of new bike facilities such as Neighborhood Greenways and protected bike lanes."
Acknowledging funding challenges, Mayor Durkan said, "As we're looking across our budget landscape, we're doing everything we can to fill that significant deficit we have, but we also know there are projects we've got to continue and accelerate to invest in the city we want to be when we come out of this."
* * * * *
And while all of these actions were taken because of the pandemic, there is another reality we need to deal with urgently when it comes to this issue: Black Lives Matter on bikes, too.
The issue of racial disparities has reached a tipping point in America, and right now, we're all looking for ways to help.
Well, here's one way to help.
Spend any time in Sacramento's City Hall and you'll hear a lot of talk about "equity"—it's government-speak that basically means we need to level the playing field for people of all ethnicities, genders and economic circumstances.
But here's the thing that our City Hall hasn't yet fully embraced: "Transportation equity" when it comes to safer streets. Our city leaders have a responsibility to make sure people of all economic levels can safely get to work, the grocery store or anywhere else in the city, even if they don't own a car.
And one specific subset of this issue involves people of color.
In a remarkable Twitter thread on June 2—only days after the George Floyd protests broke out—the director of Charleston, North Carolina's Department of Traffic & Transportation, Keith Benjamin, who is Black, tweeted: "One of the dangers of this moment for white counterparts in placemaking is to be invigorated to 'do something' instead of just picking up the best practices… from the last 5+ years and put that work to work."
In other words, if you want to know what to do to make things better for people of color, we already have many of those answers—including building a more equitable city through transportation.
Benjamin then listed example after example of how a cycling infrastructure, or lack thereof, affects people of color. He cited a study that found that cyclists in predominantly Black or Latino neighborhoods were getting more citations for biking on sidewalks than in predominantly white neighborhoods (if you Google "biking while Black," you'll find plenty of examples of Black cyclists getting ticketed far more than their white counterparts). He also linked to a guide he co-developed showing that "the walkability and bikeability of underserved communities" can "discourage violence and increase street safety" for school-age kids of color.
The point, made convincingly over and over, is that racial disparities and cycling options are inextricably linked.
Another study called, "Building Equity: Race, ethnicity, class, and protected bike lanes," found that "people of color and low-income Americans are disproportionately at risk while on bikes" and that "normalizing bike transportation can help people who are part of demographics that disproportionately struggle with high blood pressure, diabetes, obesity and respiratory illness."
So now there are two national crises that we can address simultaneously.
But will we?
* * * * *
Which brings us back to Sacramento.
By the end of May, after every major West Coast city took bold action to secure their citizens, I asked Jennifer Donlon Wyant—Sacramento's bike czar (aka Active Transportation Program Specialist), who is widely admired in local cycling and transportation circles—if there had been any conversation in City Hall in recent months about accelerating Sacramento's bike infrastructure in light of COVID-19.
"No, not that I know of," she said.
Meanwhile, on May 23, Twitter user @Aztec4Life13 saw the newly placed street barriers that created more patio space for bars and restaurants in midtown, and commented, "Safe lane for bikers? NO. Safe lane for bars to expand in a pandemic? Of course, done immediately."
And she's right. Sacramento acted quickly to accommodate restaurants—an unquestionably good thing, of course—but it was a lack of action on behalf of cyclists that prompted Deb Banks, executive director of Sacramento Area Bicycle Advocates (SABA), to start making some noise.
After seeing what other cities around the country and the world were doing, Banks teamed up with the group Walk Sacramento and together they sent a letter to Mayor Darrell Steinberg and the City Council on April 29, along with a petition with nearly 1,000 signatures asking for some version of a "slow streets" program.
"Sidewalks are too narrow to support safe social distancing, and significant infrastructure gaps in sidewalk and bike networks further reduce the ability of residents to walk and bike safely," they wrote. "Sidewalks and bike lanes are more crowded than ever, often forcing residents to move into traffic lanes just to maintain a 6-foot distance."
That letter got them a meeting with Wyant, who was very receptive but limited by funding. She encouraged the groups to build grassroots support, which they did, conducting an online survey about which streets people would like to see "slowed" down. The survey was completed on May 27 and the results were presented to the city for review.
Meanwhile, Banks is afraid that Sacramento is missing its window of opportunity. "If we don't move fast," she says, "then shelter-in-place orders are going to get lifted, and then we'll be too late." Her fear, like many others, is that as the world temporarily normalizes, our politicians won't actively plan for the inevitable return of the deadly virus.
Banks' predecessor at SABA, Jim Brown, was equally concerned, and skeptical, tweeting back in April, "Emeryville and Oakland are schooling Sacramento today. Odds are strong that we won't enact any temporary changes to transportation policy or procedures here, even when they support physical distancing and safety."
Brown's tweet turned out to be prophetic.
Emeryville and Oakland are schooling Sacramento today. Odds are strong that we won't enact any temporary changes to transportation policy or procedures here, even when they support physical distancing and safety. https://t.co/Xy1jS4RhOb

— Jim Brown (@jimbrown95818) April 10, 2020
On June 9, Wyant—an avid cyclist and a zealous champion of bike-friendly streets released a statement that said, "After careful consideration, the City of Sacramento has decided to not move forward with its 'Slow and Active Streets' pilot program at this time."
You read that right.
No accelerated bike lanes. No slow streets for Sacramento.
In short, it's 2017 all over again, with Sacramento bringing up the rear on the issue of bike infrastructure. If the Tour of California still existed, we'd be that sad cyclist in last place—the lanterne rouge, as they're known.
Worse, no good reason was given by the city.
The answer, however, isn't hard to figure out. Part of it is money, sure, but every city is hurting right now. No, the issue comes down to leadership.
But don't blame the messenger.
"Jennifer is one of the smartest people out there," explains SABA's ex-director Jim Brown. "Jennifer could be doing everything that Oakland's doing; everything San Francisco is doing; everything Seattle is doing; she's that smart. But she has no money."
By "no money," of course, he means she has a very small budget, a fact she acknowledges. Sacramento, unlike cities like Seattle, Berkeley and Emeryville, doesn't allocate any dollars from its general fund to transportation, so Wyant spends a lot of her time applying for state and federal grants, scraping money together from wherever she can find it.
Our city leaders could, of course, allocate more funding for bike infrastructure, but they don't, with rare exceptions like the one in 2017. It's ironic because many on the council are known cyclists.
"It's important to know that Jennifer and the Public Works staff implement policy but the policy direction comes from the council," says Brown. "And we don't have any bold thinkers when it comes to transportation on the City Council."
Come on, City Hall, let's prove Jim wrong.
* * * * *
So what can we do about this?
The mayor and City Council need to get engaged on this issue right now. Just look at all the examples of fast-acting cities above; the initiatives are almost all driven by mayors and councils. And don't let our council tell you those cities are just so much bigger and richer than we are. Oakland is smaller; so is Berkeley, Emeryville, Redwood City, Alameda, Burlingame, Glendale, Petaluma, Pasadena, Ventura and La Jolla. They're all acting on these changes as we speak.
And as several experts noted above, slowing our streets or adding pop-up bike lanes doesn't need to be expensive.
The city of Portland is spending less than $100,000 to create its 100 miles of slow streets. San Diego slowed four streets for $10,000. Oakland is paying $12,000 per mile. Seattle's "Stay Healthy Streets" run $2,500 to $10,000 per mile.
Does Sacramento have the money to fund similar programs? Of course it does.
On May 19, 2020—weeks after SABA and Walk Sacramento sent the council a petition pleading for slower streets and safer conditions for cyclists and pedestrians in the midst of the worst pandemic of our lives, and shortly after Portland committed to its 100 miles of slow streets for less than $100,000—the Sacramento City Council approved "an amount not to exceed $126,000" in order "to provide additional water conservation outreach and education." The funding would include additional brochures, promoted posts on Twitter and Facebook, etc.
Look, water conservation outreach and education is a great thing. I'm all for water conservation. But the fact is, there is plenty of money available to make our streets safer immediately.
It's simply a matter of priorities.
I get that our councilmembers can't be experts on everything. But they do have an expert on their team, and it's incumbent upon them and their staffs to not only engage Jennifer Donlon Wyant, but fund her ideas. They need to carve time out of their busy schedules to understand that these kinds of actions touch on every single priority the city professes to have.
This is an environmental issue.
This is an economic issue.
This is a quality-of-life issue.
This is an equity issue.
And last but not least, this is a public health issue.
Yes, most of the big cities above are led by what are commonly referred to as "strong mayors" who have more authority than our mayor has because of Sacramento's antiquated, provincial "weak mayor" system where the mayor has limited authority (for example, he or she basically gets the same vote as each councilmember, albeit with a little more influence). Sacramento remains one of America's few big cities with this deeply flawed system that impedes progress, especially during crises like this one.
Regardless, Mayor Steinberg has the clout, the soapbox and the political skills to push for important city projects.
Whether you agree with Mayor Steinberg most of the time or not, I can tell you that one of his greatest strengths is his empathy. The man has heart. It's abundantly clear to anyone who is paying attention that he genuinely cares for those who are most in need. He has displayed that over and over during the recent George Floyd protests (and the Stephon Clark protests of 2018), as well as the community's many conversations about homelessness and mental illness. And empathy is a damn good quality to have in trying times like these.
But now we need him to join most other big city mayors on this particular issue in order to keep our citizens healthy at a crucial time in our history. That means we need him to be every bit as vocal as other mayors, and he needs to use his bully pulpit to find the money, whether it's from the $89 million the city got via the CARES Act or the city's general fund or wherever else he can find it.
In less than a week, I'm sure his staff could produce a list of sources showing where every other city is getting its funding.
This isn't rocket science. But it takes vision and bold action.
While more protected bike lanes are guaranteed to help every citizen (yes, even us devoted drivers), now is the time to make sure our essential workers, our most vulnerable citizens—and everyone else—can safely get to where they're going. Because right now, we all can't.
And time is not on our side. We're already working from a major deficit. None of us know the future damage that COVID-19 will wreak, but we do know that the Spanish flu pandemic of 1918— which first struck hard in the spring, just like the coronavirus—came back with a vengeance from September to November. If COVID-19 resurges this fall, we'll have precious little time to prepare for the worst.
Because of this virus, the world has become a more dangerous place to live in and it may stay this way for a long time, or possibly get much worse.
And while I'm really rooting for City Hall to get this right, up to this point, they haven't.
If that continues much longer, then it's up to the rest of us.
If they don't act, then we must, whether that means joining or contributing to organizations like SABA or Walk Sacramento, or writing your representative, or speaking at council meetings or writing your own op-eds. After paying close attention to this for years, I think the cycling community, as wonderful as it is, has traditionally been too timid on the subject. With an issue like this, we simply can't take no for an answer.
In some cities, people have turned to guerrilla urbanism—essentially taking matters into their own hands when it comes to making us all safer. People have created their own protected bike lanes using toilet plungers that stand upright or potted plants or even smiling jack-o'-lanterns. And in some cases, those actions have led to actual city-funded changes. That shouldn't be our first option, of course, but those who understand the importance of this issue need to be relentless.
The fact is, this isn't a lifestyle issue. This is no longer something that would be "nice" to have. This isn't even really about cyclists. It's truly not. This is purely about prioritizing the health of our city in the face of a global pandemic, and if our leaders aren't getting it done, then we need to make a whole lot more noise to make sure they do.
Remember, the squeaky wheels get the grease.
It's time to take action—before it's too late.
Here are some examples of cities around the world racing to install slow streets and pop-up bike lanes
Brussels
Instant bike lanes. NOW! Email your mayor. NOW! https://t.co/GVDUPJM8j4 https://t.co/gDhY1dHG43

— Richard Campbell (@wrychrd) April 24, 2020
Paris
An amazing thing is happening around the world – mayors want to use bike lanes to help re-open the economy. There's been a focus on how this will be a game charger to slow Climate Change, but less talk about how bikes can address poverty and EQUITY. /1https://t.co/nsQoQU2eK7

— LindsayS — #BlackLivesMatter (@LindsayJS) April 27, 2020
Paris Mayor Anne Hidalgo pauses during her rainy bike commute to do a media interview about her project to install 400 miles of protected bike lanes as part of her COVID-19 recovery plan ❤️🇫🇷🚴‍♀️ https://t.co/s7HwhoY3JN

— Eric Rogers (@erogers) May 13, 2020
Rome
Rome created 93 miles of emergency bike lanes for commuters to travel safely by bike — instead of public transport — during the #coronavirus pandemic pic.twitter.com/LE6RaF8XHt

— Bloomberg QuickTake (@QuickTake) May 13, 2020
San Francisco
Our Slow Streets program is an example of how we can make simple changes to allow for social distancing and provide a safer way to bike and walk. https://t.co/vEkXokQVis

— London Breed (@LondonBreed) May 14, 2020
Thank you, Mayor @LondonBreed, Director @jeffreytumlin and the MTA staff for their forward-thinking leadership on implementing protected bike lanes, the #SlowStreets program, and exploring closing streets to help our small businesses.

— Vallie Brown (@VallieBrownD5) May 20, 2020
Alexandria
Alexandria Va., opening up part of it's main thoroughfare, King St., to non-motorized traffic to allow folks to maintain distance. pic.twitter.com/RRkqU61Vcl

— Complete Streets (@completestreets) May 25, 2020
Berlin
In Berlin it can take up to a decade to create a new bike lane, but during the coronavirus crisis, 14 miles of pop-up bike lanes, separated from car lanes by traffic beacons, have been introduced in anything from three to 10 days. https://t.co/lhJtVHtJ5U

— Lisa Regan (@LisaReganPR) May 18, 2020
Berlin's temporary protected bike lanes installed almost overnight in response to #COVID19. 🚲 pic.twitter.com/Yy1AFllE8C

— Jonathan Berk (@berkie1) April 23, 2020
Barcelona
Mayor of Barcelona pledges to make the 'new normal' more bike lanes + pedestrian spaces and better public transport. https://t.co/vqYLabgiuv

— David Ronder (@davidronder) April 25, 2020
Bogota
Bogota mayor @ClaudiaLopez has created 22KM of bike lanes overnight by turning a lane for cars into a 2-way bike lane.

This is a permanent move that is initially aimed at reducing the spread of #covid19 due to overcrowding on city buses and trains.#StayAtHomeSaveLives pic.twitter.com/e5WHwZkXeh

— Sarika Panda Bhatt (@SarikaPanda) March 24, 2020
Boston
The City of Boston has installed a high-comfort, dedicated bike lane on Tremont Street as part of a re-opening initiative to offer reliable transportation to travel into Boston, access to fresh air and open spaces, and build social and physical distancing into everyday life. pic.twitter.com/4JyXJERxgx

— Only In Boston (@OnlyInBOS) June 3, 2020
Budapest
In #Budapest, 12 miles of temporary bike lanes have been introduced on some of the city's busiest roads.
The mayor's office it is planning a public consultation over where and how to introduce more bike lanes in the future @TUMInitiative@NCEcities @MobiliseCity @MagyarNemzetOn

— Alejandro Collia (@Colliaalejandro) May 22, 2020
Lima
Meanwhile in Lima (Perù). The mayor will build 301 km of pop up bike lanes ! pic.twitter.com/Oc2dvvbFaY

— Adrien Lelièvre (@Lelievre_Adrien) April 24, 2020
London
COVID-19 will fundamentally change the way we travel around our city.

That's why today, @TfL and I are announcing our plans to make central London one of the largest car-free zones in any capital city in the world, increasing walking and cycling and improving our air quality.

— Mayor of London (gov.uk/coronavirus) (@MayorofLondon) May 15, 2020
New York City
Mayor de Blasio: NYC introduces 12 more miles of open streets,9 more miles of protected bike lanes as part of the open streets initiative to give pedestrians and cyclists room to maintain proper social distancing while getting fresh air https://t.co/bVk88aWRjT via @gothamist

— Susan S. Szenasy (@szenasy) May 14, 2020
Portland
Portland's "Slow Streets, Safe Streets" Program

Neighborhood Greenways: Signage alerting drivers to "presence & priority of people walking/ biking"🚧

Busy Streets: Install walk/ bike lanes to encourage local trips on foot or bike.🚲🚶🏻‍♂️@BikePortland https://t.co/XR06mit9Er pic.twitter.com/kcnlO23kxT

— Jonathan Berk (@berkie1) April 29, 2020
Sydney
BREAKING: Sydney Australia Mayor @CloverMoore just announced the city will be quickly installing 6 new "safe cycling links, so Sydneysiders can get back to work on their bike." A nice, simple graphic shows where they are & how they augment the existing bike infrastructure system. pic.twitter.com/4fOsBPZOjn

— Brent Toderian (@BrentToderian) May 18, 2020
Salt Lake City
We have two more streets opening up for cyclists and pedestrians in the next few days! Tomorrow, the outside lanes of 900 South between 300 East and 700 East will open. And 600 East from South Temple to 900 South will open Tues., May 5th. pic.twitter.com/hy83OfzhfW

— SLC Mayor Erin Mendenhall (@slcmayor) April 30, 2020
Toronto
Our #ActiveTO cycling network plan proposes 40 kilometres of expanded and accelerated routes across the city.https://t.co/FqPgCwJtok

— John Tory (@JohnTory) May 25, 2020
Washington DC
BREAKING: DC @MayorBowser to lower residential street speed limits starting June 1st to 20 MPH & 15 MPH on some streets. Some streets limited to local traffic only. Bowser says these changes are permanent. @nbcwashington pic.twitter.com/id437JW8V3

— Mark Segraves (@SegravesNBC4) May 29, 2020
Vancouver
Has there EVER been a better time for cities to intelligently experiment in reorganizing streets for people? Fewer drivers, more speeding, bike trips way up, & a real need for more space to walk & bike safely while #PhysicalDistancing.

If not now, WHEN?#NoMoreExcuses #covid19

— Brent Toderian (@BrentToderian) May 2, 2020
Istanbul
Vienna
Los Angeles
Oakland
Seattle
Pittsburgh