Seventh annual Sacramento Bacon Fest brings the sizzle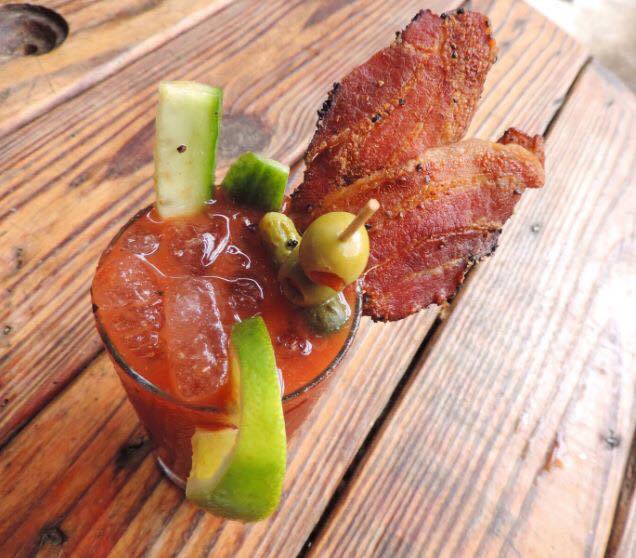 Get ready to live high on the hog, Sacramento. The seventh annual Bacon Fest, which was recently included in CNN Travel's list of World's Best Food Festivals, will get cooking from Feb. 6-11, bringing with it pork-packed menus and events throughout the region.
The week will kick off Feb. 6 with a Choose Your Own Ramen party at Empress Tavern, where for $19.99, folks can grab a cold beer and build their own bowl, picking a broth (veggie, chicken dashi or, yes, bacon), protein (bacon will also be an option here) and noodles.
On Feb. 8, midtown doughnut shop Milk Money will serve up bacon milkshakes at LowBrau starting at 5 p.m., including a boozy variety containing ice cream made with aged prosciutto, loaded with maple caramel, candied pecans and bacon bits, and topped with whipped cream and candied bacon. That same day, Two Rivers Cider Company will host a Skee-Ball tournament, during which mobile food company Pizza Supreme Being, owned and operated by former Ella chef Ben Roberts, will be on hand offering bacon pizza with sides of bacon-fat ranch dressing (diverting from Pizza Supreme Being's typical anti-ranch principle, says Roberts). The contestant who finishes last at the Skee-Ball tournament will be awarded a free pizza as a consolation prize.
On Feb. 9, Revolution Wines will break into the bacon fest scene for the first time when it hosts Bacon for the People: A Revolutionary Event, which will include barrel tasting and passed apps featuring the midtown winery's house-cured and smoked bacon—think bacon-wrapped mini corn dogs, French BLT poppers, a puff pastry cup filled with brie, bacon jam and tart green apple, and zeppole (Italian-style doughnuts, which will be served with bacon chocolate dipping sauce). If you miss the ticketed event ($25 tickets can be purchased here), don't worry: Revolution Wines will be serving a special Bacon Fest menu throughout the whole week, which will include items like blackened Brussels sprouts with lardon and roasted shallot vinaigrette.
Read Sactown's 2016 feature story on the region's best bacon dishes HERE.
Also on Feb. 9, folks can head to The Torch Club for the annual Kevin Bacon Soundtrack Tribute Show, where eight acts (including Bacon Fest co-founder Brian Guido's band 50 Watt Heavy, country outfit Danny Morris and the California Stars, and indie experimental group Salt Wizard) will play songs from Kevin Bacon films and television shows, like "Footloose" and "Hurts So Good."
Over the weekend, Hook & Ladder and Magpie will serve up bacon-themed brunches. On both Saturday and Sunday, Hook & Ladder's menu will get bacon-ified—bacon will be ground into the beef patty for the breakfast burger, and bacon bits will be added into the biscuit dough. Guests can also grab a small plate of bacon caramel corn to go with a bacon Bloody Mary at the bar. And Magpie, whose first-ever brunch service was for a Bacon Fest pop-up event in 2011, will go hog wild on Sunday—try the omelet stuffed with uncured bacon lardon served with a side of bacon hollandaise or the French toast topped with fruit compote and seared pork belly, and look for cocktails featuring a house-infused bacon vodka.
And while not part of the official festival festivities, some restaurants will still be celebrating the event with bacon-themed items during Bacon Fest week. For instance, Samuel Horne's Tavern in Folsom will serve its annual Death Muffin, a pork sausage patty stuffed and wrapped with bacon on an English muffin with grape jelly, cheddar cheese and an over-easy egg, as well as a bacon bánh mì and a take on elote, Mexican-style street corn wrapped in jalapeño-seasoned bacon and crema. And Tahoe Park breakfast favorite Bacon & Butter will add a bacon doughnut, bacon pancakes and a chicken-fried bacon and waffles dish to its already bacon-forward menu.
The final bacon showdown on Feb. 11 will pit 11 chefs from local establishments—including Pierre Tumlin (Empress Tavern), Patricio Wise (Nixtaco), Brock Macdonald (Block Butcher Bar), Eric Sternberg (V. Miller Meats), Craig Takehara (Binchoyaki), Tyler Bond (Kru) and Patrick Mulvaney (Mulvaney's B&L)—against each other in a bacon-themed cook-off. Canon's Michelin-star chef Brad Cecchi, local food writer Becky Grunewald, and Sunh Fish owner Nguyen Pham are part of the panel of judges that will administer points for best bacon, best dish using bacon, best alternate bacon (this year using lamb from Dixon's Superior Farms) and best overall performance, while the attendees can sample and vote for their favorite bites.
For more information, visit Sacramento Bacon Fest's Facebook page.
You Might Also Like
Mmm, Bacon! Read Sactown's cover story on the best local bacon dishes
Real Pie Company will reopen in larger location with expanded menu
Empress Tavern warms our bellies with weekly ramen specials