Q&A with Shonna McDaniels, Director of the Sojourner Truth African Heritage Museum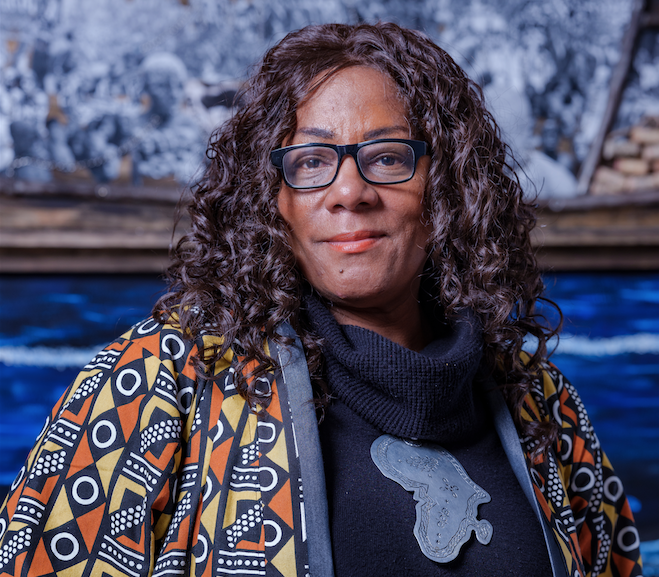 Inside South Sacramento's Florin Square mall resides a hidden treasure: the Sojourner Truth African Heritage Museum, named for the trailblazing abolitionist and advocate for women's rights who was born into slavery. Since 1996, the institution has been an evolving fusion of art gallery, historical collection, education center and community nexus. With Black History Month taking place in February, we visited Shonna McDaniels, the 56-year-old artist and executive director of the "Sojo" Museum, at the cultural institution she founded over 25 years ago. There, she talked to us about its recent and future expansions, the many Black pioneers around the region, and the relationship between race and the arts.
Why did you name the museum after Sojourner Truth?
It's because I saw the strength of my own mother and my grandmother in her. She represents, to me, the strength of the Black woman. She had a really hard life and she never gave up.
She was a phenomenal woman. She couldn't read or write, but God gave her the will and the strength to accomplish what she set out to do, which was to create change in her community, and she did just that. I'm inspired by her life story because in many ways, it's the story of all women of color. Sojourner Truth fought for humanity, which is an expression of diversity.
Why did you decide to also make art about her, such as murals and some of the paintings in the museum?
I tell everyone that I have always been an artist and that I came into the world with a paintbrush in my hand. When I was young, I didn't have a lot of information about her, but just by her image, I knew she was a woman of strength and courage. I could tell by the features on her face. I would always sketch images of her. As I grew up and started to learn more about her, I made a commitment to myself that later in life, I would honor her legacy in some way.
For you, as an artist, what is the connection between race and artistic expression?
I grew up in a house with three siblings and my mom, who was a single parent. My mother's mother had 10 children and she was a single parent too. Just seeing these Black women navigate life and raise strong Black children with a sense of passion and purpose and love and commit- ment—that is something I always wanted to show in my art, the strength of the Black woman.
How did you get to Sacramento? What are your roots here?
I was born in Bakersfield and my family moved here when I was 4 years old and I've been here ever since, always in South Sacramento. I went to [Charles M.] Goethe Middle School, now named Rosa Parks [K-8] School, and then Kennedy High School.
As visitors enter the west side of Florin Square on their way into the museum, the first thing they see are all the murals in the hallway—there are murals everywhere. The first one is a giant bird, the same bird you're wearing as a necklace. What does the bird symbolize?
That's the Sankofa bird! It's an ancient symbol from Ghana that means one must go back to the past, and under- stand the past, to have a more productive future. That's part of what we're doing here.
The murals represent a timeline.
Young people think our history starts with slavery, but here we look at ancient Nubia and Timbuktu and we have a display of Mansa Musa, the [14th-century] ruler of Mali who had more gold than anyone in the world. Then, we get to the Middle Passage [the Atlantic slave trade], Reconstruction and the Harlem Renaissance and civil rights.
The youth don't recognize many people or images down at that end and they're really quiet until we get here [the section with depictions of modern celebrities, such as Michael Jordan and Oprah Winfrey, and a wall of musical superstars like Prince and Billie Holiday]. Then they go crazy.
We tell the young people, "The individuals down there at that end made success possible for those at this end, and for all of us in the future."
That's all before visitors even enter the museum. When they do, there are some striking exhibits. Can you tell us about these front rooms?
The museum was just these first two rooms until the first expansion in March 2021. One of the first exhibits you see is the Sojourner Truth Wall, with all these images, paintings and sculptures, and even dolls, of her. In the other room we have items sent to us from the Truth family, including [records of] her auction sales when she was sold as a slave, and other documents.
In here, you have the Door of No Return, which is an artistic depiction of the dumping place where the enslaved Africans were kept before they were to board the ship, before they left home. And this is a collage sculpture of a slave ship, one of many that carried slaves across the Atlantic.
Here's a piece on Henry "Box" Brown, who shipped himself to freedom, and here is the Black Inventors Wall [including items such as the ice cream scooper, created by Alfred L. Cralle in 1897]. We also have a wall dedicated to former slaves who became millionaires.
Can you point out some pivotal figures in the historic Black community in the Sacramento region who are featured in the museum?
We have a wall dedicated to local pioneers, like the Monroe family who owned most of Coloma and the land around the original Sutter's Mill site.
And have you heard of William Alexander Leidesdorff? He owned all of Folsom as we know it today, and when you go on the highway to Folsom, you'll see signs that are dedicated to him, giving him his props. There was also Elizabeth Thorn Scott Flood, who was the first Black school teacher in Sacramento.
We have a space for Dunlap's Dining Room, which was the first Black-run restaurant in Sacramento. George Dunlap had a concession stand on Stockton Boulevard and then ran a restaurant out of his home in Oak Park for many years, from 1930 to 1968.
You unveiled a second expansion in November that included the Dana Maeshia Wall Library & Media Station. Why did you want to honor her?
Dana was the owner of a bookstore two doors down from us. She died from Covid [last August]. She was devoted to reading and literacy programs, and had a lot of programs for young Black boys and girls, and book clubs. That slogan you see—"Let's Keep It Lit for Literacy"— she used to always say that. We wanted to honor her with this library, where individuals can come and sit down to read a book or make a photocopy or use a computer for free.
She touched so many lives. She was an amazing woman and so full of truth. And I imagine that's what Sojourner Truth would have been like. Dana tried to help everyone.
The expansion also featured a tribute to African American veterans. I see the Harlem Hellfighters and the Buffalo Soldiers, who were active in WWI and WWII. Are any local Black veterans included?
We do have local veterans, but we didn't put them in this space. They're going to go in the space honoring local individuals. That would be part of the third expansion. We hope in that space to recognize local African American pioneers, like one of the first Black hotel owners, Charles Hackett [who owned the Hackett House on Third Street in the 1800s], and Nathaniel Colley, the first Black attorney in Sacramento.
We're going to recognize [former Sacramento City Council members] Sam and Bonnie Pannell; James Wheatley, who is the founder of Celebration Arts, one of the oldest Black theater companies in Sacramento; and Lisa Lacy, who passed away a couple of years ago and founded the Images Theatre Company. We're also going to recognize the founder of The Sacramento Observer, Dr. William H. Lee—we're going to dedicate a huge portion of the space to honor the Observer.
The final addition in the recent expansion was the Dr. Samella Lewis Gallery. In it, she's described as the "Godmother of African American Art." Why is that?
She's almost 98 years old and still making art! She was a pioneer, the first African American woman to receive a Ph.D. in fine arts and art history, and she was one of the founders of the Museum of African American Art in Los Angeles. She also wrote books and started a journal [The International Review of African American Art] that brought African American art to a much wider audience.
She was also a collaborator with Elizabeth Catlett, who was an amazing African American artist and was married to Charles White, another famous African American artist. Elizabeth Catlett has two pieces at the Crocker Art Museum. One is a statue of Sojourner Truth. [The sculpture stood outside the Sacramento Convention Center until it was vandalized in 2013. It was subsequently restored and moved to the Crocker.]
The Samella Lewis Gallery is where we can have traveling exhibits like the one we have now—The Trailblazers exhibit—which will be here until the end of February for Black History Month. In fact, her grandson Unity Lewis lives in Sacramento. He manages his grandmother's collection and loaned us pieces for the show.
You mentioned a third expansion. What's the plan and timeline for that?
The future expansion, depending on funding, will hopefully kick off on Juneteenth of this year. We have a lot of plans.
This new space will recognize African Americans in music. We're going to make musical instruments available for the youth. And we plan to have a senior day and programs that transfer the skills and knowledge of older generations to young people. Then we're going to have a space to honor our local Black pioneers. We'll also have an entire room for Black memorabilia. It's a lot. We don't foresee any more expansions after that.
With regard to your own art, you've created over 150 murals in Sacramento, Stockton and San Francisco. What messages were you trying to convey in these public spaces?
For me, murals are important because they tell a story—they should tell a story. For the most part, the stories should be positive messages that will uplift children and youth and the communities where they are painted. That in itself can be a solution for change.
Not all Black artists get that much exposure. Has the Black Lives Matter movement influenced the Sacramento arts community?
Definitely. There's the Black Artist Foundry, which gives stipends for [mostly local] Black artists because they have been left out of the mainstream. [The Sacramento-based initiative was founded in June 2020 after the murder of George Floyd.] Creating this fund is helping Black artists of all ages. It's giving artists a chance to express themselves about their history and what happened to their historical leaders and what's going on today.
This interview has been edited for length and clarity. The Sojo Museum is located at 2251 Florin Road and is open Thurs.-Sat. from noon to 5 p.m. Admission is $4. For more information, including how to donate, visit sojoartsmuseum.org.