Shopping with the Chef
On any given Sunday morning, Randall Selland of Ella, The Kitchen and Selland's Market—can be found loading up his van under Hwy 50 with fresh produce from the Sacramento Central Farmers' Market. We shadowed him recently and got a true chef's-eye view.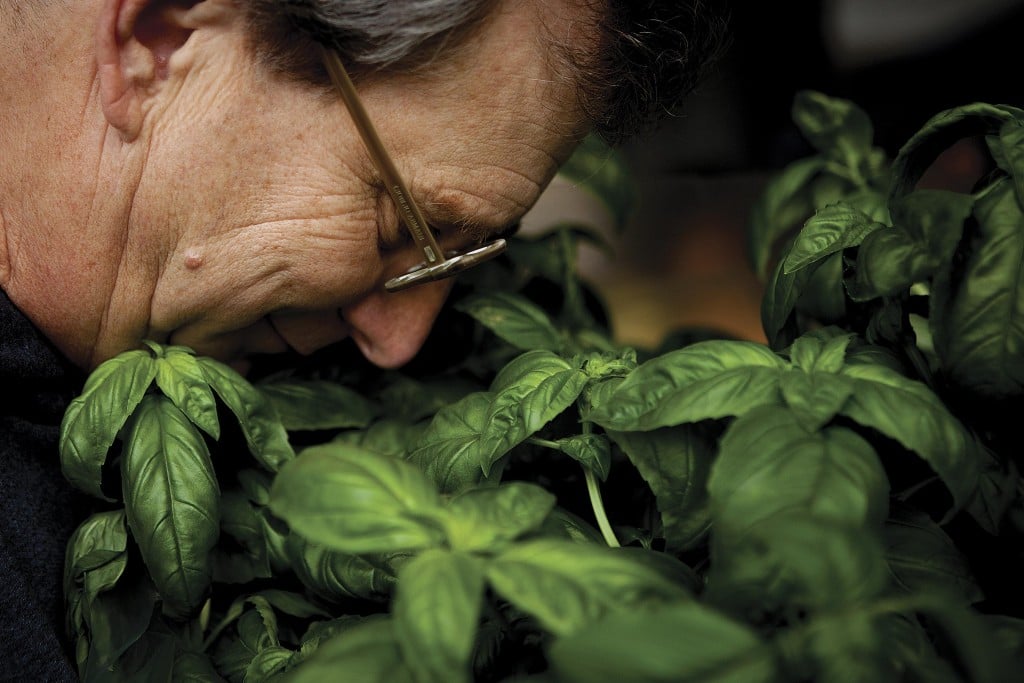 Which farmers' markets do you like to hit?
I've been going to one farmers' market somewhere in the region every week for like 22 years, and normally at least two. When they open up Cesar Chavez [Plaza's farmers' market on May 1], I'll be there every week. A lot of the time I'll go to the Saturday market at Country Club Plaza. If I'm looking for specialty things like berries other than strawberries in the middle of summer, then I'll go over to the Davis Farmers Market. I'll always be at the Sunday market [in downtown Sacramento]—it's a phenomenal market all year round, even in the middle of winter. It's great for me to be able to go down there and pick up stuff from the farmers that we can use for the restaurants.
Like what?
When I get there I usually stop and say hello to our friends who sell avocados and strawberries from Williamson Farms [in Santa Cruz County] on the main aisle on the north side. And Magda from Twin Peaks [in Newcastle] has beautiful tree-ripened citrus. Then there's Rob Montgomery [of Rob's Natural Produce in Butte County] right next to her. [Recently] I bought a whole bunch of Chioggia beets from him. They're bright red on the outside, almost scarlet red, and white with red stripes in the middle. I'm not much of a beet person, but I really like those a lot. Then I go two doors down to Sunshine Farms [in Capay Valley] and they grow really beautiful stuff. [This spring] I bought baby carrots and Japanese turnips and romaine lettuce from them.
The best blueberries I think anywhere come from John Glick and his wife who own [Delta Blue Blueberries] outside of Lodi. They're firm, juicy and super ripe. Even if you don't like blueberries, you'll love these. You've got Brenner [Ranch] around Newcastle that grows the best peaches you will ever have. Peaches will come in probably early June. There's a guy named Patrick Hoover out of the Placerville area who has berries and squash during the summer and he has apples during the winter. We'll buy his berries and put them in the fruit salad at the café. People will have our fruit salad and they'll say, "What did you do to the fruit? I haven't tasted fruit like that." Well, we just took it out of the package and put it in the bowl.
Can you give us some examples of farmers' market ingredients you've used on your menus?
At The Kitchen, probably 90 percent of everything we use comes right from the farmers' markets. In a scallop dish [recently, I used] Cara Cara oranges, Minneola tangerines and navel oranges from Aoyama Farms just north of Fresno. And we did Brussels sprouts, which we just sautéed with bacon and onions. People love our Brussels sprouts from Contreras Farm in Half Moon Bay. We'll get like four to six 40-pound cases at a time. At Selland's, for a Sunday brunch [earlier this year], we used pasture-raised eggs from Dan Jones at Islote Farms [in Capay Valley], who is down at the farmers' market every Sunday. They're gorgeous, nice big yellow-orange yolks and they're firm and really yummy eggs.
Can you also find good meat at the market?
Yeah, we get heritage chicken from Kristy and Brian at Chowdown Farm [in Capay Valley]. People are used to mild, more dry chicken and their chickens are more muscular and meatier, and the flavor is better. [The chickens] are out running around having a good time—what chickens were supposed to do before they just kept them in cages. So the legs are much bigger on them and you can definitely tell the difference. Also down at the meat end, you'll have Lucky Dog Ranch [in Dixon], and they supply meat to Lucca and Roxy—the people who own those restaurants own Lucky Dog. Then there's also Winterport, which is [two doors down from] them, and they grow grass-fed beef out of Ione. And right next to them you'll see a guy named Martin Emigh selling lamb that comes from the Dixon area, which is unquestionably some of the most sought-after lamb in this region.
Do you have advice for people who are new to the farmers' market?
My advice would be to just go walk, just wander aimlessly and look at the produce. Let your eyes do the shopping for you. If it looks fresh, it is fresh. A lot of the farmers can give you a taste of their food. A lot of them will have fruit cut open. I've been known to just buy random stuff because it just looked so beautiful or tasted so good. I'll take it to the chefs [at my restaurants] and they go, "But I didn't ask for this!" And I say, "Yeah, but it's so cool I had to buy it."
I like to talk to the farmers. I like to support them and [develop] personal relationships. That's half the fun, you know. Know the source. I'll stop at the booths of people I know just to say hi even if I'm not buying anything from them. It's just a fun outing on a Sunday. It excites me to no end. Even after all these years, I just get giddy over the whole thing.