Signature restaurant announced for new downtown boutique hotel
After years of planning, the historic California Fruit Building at the corner of 4th and J streets in downtown Sacramento, will reopen next summer as a 100-room modern boutique hotel called The Exchange Hotel, with a signature restaurant on the ground floor called Ecce-llente!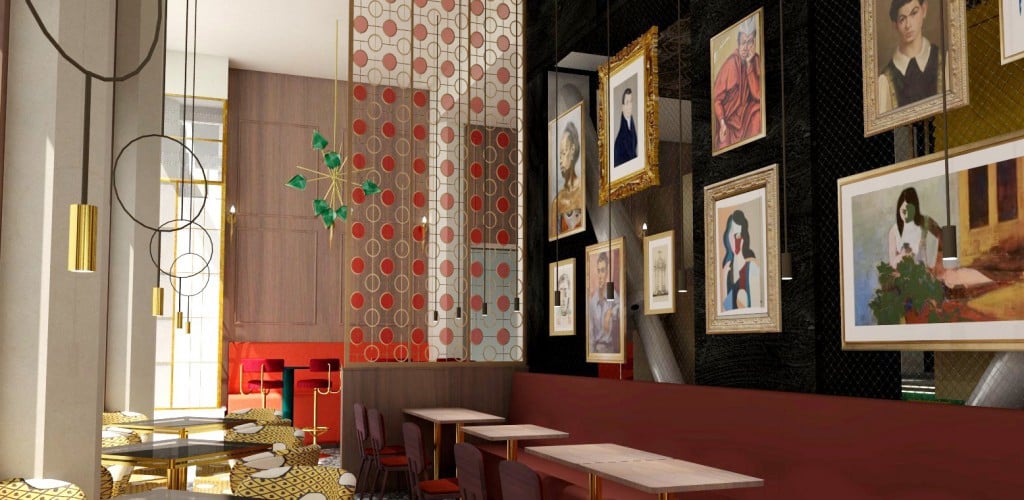 After years of planning, the historic California Fruit Building in downtown Sacramento will reopen next summer as a 100-room boutique hotel named The Exchange Hotel, featuring a signature restaurant on the ground floor called Ecce-llente! that will celebrate all things Italian—food, art and design.
The kitchen will be helmed by executive chef Stefano Chiarugi, who grew up on a farm in Tuscany and came to prominence there before relocating to Las Vegas. In Sin City, he ran the kitchens at two high-profile Italian restaurants—at the Bellagio's Osteria del Circo (owned by the famed chef and Le Cirque founder Sirio Maccioni) from 2001-2007, where he rose to executive chef; and later as executive chef at D.O.C.G. Enoteca (owned by celebrity chef Scott Conant of The Food Network's Chopped fame) at The Cosmopolitan hotel—before returning to Italy to head up several fine dining restaurants and steakhouses. Chiarugi will be moving from Italy to Sacramento in February.
Olivier Zardoni, founder of 34th Floor Hospitality, the Las Vegas-based group managing the dining and beverage portion of the project says the menu will be in the style of an Italian bistro, or osteria, with "soulful, family-style grandma food. Homemade pasta and broths, braised meats. No pizza."
The 4,000-square-foot restaurant will seat up to 160 patrons, and promises to be the kind of zestful, effervescent place where the chef might announce that lunch is served each day by standing on the street corner with a bullhorn. Whether you're stopping by for a morning espresso and cannoli, or a date night dinner, the concept is to bring Italian lust for life to downtown, with farm-to-fork ingredients.
For Ecce-llente!'s décor, Whitney Johnson, the noted designer at local shop MTA Hospitality (known for her work on hot spots like Shady Lady Saloon, Kru and Hook & Ladder), was inspired by Chiarugi's cuisine. "We pulled the color palette directly from the ingredients he was cooking with," she explains. "So our green is basil, our yellow is mustard, our reds are Campari or marinara. Our tans are butter, burnt butter. Sage. Eggplant. We treated the interior design like we were building a dish—the right ingredients, the right lighting, the right setting."
The restaurant has 18-foot-high ceilings, and the space is broken up by different textures, like three types of flooring: two patterns of terrazzo and a third of hardwood. Diners will sit in oversized upholstered chairs covered in bold, mod fabrics. Early renderings show a swinging '60s influence. Johnson has spent two years collecting art for the space—everything from $5 flea market finds to high-dollar items she had to finagle a budget for. She says she imagines the space to be the home of a "well-traveled, very, very wealthy man" who is also very fashion-forward, wearing cufflinks and socks with pops of color. Ecce-llente!, she says, is his personal space, where he can hang his "gentleman's" art (renderings of showgirls might hang alongside a painting of a pope alongside Italianate portraits of businessmen). An upstairs bar—a separate concept that is soon-to-be-named—with a terrace is conceived of as representing his wife's territory, and the buttoned-down, sophisticated lobby is designated his study and reflects his exquisite taste in tailoring.
Johnson's research references classic yet whimsical Italian restaurants like Miceli's in Los Angeles, where the dining room resembles a village street scene and the waitstaff bursts into opera arias when not ferrying cannelloni to your table. Or ultra-hip European restaurant group Big Mamma's over-the-top eateries, where fun décor coexists with serious food. So yes, there will be at least one giant table bedecked with a red-and-white-checkered tablecloth. "It's Italian in some of these corny nuances: gold, brass, bold color—unapologetic, but just really focused," Johnson says. If anyone can pull off sincerely ironic elegance, it is she.
The Exchange Hotel, located at the corner of 4th and J streets, will occupy the 10-story former home of the California Fruit Exchange (the building's owner, Sunny Dale, is a Yuba-based fruit grower, and wanted to get away from the fruit theme while preserving the building's historic roots in the name), and will be operated by locally based American Hospitality Services under the Curio Collection by Hilton, a boutique brand of independent hotels that launched in 2014 and counts San Diego's celebrated Hotel del Coronado among its properties. The building was constructed in a style that Johnson describes as pre-Art Deco. The renovation preserves the edifice's lush, detailed appointments, like its distinctive Gladding McBean terra cotta detailing (the Lincoln-based company was one of California's first industrial operations). The historic space will be lovingly preserved, with the addition of those heightened, Italianate details Johnson mentions, and modern touches here and there.
"We feel like there's this opportunity to be really impactful," Johnson says, "from the chefs to the design to the food and telling Italy's story through Sacramento."
You Might Also Like
Darling Aviary takes roost downtown
New hotel and residential project to rise next to Tower Bridge
Designs Within Reach 2019