Silo Night
Port cities like Buffalo and Minneapolis are turning crop storage silos into star attractions. It's time for this port city to find the culture in agriculture and start making the most of these concrete canvases.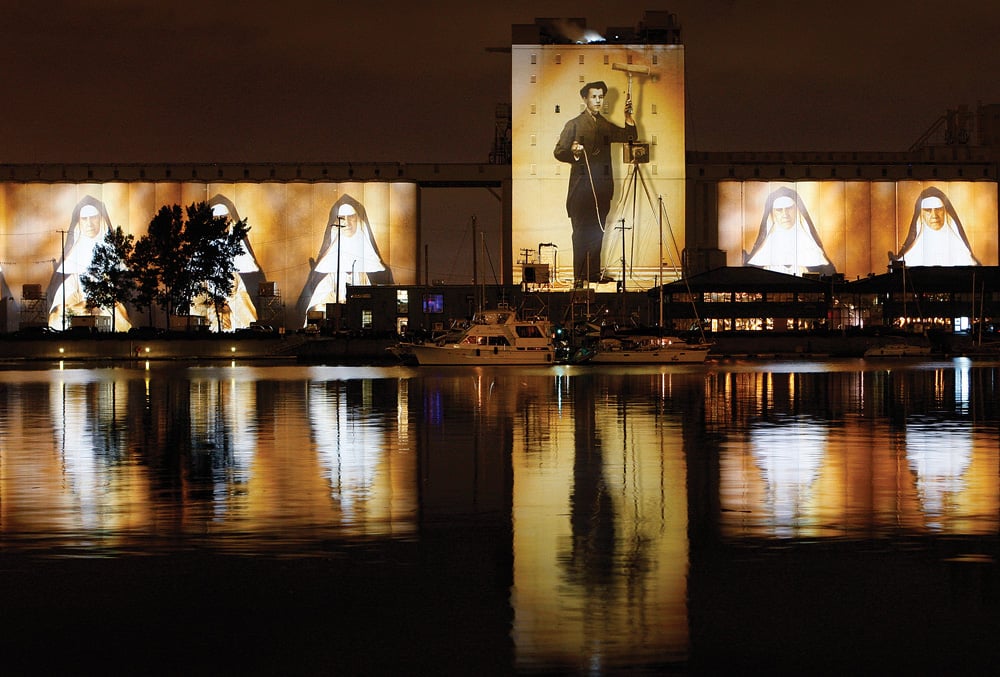 The Idea
Two years ago, the Port of West Sacramento flipped the switch on a new $20,000 blue LED light feature atop its 200-foot grain elevator attached to the silos that hold crops like grain and rice. Civic leaders called the light a "beacon." But beacons are typically used to lure people to a given place. This was a light, not a lure. However, these towering silos could be a spectacular draw that would help West Sacramento "cement" its image as the progressive city that it's quickly becoming. 
In 2008, for example, a light artist in Quebec City, Canada, created a 40-minute show that was projected onto 81 grain silos at the Port of Quebec. The show, which featured photos and video clips that told the story of Quebec's 400-year history, ran on summer nights until 2013, attracting 1.8 million visitors. Today, a show that mimics the lights of the Aurora Borealis runs nightly year-round. 
Meanwhile, Minneapolis will host its fifth annual Northern Spark festival in June, during which it will illuminate the Gold Medal flour silos on the Mississippi River with real-time projections of attendees. And on July 18, Buffalo (nicknamed Silo City) will host its fourth annual City of Night event, where abandoned silos will house art installations. The Erie Canal Harbor Development Corporation has also tested dramatic projections on the silos in that city and hopes to put on a large-scale multimedia show there soon. 
These are concepts that would work beautifully here. Not only would they highlight our farm-to-fork movement by drawing attention to our port's critical role in the agricultural industry, they'd offer yet another opportunity for our region to tell its story in a creative and authentic way.
The Players
According to West Sacramento's port business manager Rick Toft, there are 46 silos in West Sacramento, with 20 rice and grain silos belonging to the port, 20 belonging to the Farmers' Rice Cooperative Mill, and six owned by the Cemex cement facility. They range in height from 138 to 150 feet. Whichever site is deemed most appropriate for viewing opportunities will require the cooperation of one of these entities. Sacramento Theatrical Lighting is a local company adept at projecting images on large surfaces. YoloArts might help with funding. And the City of West Sacramento should also get involved as a way of boosting its burgeoning cool quotient.
The Bottom Line
Austin-based light artist Luke Savisky has helped light silos in both Minneapolis and Houston. In Minneapolis, the lighting project costs about $25,000 per festival. Permanent installations will cost far more, of course. Quebec City's light show provided an economic impact of nearly $4 million and 319,000 overnight stays in 2011 alone, according to city official Rose-Marie Ayotte, who adds, "The visibility benefits for the city were huge and we still feel those benefits today." Ours doesn't need to be as big as Quebec City's to have a positive impact. And at a time when local artists are seeking higher-profile opportunities, there are no bigger canvases than these.