Silver Girl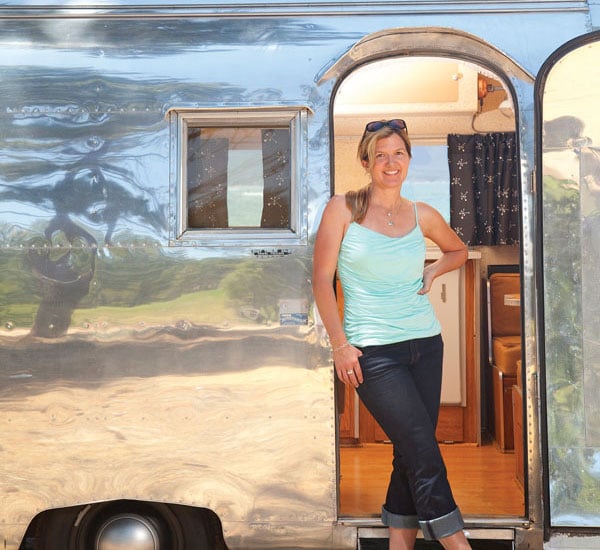 For Kristiana Spaulding, a passion for vintage trailers has taken her down some unexpected twists and turns—designing silver Airstream-inspired jewelry, renovating and renting her fleet of retro-chic homes-on-wheels to national TV shows, and even appearing in the new French edition of Marie Claire. Here's how this Lotus-based belle of the ball bearing has turned the once male-dominated world of campers into the stylish world of glampers.
MMonet had lily pads. Warhol had soup cans. Thiebaud has pies. Lotus-based jeweler and interior designer Kristiana Spaulding?
She has Airstream trailers.
While it may seem odd that hulking, metallic, toasters-on-wheels would provide such enduring inspiration, artists often find the bellows for their creative fires in unusual places, and Spaulding is no exception; she has found her calling renovating and remodeling vintage Airstreams, as well as designing a jewelry line exalting life on the road called, of course, Silver Trailer.
"I love to travel. I love community and I love to nest," Spaulding says. "And I think with Airstreaming, you have all of that in one."
It's an ethos that Spaulding, who bears more than just a passing resemblance to Friday Night Lights actress Connie Britton, has made into a burgeoning career. Over the past few years, she has become known as the go-to person for those needing a perfectly polished mid-century-modern camper. Her space-age trailers (she currently owns eight of them)—usually staged as signifiers for roaming freedom and self-sufficiency, or timeless emblems of Americana—have recently been featured in commercial shoots for brands such as Sperry Top-Sider, Pendleton and Title Nine, and on television in ABC Family's 25 Days of Christmas and TLC's Making Over America with Trinny & Susannah.
And as summer is the perfect season for outdoor exploration and Airstreaming, Spaulding appears with one of her burnished babies in the August edition of French Marie Claire; the fashion magazine recently photographed her and a friend with Spaulding's vehicle, backdropped by the rugged beauty of Big Sur, as part of a feature on women who love life on the road with their campers.
Meanwhile, Airstream, the Ohio-based company founded in the 1930s, has also become partial to her work, specifically her retro-hip silver charms, bracelets and necklaces that she designs in her Placerville studio. The jewelry, which showcases the bubbly beauty of the curved and contoured trailers, is available on Airstream's official website as well as her own site, silvertrailer.com.
How Spaulding turned what she calls an "obsession" into a multifaceted business is an unusual tale of art, ingenuity and entrepreneurialism, which she shares on a recent summer morning, sitting on her tree-shaded deck overlooking the rushing South Fork of the American River, with her lab mix Osa—her faithful road companion—resting by her feet.
Her compact 1960s ranch house, which she shares with her husband Greg Didriksen—an outdoor sports sales representative who was living in Lotus (just outside of Coloma) nine years ago when Spaulding joined him there from San Francisco—exhibits the same look and feel of her rehabbed trailers: light, open and inviting with a humble and homey sophistication.
Spaulding has just returned from Jackson Center, Ohio, where she was part of the annual gathering of Airstreamers known as Alumapalooza. There, among her fellow enthusiasts, she sold her silver jewelry, organized a "yappy hour" for trailer owners and their dogs, and offered instruction on how to redesign cabin interiors.
Born in Brooklyn and raised in Tarrytown, New York, a wooded enclave located on the Hudson River north of Manhattan, Spaulding says she caught "aluminum fever" at the age of 7, when her father, who worked for Scholastic, surprised her and her two older sisters with an impromptu cross-country summer road trip.
"He just pulled up in the driveway in a VW and said 'We're going to California,' " Spaulding says. "They loaded us up in the van and we were ultimately going to see my auntie in San Diego."
It was in Yellowstone National Park where she spotted her first Airstream and became overcome by "the whole fascination that you can own a little house and still have your home at the same time," she says. "It's an amazing concept, this idea of minimal living. I've been keeping my eye on them ever since."
She developed her love of "modern, streamlined style" as a child when visiting a now-defunct contemporary home décor store in White Plains that she describes as a "designer IKEA" with her mother. Her grandfather, a sailboater and avid woodworker, instilled in her an appreciation for space efficiency and a DIY mentality, which compelled Spaulding to take wood shop and jewelry-making classes in high school.
"I still don't know how to cook and sew, but I can use a cordless drill and power tools," she says with a laugh.
After attending college back East, Spaulding eventually yielded to the West's tractor-beam-like pull on her, landing in Santa Barbara in the mid-'90s before moving north to San Francisco where she worked to earn her master of fine arts in small metal sculpture and jewelry from the Academy of Art University.
For her thesis project, which focused on the idea of "portable sentimentality and functionality," Spaulding made eight miniature dioramas of the interiors of places she had previously lived—her childhood room in Tarrytown, her apartments in New York and San Francisco—and displayed them in vintage makeup travel cases.
However, she was unsure of exactly how she was going to present her collective body of work until she and Greg took a trip to the Salmon River in Idaho and passed through a small town called Challis. There, she saw a 24-foot 1967 Airstream Trade Wind with a "for sale" sign and suddenly she had an epiphany about how to show her thesis.
"I thought, '[My project] is all about making a space for home wherever you go' and it all came together when I saw the Airstream," she says. "Greg looked at me and he could just read my mind. And so we did a U-turn and bought it and towed it home."
Back in San Francisco, Spaulding set to customizing the interior while keeping true to its '60s vibe. The former owner had been a smoker, "so it had some layers of grunge," she explains. "It was pretty much, 'Take out all the walls and cabinets and start over.' "
After eliminating two interior walls to enlarge the 170-square-foot space into a light-filled room, she ripped out the dark carpet and put down wooden flooring. Other additions included a stylish wraparound couch, an asymmetrically curving desk (which she jigsawed herself, coated with clear resin and then attached to a piano hinge so it would fold down and save space) and stainless-steel veneers for the overhead cabinets.
Keying off her "portable sentimentality" concept, she wallpapered the bathroom "with maps of places I've been and places I wanted to go" and created a kitchen countertop covered with "postcards that people have sent me or I have sent myself."
Her trailer—and the thesis-showing inside of it—was a success and eventually caught the eye of best-selling author Bruce Littlefield, who decided to include Spaulding's zestfully reimagined Trade Wind in his 2005 book Airstream Living.
"The thing about Kristiana is that she's a very likable person," says Littlefield, whose childhood affinity for Airstreams once led him to open a bar in one behind a restaurant he owned in the Catskills. "Mix that with her amazing imagination and creativity and you can't help but fall in love with her and her art. She's taken what you would think to be a traditionally male-dominated project and turned it upside down and said, 'Women can do this too.' And she's not only done it, she's done it well."
After graduate school, Spaulding thought jewelry would be her sole business, but her trailer work started being featured by tastemaker websites and publications such as ApartmentTherapy.com and ReadyMade magazine. At the same time, Airstream's enduring appeal was re-entering pop culture consciousness. Hollywood stars such as Matthew McConaughey, Sandra Bullock, Brad Pitt and Tom Hanks were embracing the comfort and convenience of having a home on wheels. In 2007, New York's Museum of Modern Art added a 1960 Airstream Bambi Travel Trailer to its permanent collection, calling it a "cultural icon" and displaying it in all of its gleaming, riveted, aerodynamic glory in the lobby.
And as Spaulding's reputation grew, people started coming to her with other trailers for sale. "I thought, 'Oh wow, I can flip them,' " she says. "I'd buy one and then I'd buy another but I couldn't ever let go of them."
In addition to the Trade Wind, her collection now includes a 1962 Airstream Bambi and 1964 Bambi II, as well as a 1961 Globe Trotter and a 1960 Caravel. She also owns several campers outside the Airstream brand, including a 1960 Holiday House, a 1965 Eriba Familia and a 1959 Aljoa Sportsman, in its original condition, which Spaulding and Didriksen take on their semi-regular excursions to Burning Man.
The trailers share Spaulding's inimitable mix-and-match aesthetic and rigorous attention to detail. Her 16-foot-long 1962 Bambi, for example, has been refinished in clean, warm maple wood and has a custom display shelf where Spaulding has set 10 petite jars of colorful, matte beach glass.
Spaulding declines to share how much she has spent over the years on her trailers, which have personalized nicknames (for example, the Eriba Familia is called "Beebo," after her grandfather). She used to tow and rent her trailers for individual campers—mostly people from Sacramento or San Francisco—but stopped because "I'd get so emotionally involved in making sure that people were okay that it was just too much with the other parts of my business." She does, however, work with wedding parties.
Despite an expanding workload—she estimates that she books between five and seven commercial gigs a year—Spaulding still finds the time to take her 1969 GMC pickup truck out on the road to trailer with friends. She's a founding member of an all-women group called the Silver Sisters, a posse of 15 or so like-minded trailer enthusiasts who regularly travel and camp together.
"I [recently] met a woman from South Lake Tahoe and she said 'I want to join the Silver Sisters. Where do I sign up?' And I said, 'You just did.' That's what I love [about it]. It's unofficial. There are no dues. There are no rules or regulations. It's just encouraging other [women] to camp and tow."
While her trailers garner her the most press, she says she splits her time "50-50" between her rental and jewelry businesses (in addition to Silver Trailer, she also has another line called Kristiana, which she describes as having a "more sophisticated aesthetic; down-to-earth and classic.") This fall, she'll be back—with her trailer—in San Francisco, presenting her fine metal creations at a show in the Hunters Point Shipyard, which houses one of largest artists colonies in the U.S.
As for long-term plans, Spaulding's enduring dream is convincing Airstream to let her design her own signature trailer. When asked if that's a possibility, she replies, only half-jokingly, "Oh, it is. They just don't know it yet."