Six local breakfast spots to visit in celebration of National Pancake Day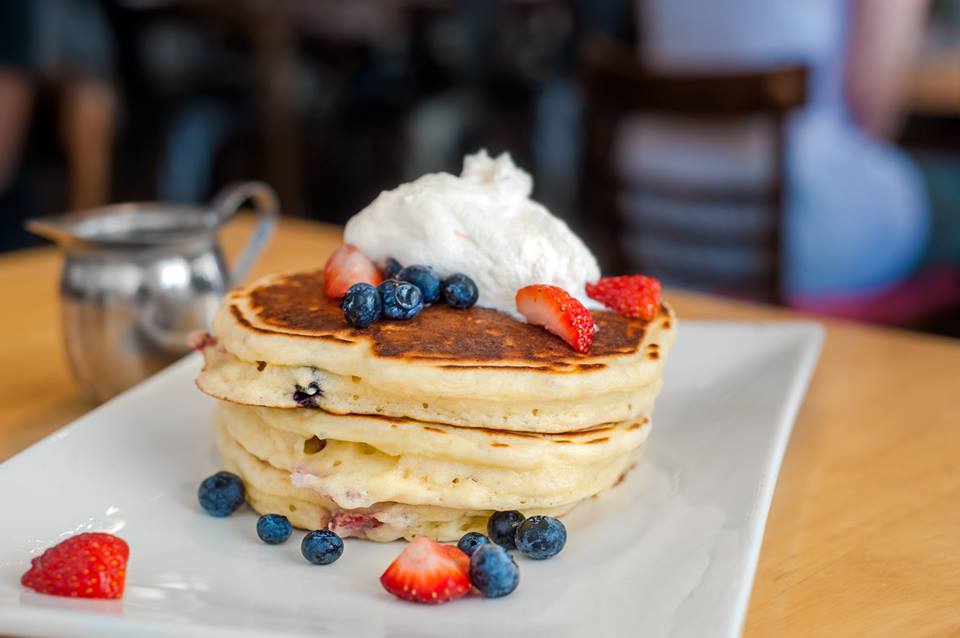 National Pancake Day is Monday, Sept. 26, and to help you get a jump-start on the holiday, we've rounded up a list of some of our favorite places for flapjacks in the region. From savory bacon-laden stacks to sweet lemon-yogurt rolls to decadent Dutch babies, here are six hotcake hot spots we're flipping for.
Bacon & Butter
Billy Zoellin, chef-owner of one of our favorite brunch spots, knows a thing or two about both of the ingredients in his restaurant's name and is known to use them liberally in his fluffy buttermilk flapjacks (pictured above). The batter is made from scratch with local free-range eggs and blended only until it is slightly lumpy, creating soft cakes that rise thick on the griddle, where they're cooked for six minutes on each side. With crispy outer edges and a fluffy core, the pancakes come in a variety of rotating flavors like pumpkin bacon, or with seasonal toppings like fresh strawberries, blueberries and blackberries under a generous helping of whipped cream and a sprinkle of crushed pistachios. 5913 Broadway. 346-4445. baconandbuttersac.com
Harry's Cafe
This restaurant off of 16th Street is mostly known for its Chinese and Vietnamese cuisine, but has become a hidden gem for flapjack fanatics who flock there each weekend for a simple plate of pancakes. Harry's serves up crunchy-on-the-outside, fluffy-on-the-inside cakes topped with a slather of melty butter and a sprinkle of powdered sugar that adds a sweet finish. The flapjacks are cooked on an iron griddle until the bottom bubbles to a light brown crisp, arriving piping hot to the table with perfect carmelized edges. The delectable breakfast treat comes in a duo, and two is all you need to satisfy your pancake craving. 2026 16th St. 448-0088.
Katrina's Café
A pit stop at Katrina's—just a hop, skip and a jump off Highway 49 in Auburn—is well worth the trip. This Gold Country cafe is home to the locally iconic lemon-yogurt pancakes. The batter, blended with lemon zest and juice, is cooked into tender, perfectly round pancakes that arrive at the table rolled up and filled with creamy yogurt. A sprinkle of powdered sugar and a squeeze of lemon finishes off the dish, but insiders know to ask for Katrina's homemade raspberry jam or seasonal berries on the side. In a hurry? The entire menu—which also includes strawberry pancakes with whipped cream—can be ordered ahead of time via phone and taken to go. But we are just as keen to relax on the café's dog-frendly patio any day of the week with a plate of sweet cakes. 456 Grass Valley Hwy. Auburn. 530-888-1166. katrinas-cafe.com
Original Pancake House
Those seeking some variety from the classic diner flapjack stack should check out the Roseville outpost of this homey Portland-based chain, whose menu is filled with pancakes topped with Granny Smith apple slices with cinnamon glaze, for example, or the fall special: a pumpkin pancake infused with spices like cloves, nutmeg and ginger, and topped with cinnamon sugar and fresh whipped cream. But our favorite is the Dutch baby pancake: a decadent, oven-baked treat that rises high as it bakes and deflates to reveal a moist, dense base with crispy edges. Served with butter, lemon and powdered sugar and taking up the width of a large dinner plate, this cake packs the wow-factor that keeps us coming back. 10000 Fairway Dr. Roseville. 788-3040. pancakesroseville.com
Orphan
This popular breakfast and brunch spot in East Sacramento offers an assortment of pancakes both sweet and savory. Specials rotate and have included a pumpkin spice pancake topped with apple slices, crunchy pecans, and apple butter, or a garden-fresh rosemary-strawberry pancake topped with lemon zest. Regulars also swear by the blueberry cornmeal cakes, made from Orphan's homemade cornmeal batter and served with a blended fruit puree and authentic maple syrup. But don't miss the savory offerings, like flapjacks with jalapeños and bacon baked into the batter and served in a stack of three. The spicy-smoky combination, paired with a mug of coffee from Orphan's Italian drip bar, makes for a memorable breakfast. 3440 C St. 442-7370. orphanbreakfast.com
The Farm Table
We're hog wild about the pigs in a blanket-inspired pancakes at this Placerville restaurant. Large strips of bacon are nestled inside each delicious disc, punctuating each bite with a sweet and savory taste (Farm Table cures its bacon with thyme and maple syrup) and crunchy texture. Says executive chef Kara Taylor, who opened the eatery in October 2014 with her husband Zach, "We're big advocates of using bacon in all different ways." For a stronger contrast between sugary and saline, coat the pancakes—which are available during Sunday brunch—with house-made jelly, or have with a side of fresh fruit. But these cakes are just as good the old-fashioned way—with a scoop of butter and a simple side of maple syrup. 311 Main St. Placerville. 530-295-8140. ourfarmtable.com
You Might Also Like
Morning Stars: Sactown's favorite breakfast and brunch spots
Six great local places to get your bacon fix
Devine Gelateria opens a breakfast cafe in East Sacramento