Six sandwiches to savor during National Sandwich Month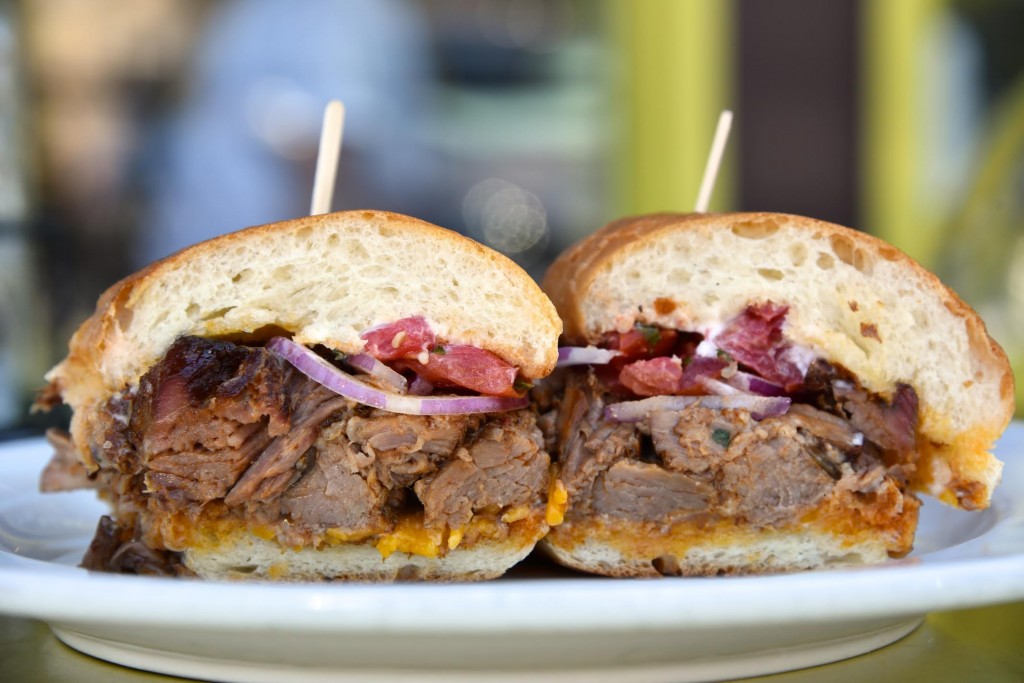 August is National Sandwich Month, which gives us all a great excuse to break out of our lunchtime routine and try something new. Behold six local creations that range from refined to over-the-top. Griddled mac and cheese sandwich with bacon, anyone?
Carnitas sandwich at Selland's Market-Café
​At Selland's Market-Café, in both the East Sacramento and El Dorado Hills locations, the kitchen is spicing up traditional lunch fare with a Mexican-style carnitas sandwich, which was introduced in 2012 when the El Dorado Hills location opened, and has since become a customer favorite at both sites. The creation starts with pork that is slow-roasted overnight for 14 hours. Then a heaping 4-ounce serving is piled onto a lightly toasted hoagie roll from Sacramento-based Grateful Bread Company and is layered with mayo and red onion. The sandwich is finished with grated cheddar cheese and a fresh salsa made with tomatoes sourced from various Sacramento-area farmers markets. We recommend adding avocado and bacon to this sandwich that will have you thinking outside the tortilla. 5340 H St. in Sacramento. 736-3333. And 4370 Town Center Blvd. in El Dorado Hills. 932-5025. sellands.com
Croque Wasabi Salmon Monsieur at Café Rolle
​You don't have to travel across the Atlantic for authentic French country-style cuisine; just stop by Café Rolle in East Sacramento, which has been featured on Food Network's Diners, Drive-in and Dives. The quaint eatery's sandwich selection is vast, but look no further than the Croque Wasabi Salmon Monsieur. Traditionally, the French dish is made with grilled ham and cheese, but French-born chef and owner William Rolle puts his own spin on the Gallic classic. He uses house-made wasabi for a spicy mayonnaise spread on a crusty French baguette and tops it with the star of the show—salmon that is cured in a salt and sugar rub and cold-smoked (which means the temperature never goes above 200 degrees). Rolle's sandwich-making expertise doesn't stop there; he adds generous slices of Gruyere cheese before popping it in the oven for eight to 12 minutes so that the sandwich comes out crispy on the outside and soft on the inside. 5357 H Street. 455-9140. caferolle.com
The Eggcellent sandwich at the Waffle Experience in Natomas
Eggcellent at the Waffle Experience
The Waffle Experience may be located in a business park in North Natomas, but they serve up breakfast and lunch items using fresh ingredients sourced from local farms on or between Brioche waffles house-made by head chef Michael Donoho. He uses brioche bread dough to create a heavy waffle that weighs in at a quarter of a pound, adding various herbs and spices to each waffle. In the Eggcellent breakfast sandwich, he adds fennel to the dough, creating a flavor that complements key ingredients like the applewood-smoked bacon, a farm fresh egg and fontina cheese. The waffle sandwich is finished with arugula, an heirloom tomato and a house-made sun-dried tomato aioli. Kicking carbs? The sandwich is also available with a gluten-free waffle. 4391 Gateway Park Blvd. 285-0562. thewaffleexperience.com
Pizza Deluxe Philly at Phat Jerry's Phillies
Phat Jerry's is the place to go for a Philly cheesesteak without traveling to the City of Brotherly Love. Among the traditional offerings, this Arden-Arcade eatery offers a belly-filling new spin on an old classic—the Pizza Deluxe. To create the pizza-sandwich hybrid, the Philly fanatics at Phat Jerry's take the usual Philly cheesesteak components (a soft Italian roll, sirloin beef that is sizzled and chopped on the grill, plus grilled onions and peppers) and combine it with pizza ingredients like mushrooms, provolone cheese and pizza sauce before setting it on a basket with black and white checkered paper. For even more pizza pizzazz, ask for extra cheese or pepperoni. 4322 Watt Ave. 487-4677. phatjerrysphillies.com
Broderick Grilled Cheese at Broderick Roadhouse
At first glance, the menu at Broderick Roadhouse in West Sacramento appears filled with familiar items, but look closer and a few ingredient changes transform them into extravagant gastronomic dishes. Take the Broderick Grilled Cheese, for example. Sure, it starts with macaroni and cheese, but this isn't the watery blue box variety from your childhood; instead of simmering or baking the noodles, they're grilled to create a crispy, melted patty. The cheesy patty is then topped with grilled tomatoes and cheddar cheese (yes, more cheese) before being sandwiched between two slices of sourdough bread from the Village Bakery in Davis. Our suggestion? Ask for one—or all—of the add-ons, which include bacon, a burger patty or a fried egg. 319 6th St. West Sacramento. 372-2436. broderick1893.com
The Broderick Grilled Cheese at Broderick Roadhouse in West Sacramento.
#1 Combo at Duc Huong Sandwiches
There's a reason a line usually forms during lunchtime at this cash-only Vietnamese sandwich shop along Stockton Blvd. Here, the banh mis are served on baguettes pulled straight from the oven each day at Duc Huong's onsite bakery. The most popular item is the #1 combo, which is plain in name only. The banh mi is stuffed with mayonnaise, cilantro, cucumber, spicy daikon (a radish) and carrots layered alongside headcheese, ham and pork. But we'd order it simply to take a bite of the fluffy baguette, which comes out crunchy on the outside, soft and warm on the inside and always with a fresh, slightly sweet taste. And good news fro carbivores: Duc Huong sells the rolls individually for just $1 a piece. 6825 Stockton Blvd. 428-1188.
You Might Also Like
Farm-to-freezer: Beat the heat this summer with local gourmet popsicles
County fairs bring fun, food and festivities to the weeks ahead​
A new bar and restaurant is set to open soon near the Golden 1 Center