Six sweet spots to pick up a Thanksgiving pie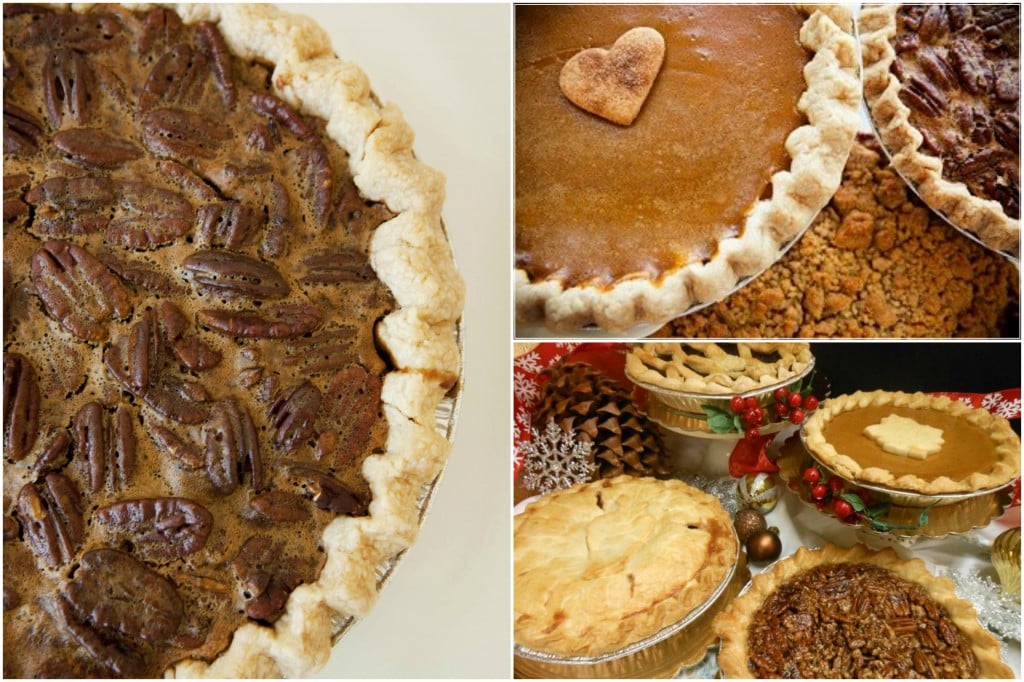 Your turkey may be gleaming and your mashed potatoes whipped to perfection, but if the pie isn't your thing, here are five ways to get your holiday piece of one—from old-fashioned apple to classic pecan—from a few Sacramento baking pros.
Fat's Banana Cream Pie
The venerable local restaurant group makes its famed banana cream pie from scratch daily, using virtually the same recipe conceived by founder Frank Fat and his original chef in the 1940s. Loaded with freshly sliced bananas and rich custard inside a buttery, flaky crust and topped with a cloud of creamy, fluffy whipped cream, it is easy to see why the dessert is regarded as Fat's—and possibly Sacramento's—quintessential dessert.
Cost: Varies by location
When to order it: By Tuesday, Nov. 24.
Locations throughout the region. fatsrestaurants.com
Freeport Bakery's Pumpkin Pie
If you are searching for a traditional, classic pumpkin pie, head to this popular Land Park bakery, where owner Marlene Goetzeler's team of bakers starts cranking out hand-made pies the Sunday before Turkey Day. The house-made butter crust is filled with a silky mixture of pumpkin puree, cinnamon, brown sugar and spices like cloves, nutmeg and ginger with whole eggs, as well as evaporated and fresh milks for a creamy texture. "No matter how much of a foodie you are, when it comes to holidays, there's something comforting about having a real pumpkin pie," Goetzeler says.
Cost: $12.95 per pie
When to order it: By Sunday, Nov. 22, at 3 p.m.
2966 Freeport Blvd. 442-4256. freeportbakery.com
The Porch's Vegan Pumpkin Pie
Vegans can now get in on the pumpkin pie action thanks to Kari Hawkley, the pastry chef at The Porch, which specializes in Lowcountry cuisine. She mixes fresh-roasted pumpkins, sugar and maple syrup to make pumpkin puree, which is poured into 9-inch pie shells (made with flour and coconut oil) to create this dairy-free Thanksgiving dessert. "Pumpkin pie is such a traditional American pie and has always been my favorite," Hawkley says. "I think that it's a lot of people's favorites for Thanksgiving, so I want to be able to offer vegan [patrons] the same."
Cost: $15 per pie
When to order it: By Tuesday, Nov. 24, at 3 p.m. (Tip: Only a dozen will be made, so order quickly.)
1815 K St. 444-2423. theporchrestaurantandbar.com
Rick's Dessert Diner's Old Fashioned Apple Pie
This midtown dessert hub, which is known for its irresistible cakes, becomes a pie haven during the holidays. Pastry chef Ahmed Eita, who has owned the 29-year-old diner since 1991, makes an old-fashioned apple pie from scratch in-house daily with a butter crust, Granny Smith apples (that are sliced and tossed with spices and brandy before getting packed inside) and a honey-brown sugar crumble on top. Looking for a twist? The apple pie is also available with additional ingredients, including pears, pralines, cranberries and walnuts, raisins or green tomatoes.
Cost: $32.95 per pie
When to order it: By Tuesday, Nov. 24, at 2 p.m. (For non-custom orders, Rick's will be open on Thanksgiving Day until 4 p.m. and Eita will have extras waiting for last-minute pick-ups.)
2401 J St. 444-0969. ricksdessertdiner.com
Sandra Dee's Sweet Potato Pie
This Southern dessert has the distinctive, bright flavor of sweet potatoes and nutmeg encased in a flaky crust made in-house by chef-owner Sandra Dee, who has used her mother's recipe since opening her midtown eatery 17 years ago with her husband, Jeffrey Johnson. "It's always been in my house," Dee says. "This pie is a fixture there—when you think about it, it's home."
Cost: $12 per pie
When to order it: By Saturday, Nov. 21, at 10 p.m.
601 15th St. 448-6375. sandradeesbbq.com
SusieCakes' Pecan Pie
The SoCal-based SusieCakes' East Sacramento location, is serving up this classic Southern holiday treat, in honor of Chicago-based founder Susan Sarich's Midwestern grandmother who passed the 1940s recipe down to her. The house-made crust is filled with a heaping one and a half cups of pecans and eggs and retains its simplicity by not including more modern additions like chocolate or caramel, for a tasty treat that's as down-home and traditional as turkey and cranberry sauce.
Cost: $10.95 for 6-inch, $25.95 for 9-inch
When to order it: By Nov. 24.
564 Pavilions Ln. 865-2250. susiecakes.com
You Might Also Like:
11 fun ways to give back this holiday season
Four ice-skating hotspots to visit this holiday season
Three new breweries coming to Placer County