Six Tasty Ways to Celebrate National Farmers Market Week in the Sacramento Region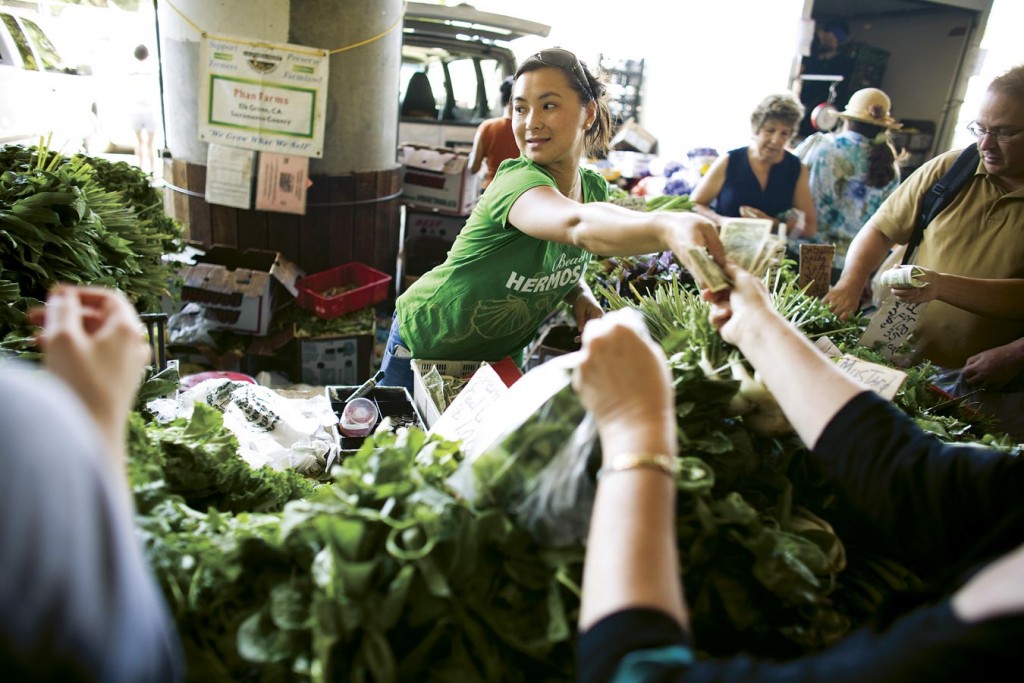 Making farm-fresh meals has never been easier with the incredible array of local food at our region's farmers' markets. With National Farmers Market Week upon us, here's the locavore lowdown on when, where and how to shop till you chop.
Sacramento Central
Boasting about 125 vendors at its peak summer season, this is the largest certified farmers' market in the region. Look for local produce like strawberries from Antelope's Saechao Farm and blueberries from Hooverville Orchards in Placerville. Known as a serious foodie destination, you won't find any bounce houses here. Instead, you'll find a wide variety of culinary delights, including Asian vegetables, artisan breads, grass-fed beef, pasture-raised chicken and seafood from the Point Reyes Oyster Company. Top area chefs can often be spotted scouting for their next menu, and some Sundays you'll find Mayor Kevin Johnson and wife Michelle Rhee browsing the booths as well. Sundays year-round. 8 a.m.-noon. 8th and W streets in Sacramento.
Davis
Named one of the top 11 farmers' markets in America last year by U.S. News & World Report, the Davis Farmers Market buzzes with energy on Saturday mornings. Among the local farms represented are Fiddler's Green Farm and Good Humus Produce, and you'll find tasty fare like Fat Face popsicles in unique flavors like the one that mixes Thai tea and sweet potato; "naan-wiches" from Raja's Tandoor; Montoya's Tamales; and chocolate tortes from FlourChylde Bakery. Other treasures include spun wool from Yolo Wool Mill and wildflower honey from McDonald Orchards. Saturdays year-round. 8 a.m.-1 p.m. Central Park. 4th and C streets in Davis.
Oak Park
Families fill McClatchy Park on Saturdays for this farmers' market, now in its fourth season. Live music provides a cheery backdrop for browsing produce stands with items like juicy tomatoes from Cherry Hill Farms or ruby red fruit from C&S Strawberry Patch. Don't miss Yolanda's Tamales—a favorite of Darrell Corti—and other regional faves like plump loaves from Davis' Upper Crust bakery or fruity treats from DavePops popsi­cles. Saturdays through Oct. 9 a.m.-1 p.m. McClatchy Park. 35th and 5th streets in Sacramento.
Midtown Sacramento
This new year-round market, which debuted in the spring in the heart of midtown, features about 50 regional vendors, including Feeding Crane Farms, Dragon Gourmet Mushrooms and Lucky Dog Ranch. Snack on specialty foods like gluten-free goodies from Sugar Plum Vegan bakery and fresh ravioli from The Pasta Queen. Listen for live music from regional acts and look for local art and cooking demonstrations throughout the spring and summer, plus a tomato tasting contest in August and a pumpkin patch in October. Saturdays year-round. 8 a.m.-1 p.m. 20th and J streets in Sacramento.
West Sacramento
This Thursday afternoon market may be relatively small (with about 20 vendors), but it packs a punch with its fresh array of hyper-local produce like eggplant from Humble Roots and watermelon from Vierra Farms, both based in West Sacramento. Plus, brush up on your culinary skills during cooking demonstrations that use local fare with chefs like Jess Milbourn from West Sac­ramento favorite The Eatery. Or grab a croissant made by young bakers from the nearby Collings Teen Center. And on some days, kids can enjoy balloon-making and bean bag games provided by the West Sacramento Parks & Recreation Department. Thursdays through Sept. 26. 4:30 p.m. until dusk. West Capitol Ave. and Jefferson Blvd in West Sacramento.
Auburn
The foothills' bounty fills this small parking lot in Old Town Auburn. You'll find heritage poultry from Grass Valley's Dinner Bell Farm and summer squash from Auburn's Basil Creek Gardens. And don't miss one of Bella Familia Wood Fired Pizza's steaming hot pies. Feeling adventurous? Seek out some of the unique crossbred produce like mandarinquats from Loomis' Pine Hill Orchard. Saturdays year-round. 8 a.m.-noon. Placer County Historic Courthouse parking lot. Auburn-Folsom Rd. at Lincoln Way in Auburn.