Slice is right at Pizzeria Urbano, midtown's latest pizza spot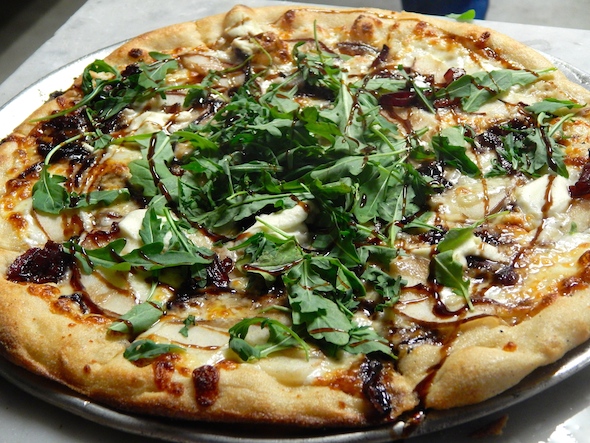 Sacramento's midtown pizza scene continues to heat up this week with the grand opening of Pizzeria Urbano, a new eatery tucked in the buzzy MARRS complex on 20th Street and J and K streets, on Friday.
Urbano, which has served customers for lunch, dinner and late nights during its recent soft launch, occupies the space previously inhabited by Luigi's Slice, which closed in May.
Pizzeria Urbano is the latest entry in midtown's crowding pizza scene, joining fellow upstart Trick Pony and Sacramento institutions like Hot Italian and Zelda's in the quest for a piece of the pie. Carlos and Jose Luis Ulloa, the brothers who co-own the neighboring MARRS restaurant Azul, launched Urbano with the intention of putting their own spin on midtown's craze for local ingredients and pizza alike.
"The menus will change with the season," says Carlos Ulloa. "We're going to have fresh ingredients every season; we want to bring out different flavors. We've been working on special ingredients for pizzas that you can't find at other pizzerias. That's what midtown's all about—the diversity of flavors."
Ulloa cites highlights like the "Di Mateo" slice, topped with house-made Italian sausage and kale, and the "Funghi," on which earthy roasted mushrooms and aromatic parsley garlic oil are cut by the sweet tang of the house tomato sauce. Whole white-sauce pies like the pear and gorgonzola (with mozzarella, ricotta, arugula, caramelized onion and balsamic reduction) and the "B&B" (boasting both Brussels sprouts and bacon along with red onion and chili flakes) stand out as well, while panini, salads, gelato from nearby Devine Gelateria, and beer and wine round out the menu.
And night owls rejoice: Urbano is open until 2:30 a.m. on Friday and Saturday nights, giving midtown crowds a new wee-hours destination to wind down with a piping hot slice.
"We're very happy with the results," Ulloa says of the brothers' efforts, "and we're looking forward to staying in business here a long time."
Pizzeria Urbano. 1050 20th St. 447-1255.